What's your favorite element involved in hand embroidery? Are you:
A. an Accessories Advocate, irresistibly drawn to the tools and trinkets that are used by the embroiderer?
B. a Fabric Fanatic, mesmerized by any woven surfaces upon which embroidery can be performed?
C. a Thread Junkie, with a Thread Fixation that keeps you addicted to needlework?
If I had to choose only one of the three above, I'd have to say I'm a Thread Junkie. I just love embroidery thread!
And my love of hand embroidery threads makes me Extremely Willing to try any type of embroidery thread in surface embroidery applications. But, while willing to try anything and everything, I have certain favorites that I always come back to.
In the Cotton Thread Category, one of my favorite threads is coton a broder.
Now, there's a problem with that name, because technically, coton a broder is simply embroidery cotton. And into the category of embroidery cotton can fit all kinds of threads: stranded cotton (the 6-stranded floss that dominates the cotton embroidery thread market), perle cotton, Danish flower thread, Mountmellick embroidery thread, and so on. And in different places, different threads are called by different names.
Coton a broder is perhaps best known as a whitework or cutwork thread. It's used, for example, in Schwalm whitework embroidery, in cutwork, in various needlelace techniques, in drawn thread embroidery, in monogramming, and in any kind of whitework surface application that you want to use it in, really!
In white, coton a broder is available in a range of sizes, from size 16 (the largest) through size 30 or 35, and sometimes, if you're lucky, size 40, although size 40 (which is quite fine) is impossible to come by in the US anymore. It used to be made in size 50! But, alas, no more, to my knowledge. It's a favored thread for monogramming, and the finer the thread, the finer can be the monogram.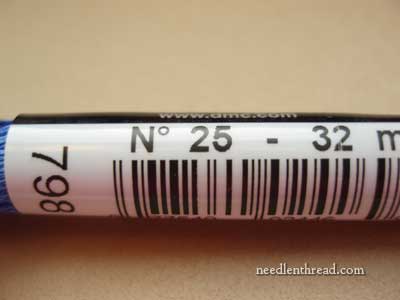 But there's one size of coton a broder – size 25 – that comes in colors! 182 colors, to be precise.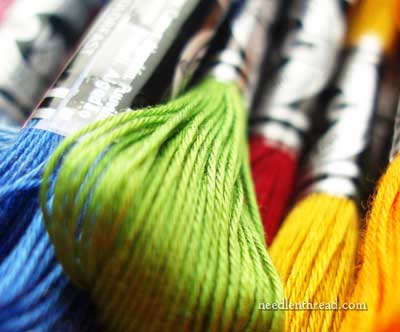 What makes coton a broder different from regular floss? First, it is a non-divisible thread, which means that you stitch with one strand as it comes off the skein – you don't split it up. It's a 5-ply twisted thread (each individual thread is made up of 5 plies of cotton that are twisted together to make the one thread), and this makes it a round (though fine) thread, and quite soft.
What can you do with coton a broder? Well…. the possibilities are endless! Smockers love it. It can be used for cross stitch. It can be used in all kinds of cutwork and whitework techniques (in color, if you're using size 25). It makes a wicked monogram in satin stitch! The crazy quilter incorporates it into seam treatments. And then there's just the plain-old-every-day-run-of-the-mill surface embroidery stitching! If you like to stitch projects that incorporate color and a variety of stitch types, you'll probably find coton a broder a good thread to add to your repertoire.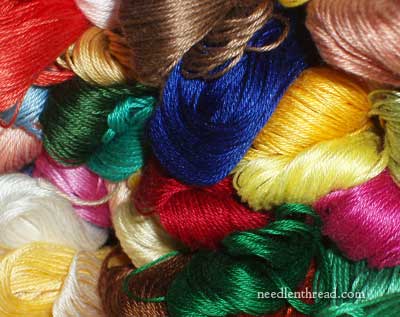 If you'd like to explore coton a broder a bit more, you can read some previous articles on the subject here on Needle 'n Thread. Especially of interest may be this comparison between coton a broder and floche. You can also search coton a broder here on Needle 'n Thread to find other articles that mention the thread and explain something about it.
You can find the whole color range of coton a broder in size 25 available at Vaune.com, which is a needlework shop primarily dedicated to smocking, but she does have quite a few other little goodies there that might be of interest to the surface embroiderer.
Later on, I'll show you a little bit of work with coton a broder – I've got a project up my sleeve that I'm looking forward to sharing with you! And once I get around to the photography, I'll show you some other thread ranges that will be featured in a few upcoming projects, too.
My name is Mary Corbet, and I am a Thread Junkie.
Back to the first part of the article – what are you: A, B, or C?
Or are you D – All of the Above?
Tough, isn't it?!