Over in the Ask & Share forum here on Needle 'n Thread, there's been a little discussion about whitework embroidery threads. The question was posed whether floche and coton a broder are the same, or whether one is better than the other for whitework.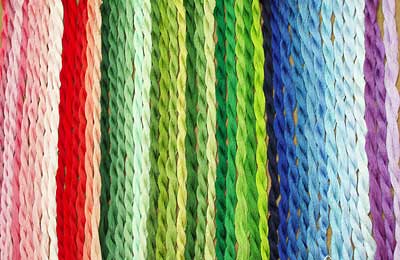 This is floche. It's a four-ply, non-divisible, softly twisted, mercerized cotton thread. It comes in one size (size 16), in a glorious range of colors. You can see most of the colors in my Love of Floche article.
Floche can be used like regular embroidery thread to create very pretty pieces of embroidery – like the one above, which is from a kit stitched by Margaret Cobleigh.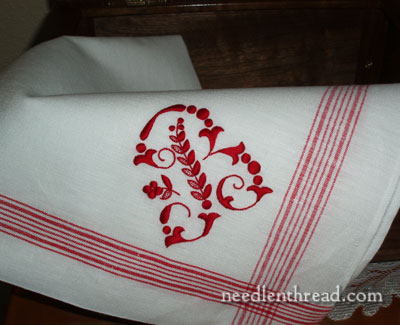 Floche, in fact, makes a beautiful thread to add to your stash for techniques that can involve all different types of threads – crazy quilters will love it, as will smockers. Floche makes a beautiful satin stitch, and is wonderful for monogramming projects, like this monogrammed linen towel.
In some rare and unusual circumstances, the individual plies in a strand of floche can actually be divided and put back together (as in the photo above), but it isn't the usual way to approach floche. If you're interested in doing this with floche, you can see my tutorial on separating floche and putting it back together.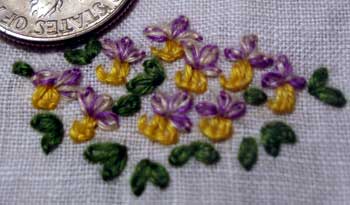 In fact, in the tiny, tiny flowers above (which are stitched with daisy stitch and buttonhole stitch), the top petals in daisy stitch are made from floche that has been divided, mixed with other colors (yellow and purple, in this case) and put back together for stitching. You can make all kinds of flowers out of floche, using a variety of stitches and, if you want, some blending techniques.
So that's floche.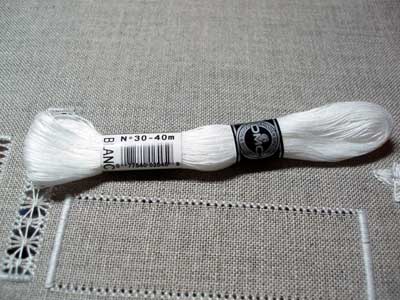 Coton a broder is a completely different thread from floche, though they share some similarities. It is the ideal thread for most whitework embroidery (though not for specialized techniques like Mountmellick Embroidery, which requires a special non-mercerized thread). Like floche, coton a broder (also known as "cutwork" or "whitework" thread) is a non-divisible, softly twisted, mercerized cotton thread. It has five plies to each strand, as opposed to floche's four-ply strand. It is a soft thread, but not quite as soft as floche.
Unlike floche, coton a broder comes in various sizes. The common range of coton a broder used to be from size 12 through 40 (higher numbers are finer threads), but size 12, 35, and 40 are no longer commonly available. The common range of sizes now include 16, 20, 25, and 30.
Like floche, coton a broder does not have a wide color range, but it is available in white and ecru in most of the sizes, and in size 25, it is available in about 180 colors.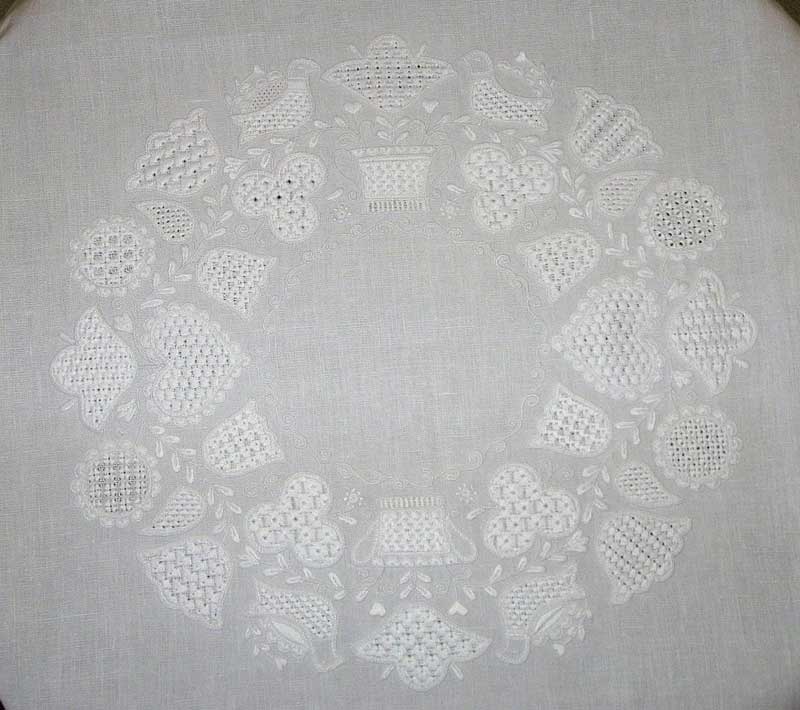 Coton a broder is used in whitework quite often. It is the "staple" thread of Schwalm whitework, for example, and can be seen in the beautiful Schwalm piece above, stitched by Luzine Happel.
Coton a broder makes gorgeous monograms in white, whether on a white background or on a colored or natural background. (I love the combination of this "oatmeal" colored linen towel with the whitework monogram!)
For whitework projects, it is nice to have a range of the various sizes of coton a broder on hand. While size 20, for example, may be a perfect choice for stitching a heavier element on a whitework piece, a size 30, which is finer than 20, may be ideal for stitching fine details like tendrils and vines.
So, floche and coton a broder: two hand embroidery threads, similar in some ways, different in others, and perfect for the various jobs they can do! I love them both whole-heartedly!
You can find the full range of floche online through Vaune.com and through Lacis.com, as well as sizes 20, 25, and 30 coton a broder.