Sometimes, photos of needlework can be the best source of inspiration for me. When I see a beautiful piece of needlework in a photo, it makes me….. well. It makes me want to DO something – to make something beautiful! But the fact o' the matter is, there just aren't enough hours in the day, days in the week, weeks in the year to do all the needlework things I'd like to do! Do you ever feel that way? So, often, I content myself with looking at pictures. And along those lines, here are some photos of magnificent examples of Schwalm whitework embroidery.
These first two pieces belong to a friend, Joey, who helped Luzine Happel with the translation of two of her Schwalm embroidery books, Basic Principles of Schwalm Whitework and Fancy Hems.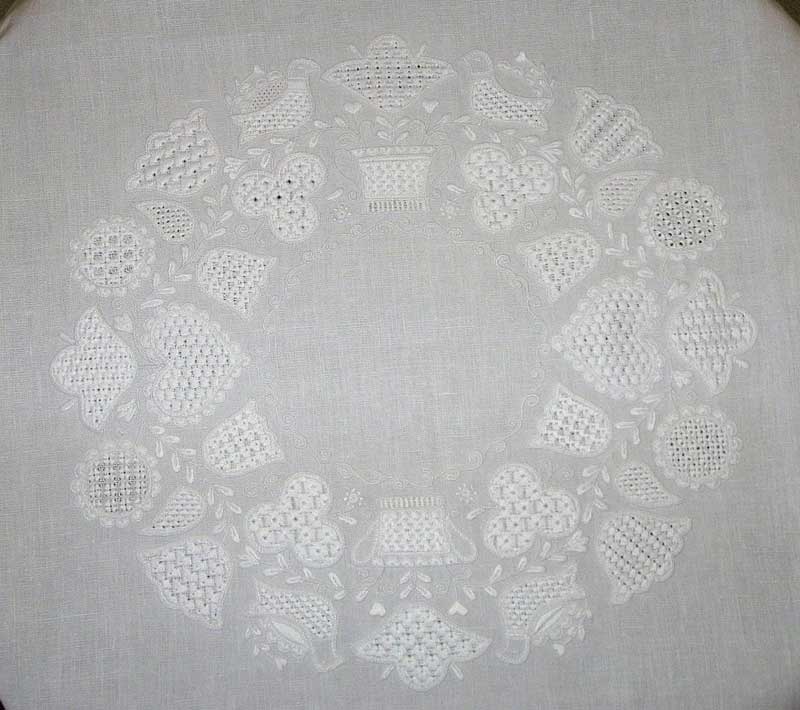 This first piece is a teacloth embroidered by Luzine. Isn't it gorgeous? You can click on the photo for a closer view of it. The stitching is so stunning! Check out the variety of filling stitches!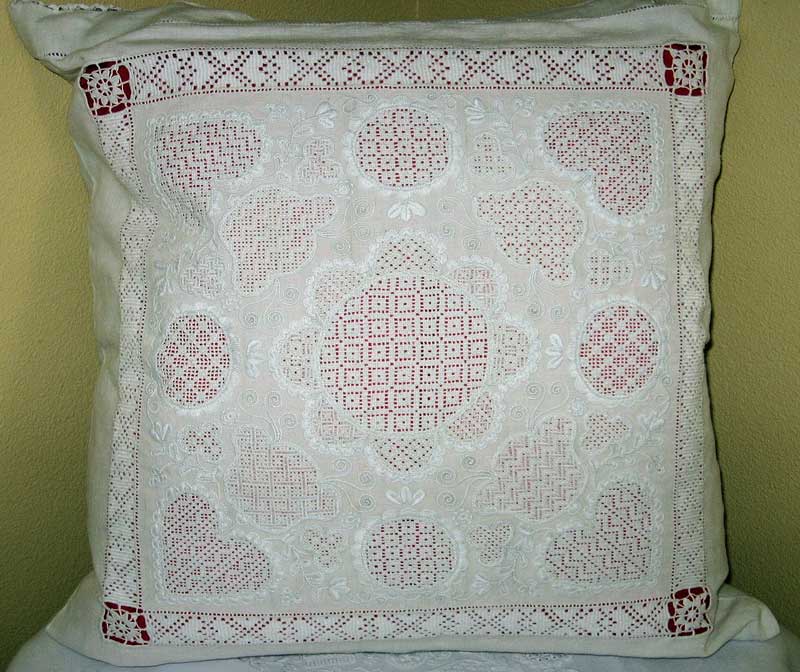 This second piece is a decorative pillow, with the Schwalm work covering a red pillow – which makes the whitework stand out beautifully. I had not considered finishing a whitework pillow this way, with a contrasting fabric behind the whitework, but it makes all the sense in the world if you really want to show off the whitework. Again, you can click on the photo for a larger version.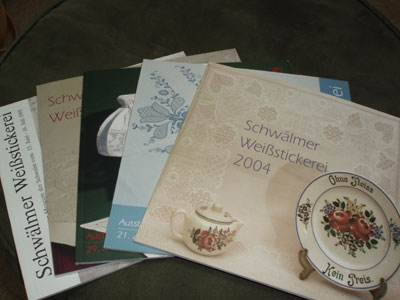 The books above are published by the Museum der Schwalm in Germany. The books are a kind of photographic journal of the pieces that have been featured in the museum's displays. Talk about inspiration!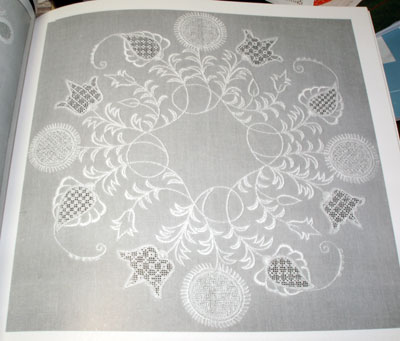 Here's one piece featured in one of the books. Pretty, isn't it? I don't know if it's exactly "traditional" Schwalm embroidery as far as design goes – the design seems a bit more contemporary. I like it a lot!
A lampshade! I think I would love to have this in my house… but I can't help wondering if it would stay this pristine? I'd feel obliged to put it under glass to keep the Kansas dust off it!
Yep, I do love to browse through these types of books!! They goad me into doing something with my needle and thread.
A Give-Away!
Now, speaking of Schwalm work (again), I'd like to give away another book. Joey sent me a copy of Fancy Hems, but since I already have one, I thought it would be a good opportunity to put this excellent book into some other keen stitcher's hands.
You can read my thorough review of Fancy Hems here on Needle 'n Thread, to see what the book is about. Note that it's not just for stitchers interested in Schwalm whitework. Anyone interested in drawn thread or pulled thread embroidery will find this book useful and instructive.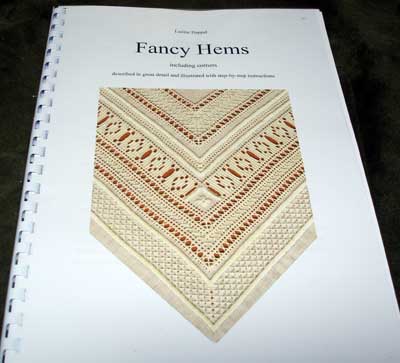 If you'd like to win this copy of Fancy Hems, here's how the give-away works:
Leave a comment below (on this article, on the website – not via e-mail or on other posts), answering the following question:
If you could launch into a Schwalm project right now, assuming you have the materials and instructions at hand, what would you make?
Make sure you leave a name, even if you use the "anonymous" feature when posting your comment. I'll draw for a winner on Wednesday, October 28th, by 5:30 am.
Best of luck!