Buttonhole stitch can be used for more than just an edging. These photos of different tiny flowers using the buttonhole stitch will give you some ideas of how the stitch can be incorporated into surface embroidery.

This first flower is a stylized hollyhock. For another example of hollylocks shaped differently, check out my hollyhocks embroidered in wool.
These pink hollyhocks are embroidered with floche, in buttonhole stitch, with French knots for the centers. The dime is included to give you an idea of the size of the flowers.
The leaves on these little flowers are also buttonhole stitch, worked on linen using floche.
The various shades of pink floche worked in buttonhole stitch here create a stalk of bell-like flowers.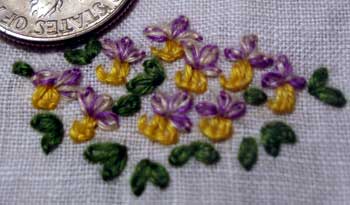 This tiny bunch of pansies is also embroidered in floche, using the lazy daisy stitch for the top petals, with the base petals in yellow done in buttonhole. That's the edge of a dime in the photo. The stitches are tiny!
To learn how to work the basic buttonhole stitch, check out the buttonhole video tutorial.
Have fun with it!
Tags