The other day, I ranted about my love of satin stitch for monogramming – and I still haven't changed my mind! It's just a glorious stitch!
So here's the finish of the monogrammed linen towel I was working on, with a few hints and tips along the way.
In these photos, the towel has been hand laundered and ironed. Unlike an unfinished piece of linen that can be damp stretched and blocked, a finished towel probably shouldn't be pinned all around the edge as you would to block an unfinished piece. Ironing while the linen is still slightly damp will give you a smooth and beautiful finish, as long as you go about ironing the right way. Remember that this monogram is highly padded, but even if it weren't, any time you iron an embroidered piece, you'll want to iron the embroidered area from the back, on a padded surface so that the embroidery sinks into the padding and isn't squished by the iron.
I went into a little more detail on ironing your embroidery projects when working on this linen pouch, so you might want to read that post if you've an interest in ironing your own embroidered towels.
The towel is a woven linen glass towel, and it is a Perfect Surface for this type of needlework. It's also suited to counted thread embroidery, so your monogram can be counted cross stitch as well – the kind of counted work seen on those stunning French linens of yore. The towels are about 60 cm square (or at least, very close to square), and are imported into the US from France by Access Commodities. They're available through any fine needlework store that stocks goods from Access Commodities – you can always ask your local needlework shop to special order the towels if you're looking for them. I know that Attic Needlework in Mesa, Arizona, carries them, and they do take mail orders (the contact information is on their website). The towels come in white linen, with red, blue, or green striping on the edge.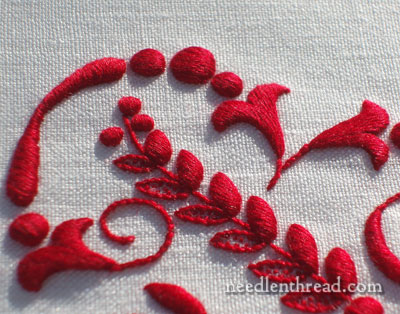 What interested me particularly about the towels and compelled me to try them for monogramming is that they are linen. If you've been reading along with me for a while, you've figured out that I'm a linen freak. Stitching on good linen is an experience in itself – it is not like stitching on cotton, and it is not like stitching on inferior linen, either. I figured if I want to teach a class in monogramming (which is my plan with this), then I want to have a quality ground fabric that helps ensure excellent and pleasing results, even for beginners.
I have this theory, you see, that quality materials always give a better result. Good embroidery will look close to perfect when worked on quality materials – and, believe it or not, poorly done embroidery will often look good on quality materials! But embroidery poorly done on inferior materials pretty much looks like embroidery poorly done. And perfect embroidery done on poor quality materials will not shine as it could, if done on better quality materials. So even if the embroidery itself is not perfect, it will look perfect (or pretty darned close to perfection) on good materials – at least, it will look a lot better worked with good quality materials than not. I'm sure you've found the same to be true, whether you're doing needlework, quilting, knitting, or the myriad other crafts and activities that require you to invest in supplies. Maybe I'm off the mark here – I'm not trying to sound "snobby" about materials at all! But I know when I put time, effort, and expense into a project, I want it to come out as nice as possible, and the materials I work with have a lot to do with that. But that's just the way I see it. What do you think?
Ok. Off the soapbox. Sorry!
In any case, I was really pleased to find these towels and try them out. I discovered that they are indeed a real pleasure to work on!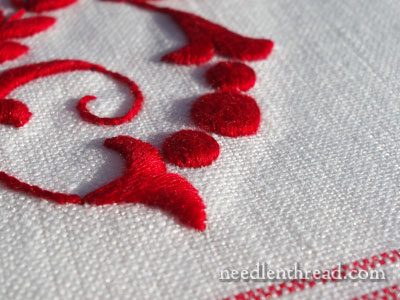 The towel with monogram makes a stunning presentation, and a single monogrammed towel on its own will make an excellent and special gift – think housewarming, birthdays, a holiday gift for the host, a bridal gift, and so forth. I'm planning on folding this towel with the monogram up, and tying it with a red ribbon, first to display for a class sample and then to give as a gift.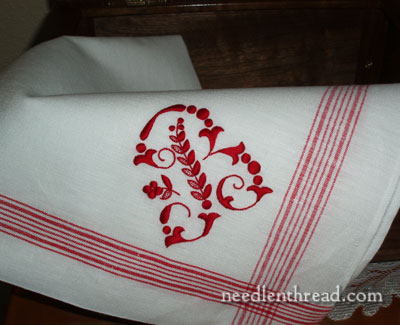 My next monogramming venture will be with one of these towels, in counted work. The towels are not even weave, but they are close enough that they will give a good result. I'm not sure yet if I'll stitch over one or two threads, and I haven't done any marking or counting to figure out the thread count of the towels, but as soon as I do, I'll let you know what I discover. It'll be one of those trial-and-error escapades, I'm sure! But… fun!
Project Recap
Linen glass towel from Access Commodities, in red
Cotton floche, in red #321, which you can find through Lacis.com online
Sajou monogram, from the old Sajou pamphlet #346
Set-up and stitching time: about 5 hours
Monogram Patterns!
If you're looking for the whole monogram alphabet for this letter, you'll find it in my e-book, Favorite Monograms, along with 15 other complete alphabets for hand embroidery.
Other Helpful Articles on the Subject:
Satin Stitch video tutorial (for padded satin stitch)
Satin Stitch Padding
Satin Stitched Dot tutorial
Notes on Satin Stitch
Stitching Tight Curves with Satin Stitch
Using Satin Stitch for Lettering & Text
Satin Stitching with Metal Threads (Reader's Embroidery)
Some Monograms for Hand Embroidery