Back in July, when I originally showed you this embroidered monogram in floche, I had a lot of requests for the tulip alphabet that I used for that particular letter.
This is the embroidered monogram, in case you haven't seen it yet: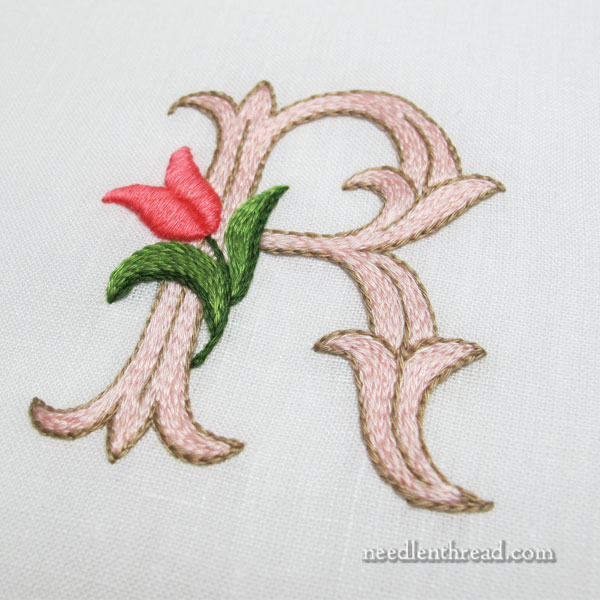 The design comes from an old publication – late 1800's – and as usual, it was missing some letters (W and I are the letters normally missing from monogram alphabets of old) and the individual letters were not necessarily consistent, especially in the spacing and measurements of the center lines and in the placement of the tulips.
I finally got around to cleaning them up, and as I work my way through the alphabet, I'll filter them out to you here on Needle 'n Thread. You'll be able to find the tulip monograms listed on this index of monograms patterns for hand embroidery, which is listed under Patterns in the main navigation at the top of the website.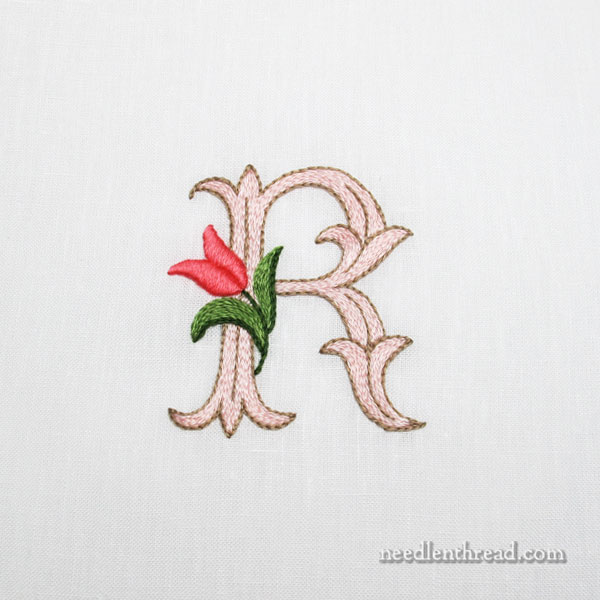 So, the original monogram that I embroidered was worked with split stitch, primarily, except for the tulip, which is a combination of stem stitch (on the stem and leaves) and padded satin stitch.
In retrospect, I wish I had worked the leaves on this in padded satin stitch as well, and the next time I work up one of these monograms, I'll do just that!
These particular monogram designs, though, will work with all kinds of stitches, and the letters don't necessarily have to be filled.
You could outline the letter with a simple stem stitch and, for contrast, work the tulip in filled stitches. Closed herringbone stitch, cretan stitch, buttonhole stitch – all kinds of stitches would work well on the tulip leaves and petals.
Perhaps you want the letter to be filled, though not solidly filled. Seed stitching (tiny random straight stitches) would work well for that.
You could also work these letters in shadow work, which would be interesting, I think. In fact, I'd like to try the letters in shadow work, with the tulip worked solid, from the front, for a contrast. That might be fun!
Tulip Monograms A-D Printable
Although the letters look very large here, the designs on the PDF below print at 2.5″ high. You can enlarge or reduce them to fit your own personal needs. If you want them to print at 2.5″ high, choose "no scaling" or similar options in your printer settings before clicking the print button.
Tulip Monograms A – D (PDF)
Favorite Monograms – PDF Collection
You'll find this complete alphabet – along with 15 other decorative alphabets – all in one place in Favorite Monograms, a downloadable PDF collection of 16 monogram alphabets perfect for hand embroidery and other crafts.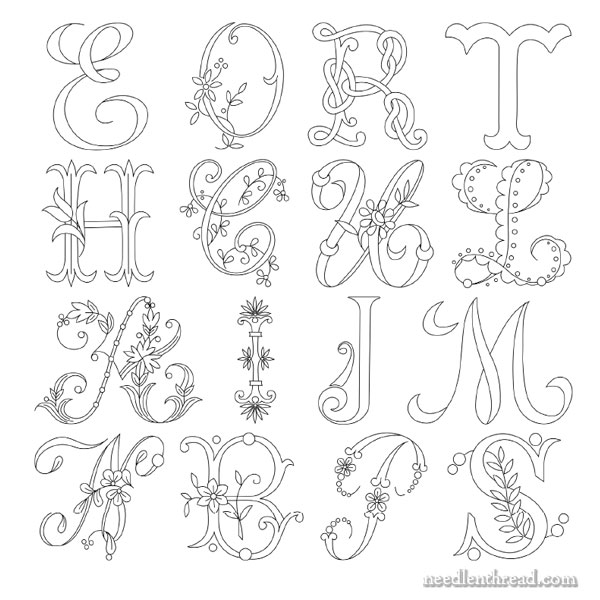 In the photo above, you can see samples of each alphabet available in Favorite Monograms.
Each letter in each alphabet in Favorite Monograms has been carefully traced into a clean line drawing that can be easily enlarged or reduced on a home printer or a photocopier.
The 16-alphabet collection is delivered as via a download link to your inbox shortly after purchase, so that you can begin creating right away! Priced at less than $1.00 per complete alphabet, monogram lovers can't go wrong with this collection!
Favorite Monograms is available in my shop, here.