Last week, I asked you all how you organize threads for large needlework projects – because, you see, I've gone off the deep end and I've set up a pretty ridiculously large project that will probably take me three hundred years to complete.
When I asked the question, I was already hooked into organizing the 200 colors required for this project – there are 95 solid colors in it, and 105 blended colors.
I found that the organizational aspect was actually kind of fun, but it took So Much Time. It was a project in itself! Still, I figure if I'm going to subject myself to a super-duper-long-range project, it makes good sense (based on the Principle of P's: Prior Proper Planning Prevents Poor Performance) to organize thoroughly in advance.
So many of you offered great suggestions for organizing threads for projects! A couple of you mentioned the system that I'm using, which is called Annie's Keepers. Today, I'll show you that system, the parts involved, and how I'm using them for this particular project.
Once I decided to move forward with the project (which is a counted thread project involving an 80-page chart, 200 colors, and 250,000 stitches, in tent stitch), the first thing I did (besides purchasing the chart) was contemplate organizing this many threads in a logical and efficient way.
I don't often do counted work, so I wasn't really familiar with what's available on the counted cross stitch market as far as organizers are concerned. I knew about thread bobbins, LoRan thread cards, floss bags and rings, thread drops, and DMC's stitch-bow system, so I contemplated each in turn.
I knew wanted to set up my threads pre-cut, in a loop through a hole. I find this the easiest way to set up threads so that one strand can be removed at a time, without having to strip the floss. This requirement eliminated bobbins, floss bags, and the stitch-bow system.
This left the LoRan thread cards and thread drops.
I also wanted the ability to remove specific threads from the main group so that I could stitch with them, without having to carry around the whole thread card or a group of thread cards. This left thread drops.
But I also wanted some kind of system that could be closed in, that would allow the pre-cut threads to be left fairly unruffled. Thread drops didn't strike me as the solution.
I decided to concoct my own system, using some small plastic rings that I had on hand for making Dorset buttons. I would have to make a number and symbol tag for each ring, and then I'd have to put the rings on something to hold them in a specific order. And that Something should be containable inside Something, to keep the threads clean. What occurred to me was the thin metal hangers on the inside of hanging file folders.
Yes, that seemed like it might work. I could hang all the threads in a portable plastic file box that way. I would have to attach the identification tabs in a way that they could be easily seen, but yes, it might work!
And then I thought about removing some of the rings, and I realized that I'd have to remove all the rings from the file wire and replace them in order, every time I wanted to take a ring off.
Plus, there was a problem with the rings: many of them had a small ridge on the inside or outside of the plastic, which would definitely interfere with the thread (and ruin it, really).
And that's when I finally got frustrated and said, "Somewhere, someone has already solved this problem."
I turned to the One Who Knows the Answer to All Great Questions of Life: Google.
I Googled a lot of terms, but it was "floss keeper hanging file folder system" that worked. Annie's Keepers came up.
And they looked like what I was trying to do, only they made more sense! I noticed they are available at Nordic Needle, and so, forthwith, I placed an order. (Actually, the poor people at Nordic Needle – I ended up placing three orders before I finally got it right…)
Annie's Keepers is an embroidery floss organizational system that involves pretty much two main components: slides and keepers. The slides are long, sturdy plastic hangers that hold the keepers, which are basically acrylic tabs with two holes in them.
There are two types of slides available – project slides and storage slides. Storage slides have hooks on the end, so that they can hang in a file cabinet or a file box. Project slides don't have the hook ends, so I opted for the storage slides.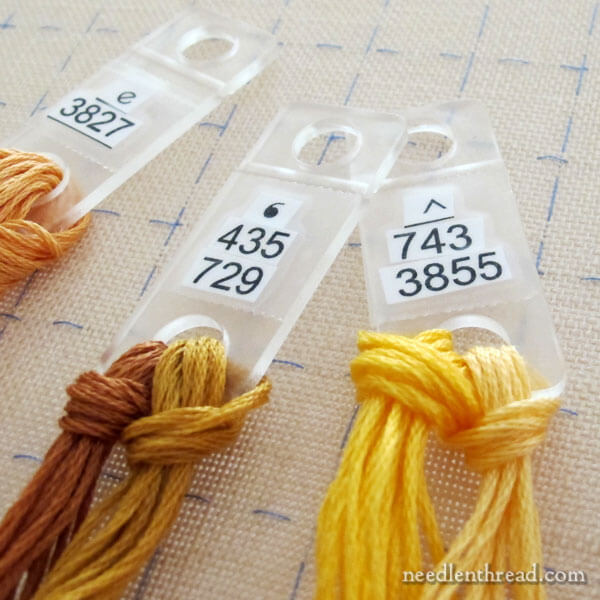 The keepers can be taken off the slides and put on a ring, and then replaced on the sides, without having to move all the other keepers on the slide. Removing the keepers is easy enough. Getting them back onto the slide in the same place takes a little more work, but it does work.
The acrylic keepers come with round labels that you can write symbols and color numbers on, but I opted to label these my own way. I enlarged the symbol / color list from the project and cut out the symbols and corresponding colors and taped them onto the keepers.
Once all the keepers were labeled and ready, I cut my threads and looped them onto the keepers, slid them into the slides, and placed all the slides in a portable plastic hanging file box.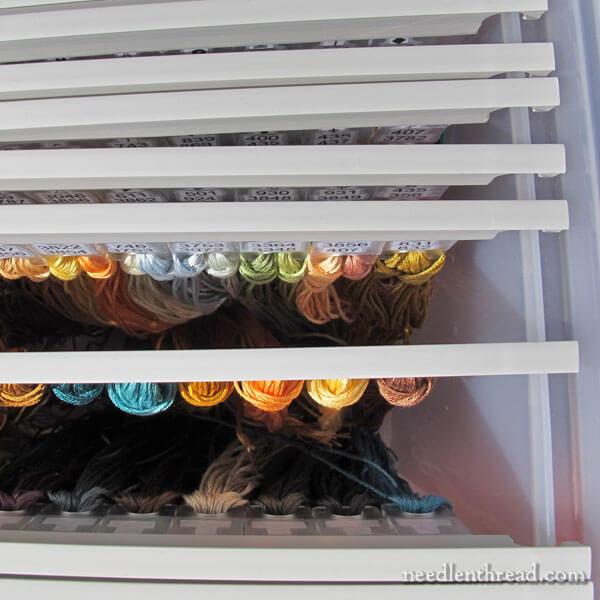 The threads hang straight down, they don't get too jumbled up together, and the file box can be closed and left undisturbed, keeping the threads safe, clean, and tidy, or the whole thing can be fairly easily toted to one place or another, depending on where I want to work on this project.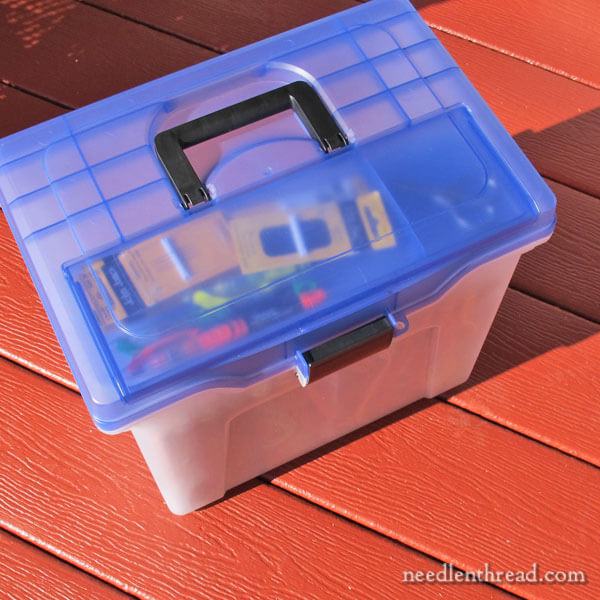 It's not a big file box. And there's even room inside, with all the threads, for the chart binder and other requirements (like my CraftOptics).
And this particular file box has a nice little tray in the lid, to hold scissors, extra needles, and highlighters.
So that's my solution, and it answers every requirement that I set out with. I think it's a brilliant system!
It's true that a homemade system would be more economical. The Annie's Keepers storage solution (for 300 threads – that's 20 sliders and 300 keepers) is around $79, and I picked up the file box on sale at Staples for about $10. So this whole set-up is just under $100.
But it's a system I can use again, it keeps everything neat and tidy and ready to go when I need it, and it keeps the threads in good shape.
I'm really happy with it!
Where to Find Annie's Keepers
You can find Annie's Keepers through Nordic Needle – that's where I ordered mine, and they were very good about getting it too me quickly. They have flat rate shipping, which is nice!
You can also find it, I think, through Stitching Shop in Denver, though I can't find it on their site. You might call them, if you want to order from them.
In Canada, you can find Annie's Keepers through Traditional Stitches.