Happy Thursday!
Today, I want to introduce to you all a wonderful new website for those of you who love historical embroidery and reproduction samplers, show you one of their charts, and point you to a really sweet free pattern that I want to use for a particular stitching technique.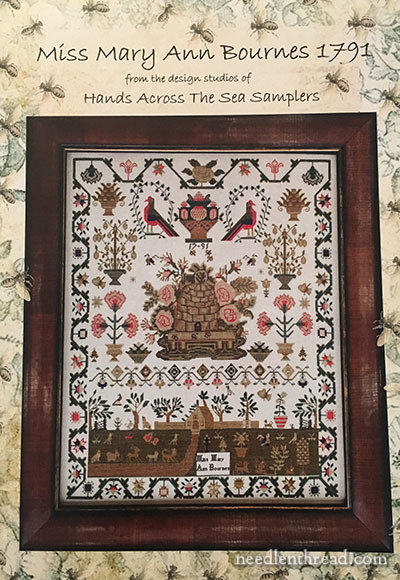 The website, run by Nicola Parkman in the UK, is called Hands Across the Sea Samplers. There, you'll find charts for authentic reproductions of antique samplers like Miss Mary Ann Bourne's sampler of 1791 above.
I've followed Nicola Parkman's blog, Stitching by a Cornish Sea, for a long time, so I was really excited when she and Sandra (of Sampler Lovers) launched this new endeavor!
The charts they are producing a really nice!
They're printed in booklet form on heavy stock, and they begin with an introduction the sampler, including its history, how it was originally stitched, and other pertinent information.
The charts are easy to read, and they include a shadowed overlap for each section, so that you don't get lost as you move from section to section.
If you love bees (I personally have a Thing for the little buzzy critters), you'll love the central motif of Miss Mary Ann's sampler. It's a bee skep, a-buzz with little bees and surrounded by lush roses.
The colors of the sampler are somewhat muted colors, suited to the historical time frame. The threads suggested for use are Au Ver a Soie's Soie d'Alger, but they also supply a conversion chart for DMC. There are 15 colors in this particular sampler, and on the color list, you'll also find the number of skeins needed to stitch the piece, along with fabric sizes needed for various counts.
In the back of the sampler booklet, you'll find a tips page to help you complete the sampler, covering everything you need to know, including any specialty stitches.
This particular sampler is perfect for enthusiastic beginners and beyond!
One very nice feature of the new Hands Across the Sea Samplers website is that they also have blog. And on that blog, they write about sampler stuff, stitching groups, shop talk, thread information and the like.
They also offer now and then a free pattern, like this gilliflower (carnation) design.
Which finally brings me to this point: I have a plan for that design! I love it! And I'm going to work it in bead embroidery. I'll be showing you how in the upcoming week or so. It's just a little design, perfect for beads, and it'll make a nice little token to pass on to a friend, to make into a thank you note, a birthday card, or something special like that.
Can't wait to show you! In the meantime, though, for sampler lovers everywhere, check out Hands Across the Sea Samplers – I think you'll like it!
Hope you have a terrific Thursday!