I was going to title today's article "The Pessimist's View of Reaching the Half Way Point on a Beloved Embroidery Project."
I didn't, for obvious reasons.
Usually, I'm a pretty optimistic sorta gal, but I've got seriously conflicting feelings, now that I've finished the whole right half of Late Harvest.
Half of me sees the embroidery project half empty; half of me sees it half full. And half of me (yes, there is enough of me to have three halves) can't decide if it's half empty or half full.
The only way to settle my thoughts and re-affirm my normal positive state, I've decided, is to talk about it. And who better to talk about it with than you?
The evening that I finished the very last stitch on the right half of Late Harvest, I experienced a brief flash of supreme satisfaction. A Whole Half was Finished!
You're Half Way there! the Optimist in me exclaimed.
Yep, I felt pretty good!
I almost felt…accomplished. Like I had achieved Something Significant.
But then…
Then….
…the Pessimist in me piped up.
I tried not to listen, I swear I did!
But there it was – that little nasty pessimistic voice.
Oh, you little Evil Thing, you! I cried. Creeping into my thoughts. Shattering my sunshine!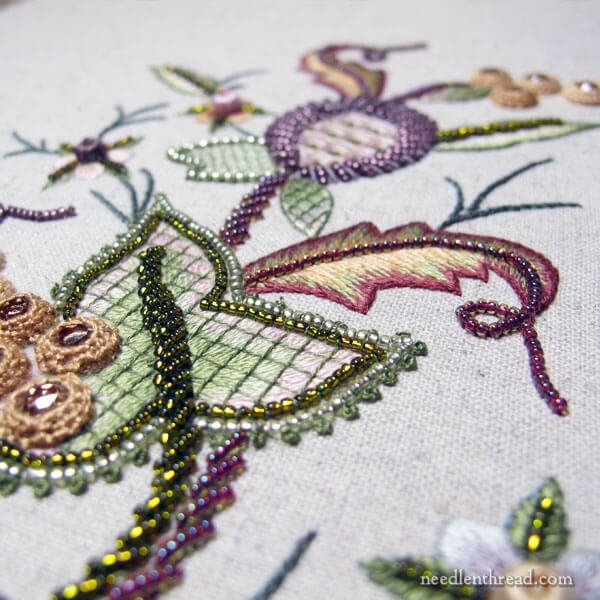 While the Optimist in me was crying Yippee!, the Pessimist responded with…
Yep. The fun's almost over. One more half, and no more Late Harvest.
Oh no.
Oh NO!
It's happening.
It's the End-of-the-Project Blues. And I haven't even gotten to the end of the project!
I've talked about them before, these particular Blues. They always strike me right at the end of the projects that I really enjoy. The projects that are pure fun, a little challenging, and no strings attached.
All I can say is, I must really like Late Harvest. I can't believe I'm already feeling sad it's over, when it's really only half way over.
So, the Pessimist in me is cuing the Blues.
The Optimist in me, however, is rejoicing that I have a whole half to go.
And on that half, there are quite a few fun elements just waiting for me.
Ooooooooooo – I can't wait!
Yes. I'll stick with the Optimist!
There. I'm back to normal. Thank you so much for listening. You've helped me more than you'll ever know.