This morning, just a quick little shout out about some Really Good online hand embroidery classes that are on sale on Craftsy right now, and in fact, the sale ends at midnight tonight.
Whoops. I should have told you sooner – I apologize! But if you have been hankering to further your embroidery skills, this is a great (and super affordable) way to do that!
Below, I've included a list of the hand embroidery classes on sale today and also some general notes about Craftsy classes, with links to some of the class reviews I've written, in case you're curious. Yes, I do enroll in Craftsy classes, and I've learned some really good things from them!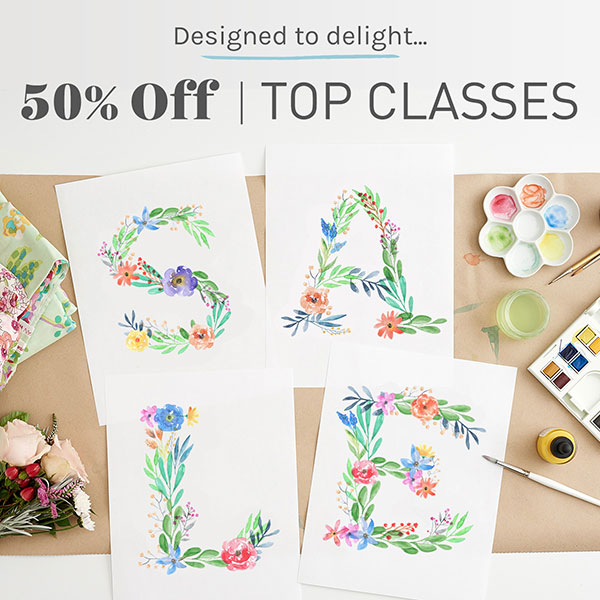 Why take an online Craftsy class?
They're affordable. They're a great way to brush up on, or expand, your skills. They're easily accessible anywhere, as long as you have a decent internet connection.
They don't expire, so you can work at your own pace. They include quality video instruction. They include instructor interaction and feedback. And they are taught by quality instructors who really know what they're doing.
Craftsy Hand Embroidery Classes on Sale Today
Sure, there are tons of classes available on Craftsy, and maybe you're a craftahoholic who dabbles in all kinds of crafts – well, you'll definitely find more than hand embroidery classes on sale today!
But since I'm an embroidery fiend, that's what I'm going to tell you about. These particular classes are on sale through midnight tonight at 50% off.
In the interest of full disclosure, these are affiliate links, which means Needle 'n Thread gets a wee kickback if you sign up through my links. But it's really not the reason I'm telling you about the sale! They're great classes at a great value.
1. Design It, Stitch It: Hand Embroidery – this class is suited to beginners or to those who want to brush up on skills learned long ago. It covers hand embroidery basics and lots of stitches.
2. Embroidering Texture & Dimension by Hand – this is geared towards stitchers who want to explore appliqué and textured stitches and the like. There's a lot of wool felt layering going on in this class, and it's lots of fun!
3. Goldwork Embroidery: Essential Techniques – for beginners in goldwork and beyond-beginners, this class, taught by Lucy Barter, RSN graduate, is a dream come true! You'll learn all kinds of goldwork techniques, you'll see the threads up close and learn what they're used for – it's just a great class. You can read my review of it here.
4. Stumpwork: Raised Embroidery Essentials – for beginners in stumpwork and beyond-beginners, this class, taught by Celeste Chalasani, is another dream come true! You'll learn basic stumpwork techniques, and then some. You'll find out how to make your embroidery really explode in three-dimensional splendor. If you've been thinking about trying stumpwork, you'll definitely want to take this class. You can read my review of it here.
5. Bead Embroidery – A nice, accessible introduction on how to incorporate beads into your embroidery projects, this class covers all kinds of stitches using beads. It's fun!
6. Bead Embroidery: Beyond the Basics – This class takes you deeper into bead embroidery, with all the incrusted wonders of creating beaded masterpieces. You'll easily pick up lots of tips that you wouldn't necessarily find easy, learning from a book.
Big Return!
Really, these classes are a steal. They're less than $20 (which is less than the price of many instructional books), they're excellent references to go back to when you need to, and they're a lot of fun.
I think they're a really small investment for a real big return. They're a great way to learn new skills that will bring you pleasure the rest of your life!
Enjoy your weekend!