Visiting museums, taking road trips, exploring history… these are things I love doing, and usually, when I do get the opportunity to do them, I'm always on the lookout for embroidery along the way. I can't help it – it's a compulsion and an obsession!
Last month, a very dear friend came to visit, whom I hadn't seen in years. One day, she suggested a short road trip. Now, I'm nuts for road trips, but I haven't gone on even a short one in a couple years. So I leapt at the opportunity, and one morning, early, we headed out across the green hills of Northeast and North Central Kansas (yes, by the way, we have hills in Kansas!), to a town called Concordia.
Concordia is home to a small museum with a huge story. While the museum is, in a way, a simple affair, it tells one of the most compelling (and little-known) stories of America history – the story of the Orphan Train Movement. The Orphan Train Complex houses a research center and a museum dedicated to the riders of the Orphan Trains in the US from the mid-1800's through the early 1900's. During a time frame of about 75 years, over 250,000 children – orphaned, abandoned and foundlings – were "deported" (primarily from NYC) on trains across the United States and Canada to be placed in new homes.
The Orphan Train riders' stories are a mixture of sad and happy. At a time when immigrants were flooding into New York, the infrastructure simply wasn't in place to help the large numbers of families who faced poverty and hardship in their new home. For better or for worse, the Orphan Trains were seen as a solution to alleviate the overwhelming problem of abandoned children on the streets of the city.
Two foundations, both with different approaches, sent children out on the trains.
The Children's Aid Society sent them in groups, with adult representatives, to towns especially in the Midwest, where the agricultural and rural life was seen as ideal for the raising of children. The trains stopped in various towns along their routes, where notices had been placed in the newspapers announcing that children would be available for good homes. The children were placed on stages in the towns, and families were able to select a child or children from the group to take home.
The NY Foundlings Hospital, under the Sisters of Charity, operated in a different way, arranging adoptions ahead of time, so that the children were delivered via train directly to their new families.
You can well imagine the hardships these children faced, the fear and uncertainty that governed their lives, and the hope that they had for finding a good home. In many, many cases, that hope was realized. But in many cases, it was not, and not every story ended happily.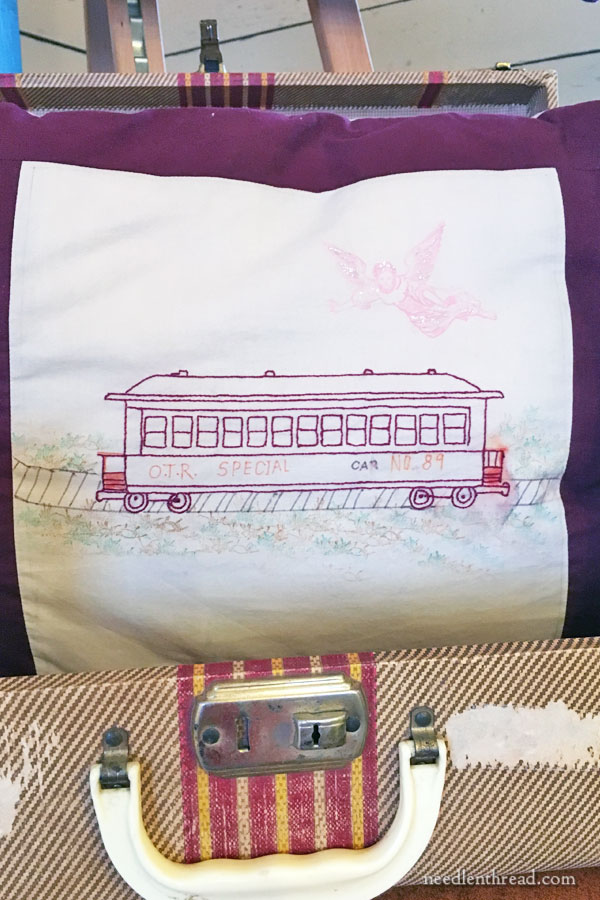 The embroiderer in me immediately homed in on some of the textiles in the museum. Redwork representations of the Orphan Train story can be seen on quilts and cushions here and there among the displays.
The embroidered flour sack towel, an American icon of sorts, makes several appearances among stacks of small suitcases.
Many of these were embroidered by Lela Reinhardt Newcombe, whose story is briefly told in the first photo above.
Quilts are always a part of the fabric of American frontier life, so it wasn't unusual to see several displayed in the museum.
Aprons, too – hand embellished – make an appearance.
This particular apron is decorated with a series of running stitch patterns in a heavy cotton thread.
One of the sweetest little surprises in the museum was found in Mabel's display case, where, tucked into her suitcase (with a rather scary paper doll) is a beautiful handkerchief in Appenzell whitework.
Since my friend and I were the only two visitors to the museum that morning when it opened, we were on the self-guided tour. I wasn't able to discover whether this handkerchief was a display prop or if it was actually part of Mabel's history.
I hope it was part of her history!
More About the Orphan Trains
If you want to read about the history of the Orphan Trains, the Orphan Train Museum website is a great place to start.
There are also plenty of books on the subject, if you search "orphan train movement" online.
And then there was Twine
Concordia is a three hour drive from my home, through rolling hills of verdant farm and pasture land. After being cooped up for some eight months, it was a glorious day out all around – really good for the soul!
I not only got to enjoy our beautiful countryside, but I was able to learn all about the Orphan Train Movement and a very interesting period of history that I knew little about before.
And, to top the day off and make it even more complete, we went to see this:
Yes. It is the world's largest ball of twine. It was only forty-five minutes further down the road, and when you're that close to such a Wonder, how can you resist?
It was simply… amazing.
To tell you the truth, I was more amazed that they have benches situated around it, so visitors can sit and contemplate.
Now that I've got the Ball of Twine crossed off the Bucket List it was never on, I feel like I can get on with life.
Hope you have a marvelous weekend!