Adult coloring books are all the rage, and while they're a heap of fun in a lot of ways, I think I've found an even better outlet for needle and thread lovers!
Careful, though – it might become addictive!
This weekend, I finished the kaleidoscope design I've been playing with.
When I put the last stitch in, I was almost sorry to see the end of the project. I say almost, because my brain was churning with ideas for the next one!
This embroidered kaleidoscope was So Much Fun to stitch!
It has all the right ingredients for a relaxing and satisfying embroidery project: The design is fun. The thread palette is colorful. The stitches are easy. The materials list is short. The whole project is small enough to see fast progress. And, at the end, the finish is pleasing.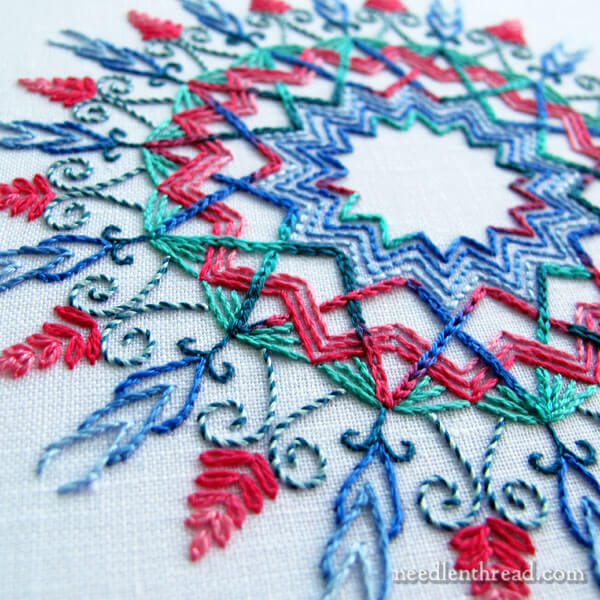 For this initial kaleidoscope, I wanted to keep everything simple and let the stitches and the colors do all the work.
Still, it's definitely the type of design that tempts you to embellish and elaborate with beads, buttons, sequins, metallic threads – whatever tickles your fancy!
And there it is!
This was one of those little projects I just couldn't put down. Like a good book, it kept calling me back so I could see what developed next.
I'll be sharing this design with you soon, along with all the particulars in case you want to work it yourself. Keep an eye out for it!
And now, I'm off to set up the next one!
(I know. It's a tough job, but someone's got to do it…)