Yvette Stanton of Vetty Creations has done it again!
If you love whitework embroidery, you've probably heard of Yvette – and if you haven't heard of her, you need to!
Yvette writes instructional and project books, mostly for specific whitework techniques. She's published an impressive library of eight books so far, six of which are devoted to whitework. All of Yvette's books are beautifully written and photographed and packed full of clear, accessible instructions that are suitable for beginners and beyond.
This eighth book – Early-Style Hardanger – does not disappoint. It is High Quality Yvette, all over the place. If you know her books, you'll recognize her style, her attention to detail, her thorough instructions and her exquisite projects.
Let's look at the book close up, shall we?
Early-Style Hardanger explores the counted whitework techniques of Hardanger embroidery as they originated from the Hardangerfjord region of western Norway.
For those who are familiar with Hardanger embroidery, Yvette's introduction sets the stage for this book:
Forget everything you know or think you know about Hardanger embroidery. Early-style Hardanger embroidery is very different to what most of us recognise as Hardanger today…
The book begins with a very readable introduction that delves into the history of Hardanger embroidery and explores it in its social context in Norway.
There are plenty of photos to enchant and delight!
In fact, there are heaps of photos! I especially love the close-up pictures of examples of early-style Hardanger.
It's amazing to think that, during a time when lighting wasn't as convenient and ready as it is today, when magnification wasn't really an option, ladies faithfully plied their needles, working over their precious linen to create a much finer, more intricate style of Hardanger than we see today.
One of my favorite parts of the introduction is this comparison between old and new. Yvette lines up examples of early-style Hardanger with examples of contemporary Hardanger, so that we can easily see differences and recognize advantages in both styles.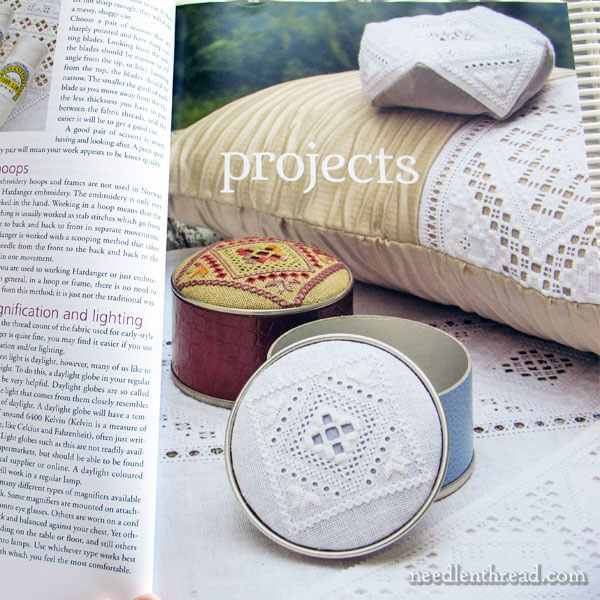 After the introduction, we jump straight into the Projects section of the book.
Wow!! If you want projects, you've got 'em! There are ten projects in the book, with detailed instructions on how to create them.
The projects range from small – like the bookmark above…
…or these pin tins…
…or a lovely biscornu, perfect for a pin cushion…
…or these adorable Christmas stockings…
…to larger undertakings – like this oh-so-elegant linen blouse with a Hardanger collar…
…or (my absolute favorite!) this glorious, crisp white apron, which I could never bring myself to wear in a kitchen. Or at least, not in my kitchen. It's gorgeous!
My mind always boggles at the projects Yvette accomplishes for her books.
Think about it: it was just two years ago that Yvette's last book, Sardinian Knotted Embroidery, was published. Two years later, here's another book full of finished projects. Imagine the hours of stitching, the hours of finishing, the photographing, the editing of said photos, the writing of the book, the creation of all the instructional diagrams and patterns, the editing of the book (she self-publishes her books), and everything else… the stitching time, the computer time, the research time!
Not to mention the Mom time, the Wife time, the Teaching time, the Business time.
I'm telling you: my mind boggles!
Ahem. Back on track.
Following the Projects section is the Very Thorough instructional section. Here's where you'll find all the how-to's for all the different techniques featured in early-style Hardanger.
The instructions are written for both right and left handed stitchers, and are labeled appropriately.
All the stitching instructions are delivered via clear, step-by-step diagrams.
And there are lots of them! The bulk of the book, in fact, is the instructional content on stitching techniques, but keep in mind that they include diagrams for both righties and lefties.
Throughout the instructional content, you'll also find little insets that troubleshoot common areas of difficulty for these techniques. I always find inset tips and troubleshooting to be very helpful.
At the end of the stitching instructions, you'll also find finishing instructions for things like mitering corners, damp stretching and blocking work, and so forth, to ensure that your embroidery looks as perfect as possible when you're making it up into things.
And finally, tucked in the back of the book is a pull-out pattern page.
In a Nutshell
If you love whitework, if you love counted whitework techniques, if you love Hardanger, if you love regional styles of embroidery, if you love linen, if you just love good instructional books – you'll love this book! And you'll want it in your needlework library!
Where to Find It
You can find Early-Style Hardanger directly through Vetty Creations out of Australia.
If you're in the US, Early-style Hardanger is also available through Nordic Needle, which is a local needlework shop in Fargo, ND, with an excellent online shop for those of us who don't have local shops nearby.
Another online shop that carries Early-Style Hardanger is Stitching Shop in Denver, Colorado.
If you have a local shop nearby, ask for Yvette's books. If they don't have them, they may be able to order them.
In the US, you can find Early Style Hardanger here through Amazon.
Online, world-wide, you can find Early-Style Hardanger through the following book affiliate: Book Depository out of the UK, with free shipping.