What's the DMV? you might understandably ask.
This could be one of those blog posts where the writer (yours truly), traveling to exotic and interesting places, visits an elaborately named museum affectionately known by its initials, where she discovers some worthwhile textile and embroidery-related acquisitions to share with you.
It could be…
But it's not.
The DMV really is the Department of Motor Vehicles. That's the place we Americans go to register our cars, pay our car taxes, and get our licenses, tags and stuff like that.
Rather unjustly immortalized in Disney's Zootopia, the DMV might not be the Most Thrilling Place in the world to go – and you certainly wouldn't choose it as a vacation destination – but it's one of those Necessary Places. In fact, I never mind going.
In my rural county in Kansas, our DMV is located in the very rural county seat, which is one of those geographical oddities (being 40 minutes from everywhere), and known primarily these days for two things: the DMV and the county courthouse and jail.
While there is an Oregon Trail crossing close by, I have to say, there's not much else to recommend the place. But it's a pleasant drive – hilly (yes, even in Kansas), green, with beautiful vistas. Once arrived, the lines are never long (if there are any), and the folks who work there are friendly and efficient. I'm always in and out in minutes.
And on my way in and on my way out, I always pause to look at this:
Strangely enough, when you walk into the old 1800's limestone building that houses this particular DMV office, the first thing you're met with is a display case (the kind you might find in a school hallway) featuring this delicate whitework wedding gown.
Really. At the DMV!
The gown is fairly old (early 1900's) and it's adorned with a variety of whitework, needle lace, and other lace techniques. The fabric looks like a fine linen cambric, although it could be cotton.
The design of the dress is fairly simple, but the decoration of it is pretty elaborate, the whole front made up of embroidered panels and lace inserts.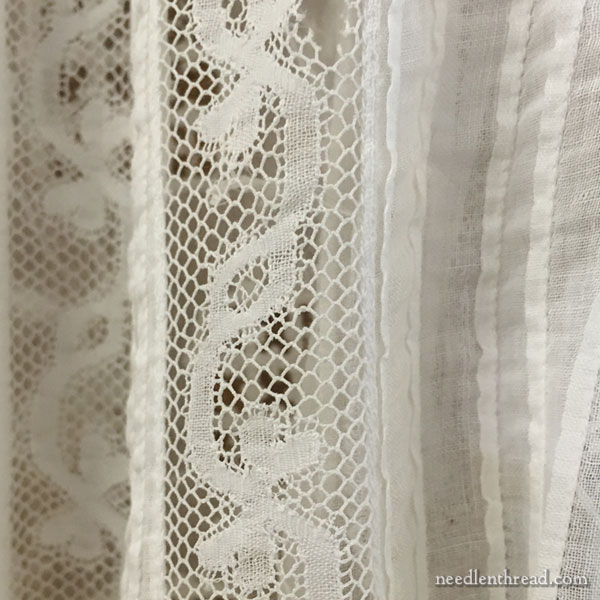 Some of the panels look like strips of bobbin lace.
And some of the panels are strips of needle lace squares intermingled with satin stitched flowers.
I'm not sure about those flowers – they could be hand stitched, but they could also be machine stitched. From a distance, I couldn't really tell.
I don't know if the embroidery and needlework on the dress were hand done by the bride, whether they were bought pieces assembled into a dress, or whether the whole dress was bought complete. All I know is that it was the wedding gown of a prominent person in the town. There isn't much of an explanation on the display.
But, what can you expect? It's the DMV, after all – not a textile museum.
Along with the dress, there are a couple hankies pinned up on display. The one above features a very pretty embroidered tulle edge. It's quite delicate and light and lovely. It's my favorite piece in the whole display case.
The second handkerchief is adorned with an elaborate drawn thread area and a tatted edge.
I can't help wondering if that edge is an afterthought. This handkerchief seems a little out of place, somehow, with the other handkerchief and the dress.
Tucked down in the bottom of the display case are the wedding shoes, satin and beaded. They would have been quite lovely new. Now, they are faded and discolored and the fabric is rotting.
Eyes Open
No matter where I go, my eyes are always seeking stitchy, thready things.
I'm forever pleasantly surprised when I find them even in the most mundane places – like the DMV. I love the fact that I can go register my car and get a needlework fix all at the same time!
The moral of the story: keep your eyes open! Even when you're in the most ordinary places, you never know when you'll see something extraordinary.
Have you ever run into an extraordinary textile in a place you least expected to? Feel free to tell us about it!
Enjoy your weekend!