Earlier this year, I had the pleasant opportunity to examine, up close, a really unique embroidery sampler worked by Sheila Iskin, who lives in Sunny California.
Now, this isn't just any sampler. It's not a band sampler. It's not an alphabet sampler. It's not a spot sampler.
It might not even be recognizable at first as a sampler, but that is indeed what it is – and I think it's a very clever idea!
This sampler goes way beyond the standard approach to sampling stitches and techniques. It will open up a whole world of ideas for you!
Sheila's technique sampler is in the form of a decorative bunting.
A bunting is a festive decoration made to be hung. Buntings were often made up of cloth or paper, usually into wide gathered streamers or even drapes.
Sometimes, you'll see buntings in the colors of one's national flag, for example, and hung out on buildings during patriotic festivities.
And then there are flag buntings, made up of multicolored triangular cuts of fabric. You might see these strung around a fairground, or maybe highlighting the edges of a car lot during a sale.
Today's trendy buntings are often made in small triangular flag shapes and hung during all kinds of parties, from birthdays to home comings to holiday celebrations.
Any time you want to get across the idea of a celebration, a bunting is a great way to do it!
I sorely regret not having a place I could hang the bunting and photograph it! But you get the idea: each flag is adorned with a technique of some sort, finished into a triangle (backed with other fabric), and joined together neatly using bias tape across the top of the flags.
As a member of her local EGA chapter, Sheila's bunting sports a few nods to the EGA…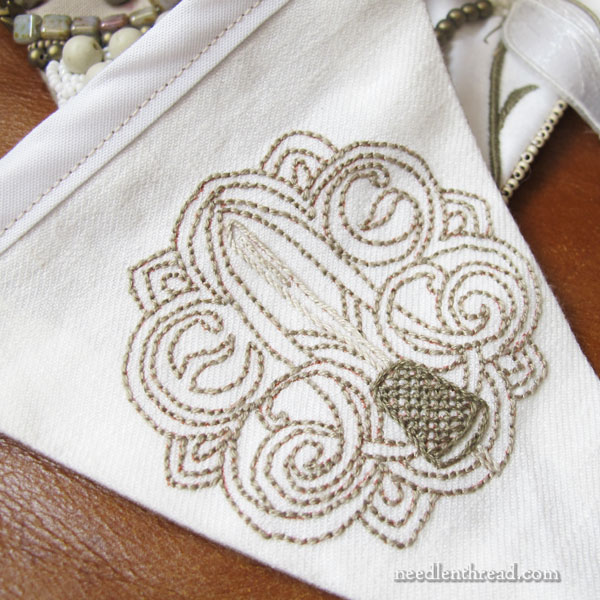 …like the logo above, worked in backstitch and trellis work.
You'll see a wide array of embroidery techniques over the whole bunting, with the color scheme of whites and naturals binding the project together visually.
The designs covering the flags range from the geometric precision of counted work…
…to the free style, more spontaneous approach of crazy quilting!
On Sheila's sampler, you'll find touches of ribbon embroidery…
…and rustic feltwork applique.
There's some simple, clean Sashiko embroidery…
…and some clustered French knot work.
From the delicate quail in white surface stitches…
…to the exuberant dragonfly in stumpwork and beads…
…to the heavily encrusted beadwork flag, Sheila's sampler offers a huge variety of embroidery techniques to explore and a fun way to celebrate the art of hand embroidery!
Some of the other techniques decorating the flags on the bunting include pulled thread work, counted cross stitch, pattern darning, chain stitch circles – just a terrific exploration of embroidery techniques all around!
Don't you think it's an absolutely brilliant idea?
I think it's time bump the whole bunting trend up a notch, don't you? No more cut out paper or plain old fabric flags, no sirree, Bob! It's time to embroider our buntings!
I'll tell you this much: ever since I first smacked eyes on it, my mind has been whirring with the possibilities!
Thanks so much, Sheila!
Explore More
Why not enjoy a good browse and explore more embroidery projects from Needle 'n Thread readers? It's a great way to get inspired!