I call this decorative alphabet for embroidered monograms Floral Script.
When it comes to naming things, I have very little pizzazz. I'm afraid I'm the type of person who would name a dog "Spot" without any qualms of conscience!
Still, in my defense, Floral Script tells you pretty much what you can expect from this alphabet: script-like letters with a little floral element for decoration. (Incidentally, the name could be equally applied to hundreds of decorative alphabets out there!)
Back in June of this year, I shared with you the first four letters of the Floral Script Alphabet.
Shortly thereafter, I shared the next four letters: E through H. And shortly thereafter that, the next four – I through L.
While preparing all those letters, I was bombarded with requests to make all the monogram alphabets on Needle 'n Thread available in one PDF publication. I did that, collecting together a total of 16 beautiful monogram alphabets into one PDF named Favorite Monograms.
And now it's time to complete the Floral Script alphabet available individually here on Needle 'n Thread, for those who have been waiting for the rest of the letters!
Stitching Ideas
Since publishing Favorite Monograms, I've worked through several samples of embroidered monograms, showing you different embroidery techniques that can be used to create your own lovely lettering.
You can find all the embroidered monogram samples here. If you explore those articles, you'll discover material lists, tutorial links, all the techniques and everything you need to know to work a variety of monogram styles.
This was my sample for the Floral Script alphabet. The E is embroidered in stem stitch, long & short stitch, and satin stitch, using DMC embroidery floss.
In this first article on the Floral Script E, you'll find the color list and an explanation of techniques. In this second article, you'll find the finished letter and any tips that will help you out along the way.
Floral Script M, N, O, P – Free Printable
Here's the free PDF printable for letters M through P in the Floral Script Alphabet. The letters will print at 2.5″ high if you choose "100%" or "No Scaling" or something similar in your print settings.
Floral Script M – P (PDF)
Favorite Monograms – PDF Collection
You'll find the complete Floral Script alphabet – along with 15 other decorative alphabets – all in one place in Favorite Monograms, a downloadable PDF collection of 16 monogram alphabets perfect for hand embroidery and other crafts.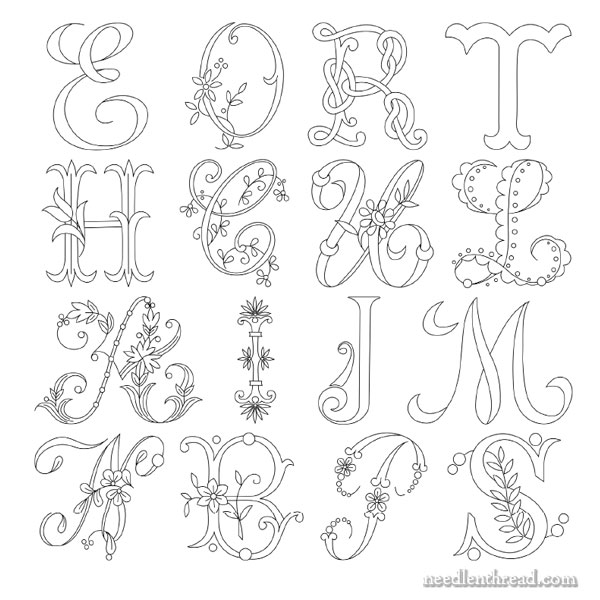 In the photo above, you can see samples of each alphabet available in Favorite Monograms.
Each letter in each alphabet in Favorite Monograms has been carefully traced into a clean line drawing that can be easily enlarged or reduced on a home printer or a photocopier.
The 16-alphabet collection is delivered as via a download link to your inbox shortly after purchase, so that you can begin creating right away! Priced at less than $1.00 per complete alphabet, monogram lovers can't go wrong with this collection!
Favorite Monograms is available in my shop, here.