Sometimes, it's easy to lose track of articles on blogs, so I like to create indexes that gather all the articles on one embroidery project or one series of embroidery projects into one place.
I keep all these project indexes under Tips & Techniques here on Needle 'n Thread (in the main menu at the top of the website).
Today, I'm going to gather together all the articles on Needle 'n Thread that include tips & techniques for embroidered monograms. Feel free to bookmark the list, to share it with your friends, and to visit it when you're looking for ideas for embroidered monograms!
To help you find a style of embroidered monogram you like, I'll show you the picture of the finished monogram, followed by the articles relating to it.
Whitework Embroidered Monogram on Linen Guest Towel
This is a group of articles that takes you step-by-step through embroidering a whitework monogram mostly in satin stitch.
Part I – Setting up, transferring design, discussion of supplies, and beginning stitching.
Part II – Continuing the stitching, discussion on working padded satin stitch, stitches used, and some trouble-shooting.
Part III – Taking curves with satin stitch – how to work around tight curves on a letter and stitch direction.
Part IV – Washing and ironing the finished guest towel.
Padded Satin Stitch Monogram in Red
This is a padded satin stitch monogram worked in red floche on a linen glass towel.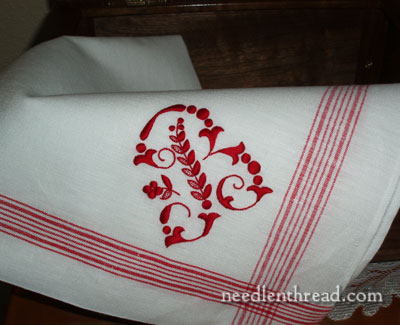 Article I – on satin stitching and monograms
Article II – the finished monogram
Shadow Work Monograms
Shadow work embroidery involves stitching on a relatively sheer fabric. Here, it is used to embroider a couple monograms.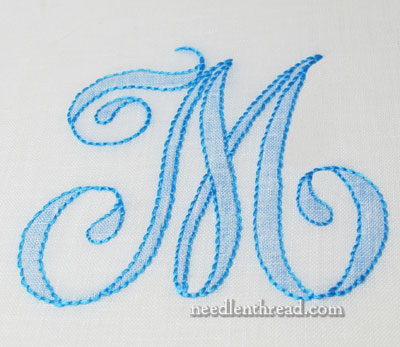 Shadow Work M – tips on shadow work, threads, fabrics, etc.
Linen for Shadow Work – linen cambric vs. shadow work linen
Tulip Monogram R with Floche
Split stitch and satin stitch make up this tulip monogram.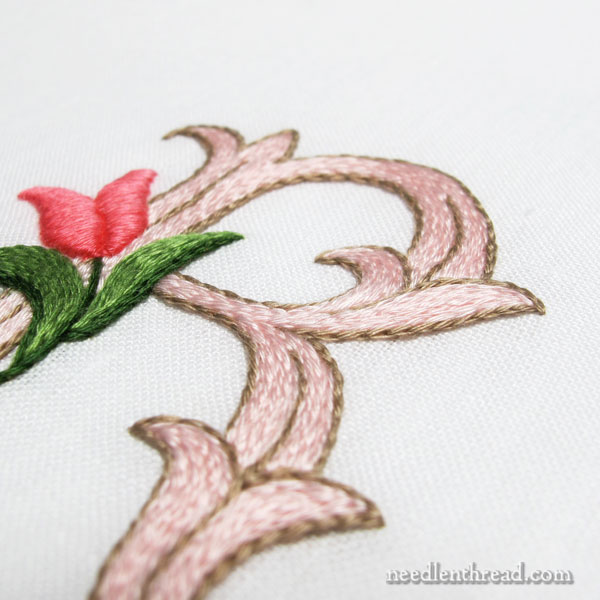 Article 1 – Beginning the R monogram, fabric, threads, stitches, etc.
Article 2 – The Finished Monogram
Confetti Monogram – Multicolored Voided Monogram
Multi-colored seed stitch covers the background around this simple monogram.
Confetti Monogram – stem stitch outline, seed stitch in multiple colors, information on threads, fabrics, stitches, spacing, etc.
Voided Floral Monogram
This monogram features a heavily embroidered floral themed background, using lots of different stitches, colors, and textures.
Article 1 – Setting up the project, fabrics, threads, initial stitches
Article 2 – Filling in the background with more stitches – a list of stitches used and links to stitch tutorials
Article 3 – Finishing the background and filling to the edges; also, a look at the back of the hoop
Simple Voided E Monogram
This features a simple E, embroidered with whipped chain stitch and a seed stitched background in one color.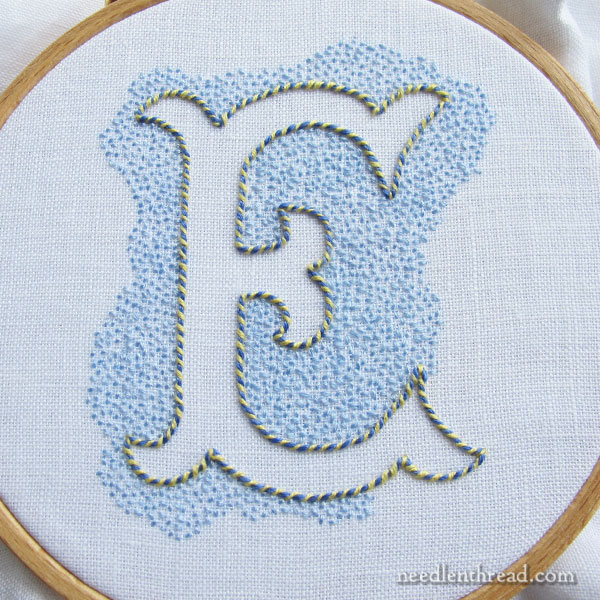 A Simple Voided Monogram in a Simple Color Scheme
Outlined Monogram C with Filled Embellishments
This monogram features simple stitches to pull off a classic monogram.
Embroidering a Pretty Monogram with Simple Stitches – includes thread, fabric and stitch information, plus troubleshooting.
Filled E Monogram, Shaded Elements
This is an elegant floral monogram filled with shaded stem stitch and long & short stitch.
Article 1 – Beginning of project: fabric, thread, stitches & techniques
Article 2 – The Finished Monogram
Purple & Green: Leafy Floral with Thistle Element
This is another shaded monogram, worked with stem stitch shading. It features satin stitch dots and long & short stitch flowers.
Purple & Green Monogram with Floral Elements – includes materials, thread colors, stitches used and links to tutorials.
Long & Short Stitch Monogram
This is a quick and simple approach to a filled monogram that looks more complex than it is!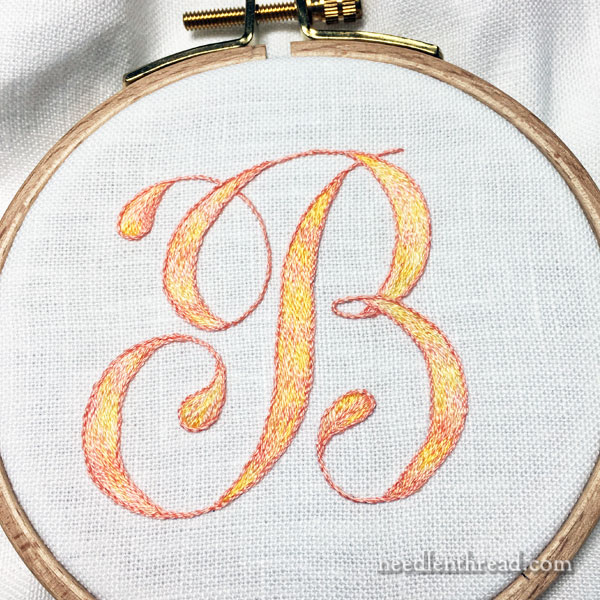 Long & Short Stitch Monogram, Outlined – the article will tell you about the thread and stitching techniques used for this monogram.
Monogram Designs and Other Useful Information
Manipulating Monograms to Create Groups of Letters – Ever wonder how to put initials together to make a complete monogram in the proper sense of the word? Here's an article on combining letters into one larger monogram.
Initials, Cyphers, Monograms: The correct terminology when talking about decorative lettering. That's right – the things I (and just about everyone else) call monograms are really just "initials."
Using Monograms to Make a One Word Design – Using monograms from the same alphabet to create a one-word embroidery design. In this case, the word is "JOY" and the monograms are embellished for Christmas.
Free Monogram Patterns – you can find free patterns for different monogram alphabets available in this index here on Needle 'n Thread
Favorite Monograms – a collection of 16 monogram alphabets all in one place, perfect for printing, enlarging, reducing, and using in embroidery and other craft applications.
More To Come!
Whenever we explore other monogram topics, tips and techniques, I'll list those articles on this index page, which will eventually be nestled under Tips & Techniques in the main menu on Needle 'n Thread. (It won't be added there until the new website format launches.)
I hope you enjoy these articles and that they help you along on your embroidery journey!