I've been writing a little bit lately about (and working in the background a lot lately) on monograms for hand embroidery.
The funny thing about monograms – and maybe it isn't funny at all – is that the monograms that we think of as monograms these days aren't necessarily monograms at all. And perhaps I'm perpetuating the problem, by calling the letters that I share here on the website, "monograms."
Today, people often refer to decorative initials as monograms. They aren't. To clarify, here's a little primer on technical terms for decorative lettering used in embroidery.
This is part of a page from an old pattern book that features three types of lettering for hand embroidery: initials, ciphers, and monograms.
So, let's define (according to their technical meaning) these three types of letter designs pertinent to embroiderers.
First, there's the initial. The initial is simply a letter. If you have two single letters next to each other, they're just initials, usually first initial followed by last initial.
Technically speaking, the "monogram" patterns that I share here on Needle 'n Thread are not monograms, but rather decorative, individual initials. They are one-letter drawings.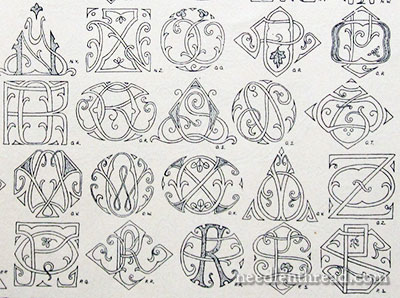 Slightly more complex than the initial is the cipher.
The photo above features a whole group of ciphers. Ciphers are two or more letters that are somehow artistically combined (often intertwining or overlapping), but that can still stand on their own as individual letters. The individual letters in a cipher do not share any parts with any of the other letters.
Each letter in each cipher is distinct and can stand on its own as it's drawn, and be recognized as itself. The letters might look a little weird by themselves, since they are formed into certain shapes so that they work together to form a specific design, but each letter is distinct.
See? The cipher on the left is NZ, and the one on the right is OO. You could remove each letter from the grouping and it would come apart whole and entire, as that letter.
The most complex of the three terms is the monogram.
Technically speaking, a monogram is a group of letters wherein at least some part of the letters share common ground. The letters cannot be separated from each other and stand on their own as letters.
In the photo above, you can see six examples of monograms.
Can you pick out the letters? All six examples feature the same three letters. Some are easier to decipher than others.
In a well-designed monogram, you should at least have a vague idea of what letters are represented. If the monogram is for personal use, it's not as important that the letters are all perfectly distinguishable. But if the monogram is for business use or public use, then the letters should be recognizable.
And, in a well-designed monogram, there won't be any "accidental" letters – that is, the lines won't form into letters that were never meant to be there.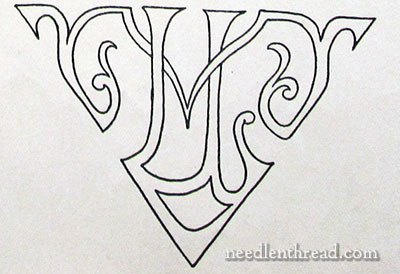 Now, the above example is kind of funny. You could almost consider it part monogram, part cipher. I think it's poorly designed, considering the letters it is supposed to represent. (In the book, the letters are printed next to it.)
Can you read it? How many possibilities can you come up with? I'm pretty certain you'll come up with some accidental letters – at least one, possibly two or more! To give you a hint: it's a three-letter monogram.
Why Monograms?
So, you might rightly ask, why do you call the letters you share on Needle 'n Thread "monograms"?
Well, what's happened is this: the technical language of lettering (as is often the case in language) has been watered down, and even forgotten, through common usage. The term "monogram" is now commonly used for decorative initials that are embroidered on things.
If people are searching for "decorative initials to embroidery on things," that's not exactly what they search for. They search for "monograms to embroider" because that's what they're commonly called.
It's not necessarily the best excuse. And, as I mentioned above, perhaps I'm perpetuating the problem when it comes to the technicalities of terminology. But the shift away from the technical terminology happened a long time ago. In fact, it's mentioned in Monograms & Ciphers, written in 1906, so we know people were already confusing the technical terms over 100 years ago.
I want people to be able to find what they are looking for. And so, I call the letters monograms, because that is what most people call them today.
But now you know the correct technical names for these three types of decorative lettering in embroidery. I'm not sure if it's vital information for your everyday life, but it doesn't hurt to know the correct terminology, does it?
Favorite Monograms – PDF Collection
Looking for monograms to embroider? You'll find 16 decorative alphabets – complete with all 26 letters – all in one place in Favorite Monograms, a downloadable PDF collection of 16 monogram alphabets perfect for hand embroidery and other crafts.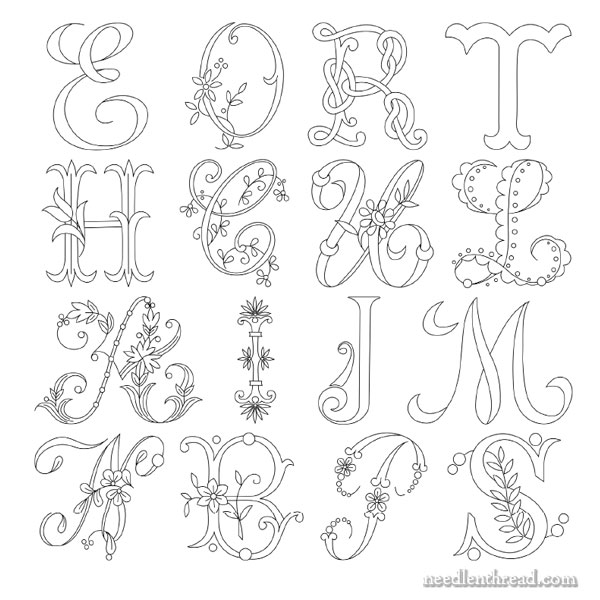 In the photo above, you can see samples of each alphabet available in Favorite Monograms.
Each letter in each alphabet in Favorite Monograms has been carefully traced into a clean line drawing that can be easily enlarged or reduced on a home printer or a photocopier.
The 16-alphabet collection is delivered as via a download link to your inbox shortly after purchase, so that you can begin creating right away! Priced at less than $1.00 per complete alphabet, monogram lovers can't go wrong with this collection!
Favorite Monograms is available in my shop, here.