It started out as a quick sample meant to show off an embroidery thread.
One of those "this will only take an hour (or so)" sort of embroidered samples.
You know the kind: You want to test something new: an embroidery thread, a type of fabric, maybe a technique. Or you want to demonstrate a point: this thread works well in this scenario, or this fabric is perfect for that type of project.
And you think it'll only take an hour or so to whip up your sample and establish your conclusions.
I'll tell you something, between you and me: any time you think it will "only" take an hour or so to stitch up a sample, go ahead and second guess yourself.
Why? Because invariably, if you're anything like me, you'll be wrong. It'll take significantly longer than you ever intended, you'll wander down one diverging path after another until your hour turns into a day, and your day turns into two, and you'll reach every other conclusion but the one you set out to establish.
Case in point: this monogram.
I set out to establish the point that a particular thread (floche) is especially suited to stitching up a quick, simple, pretty monogram – with no frills, no extras, just a nice, classic monogram.
I mean, really: simple line stitching, very few filled areas. How long could it take?
As I progressed, I reached quite a few different points where I should have made a different decision, or simply just ended the thing.
When I snapped the photo above, for example, I had reached a logical place to stop. I was already into it for 2.5 hours – which was 1.5 hours longer than I intended.
And, truth be told, I wasn't in love with it. I was already planning the things I'd do differently, next time I stitched it. The whole thing was striking me as ho-hum.
Ho-hum, I should have said. I think I will quit now.
But I didn't.
I started the long, laborious process of filling the letter with split stitch.
(Ok, true: embroidery isn't exactly ditch-digging, so I suppose laborious might be an exaggeration.)
But good grief! Whoever thought filling a little letter with a little bit of split stitch could take so long? 3.75 hours later, my hour-long sample was still evolving.
And I wasn't sure if I was liking it more…or less.
This little fellow, by the way, was not supposed to look like this.
And while I love padded satin stitch, there's something amiss between the flower and its leaves. They aren't comfortable together.
There's also too much contrast in the leaves.
These are the things I was telling myself while I was stitching. And I could have stopped at any time. But did I? Oh, no. I kept going.
You see, there's a Very Optimistic Half of Me that persists in whispering persuasive things to the Very Practical Half of Me. It says things like: This will look great when it's done. You're just not seeing it yet! Keep going! When you finish this, you're gonna love it!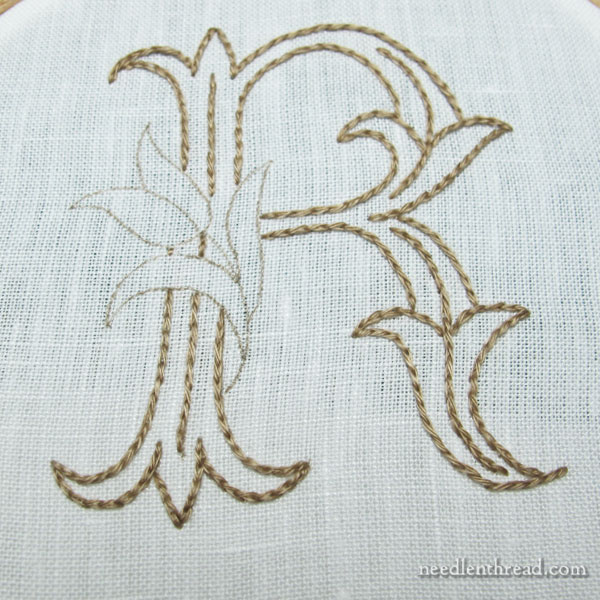 The fact is, from the very outset of the stitching, I wasn't even sold on the outlining.
Don't get me wrong – I love split stitch! And I love split stitch worked with floche! It's a great combination!
But I didn't really like this split stitch worked with floche.
Perhaps it's the color.
Perhaps it's the design.
But – and here's another fact – I didn't even like this piece before I started stitching.
I didn't even like it before I drew the pattern onto the fabric.
I don't like the ground fabric. It was a scrap I discovered in a box – a linen blend that looked ok, but felt spongy. And I knew I wouldn't like stitching on it when I first traced the letter. I said to myself: I don't like this fabric.
And the Very Practical Half of Me said, It's just for a sample. You won't even notice it. Don't waste good fabric… Because…why? A five-inch square of better fabric was going to set me back that much?
That is where I should have stopped.
If you start a project – no matter how big or how small – in the negative from the very outset, you're going to have problems along the way.
Is it worth putting several hours of your time into stitching even a small sample on a piece of fabric you don't like, if you're going to be plagued with negativity, doubt, dislike, and dismay the whole time you're stitching?
You might save money by opting for the fabric you don't like. But at what other cost?
The most expensive commodity involved in your stitching is not the fabric. It is not the thread. It's not the fine scissors you splurged on. It's not your floor stand. It's not even the tuition you paid for that "extravagant" class where you learned your dream technique.
The most expensive commodity involved in embroidery is your Time. It is the one thing you can never get back and you can never make up. Why spend it working on something you don't like?
I was pondering this point the whole time I was stitching this sample.
I'll still finish the sample – I've put too much time into it at this point to leave it undone. And of course, there's still the Very Optimistic Half of Me, whispering Just you wait! You'll see! You'll like it!
Even if that half of me is wrong, at least now I know what to do with the next version.
Lessons learned!
Like what you see?
If you enjoyed this article and you're looking for more inspiration, information, and instruction on hand embroidery, why not sign up for my daily newsletter?
There are all kinds of reasons to have Needle 'n Thread delivered to your inbox – check them out and sign up today!