Just a quick little post this morning to show you a really simple, but pretty, approach to an embroidered monogram, using just two stitches and two skeins of floss.
It's so simple you can finish it in a day!
And I don't mean you have to stitch all day, either – tops, it's about a three hour project.
Here's all the information, with links to tutorials that will help you whip up this pretty monogram in a short time, with few supplies!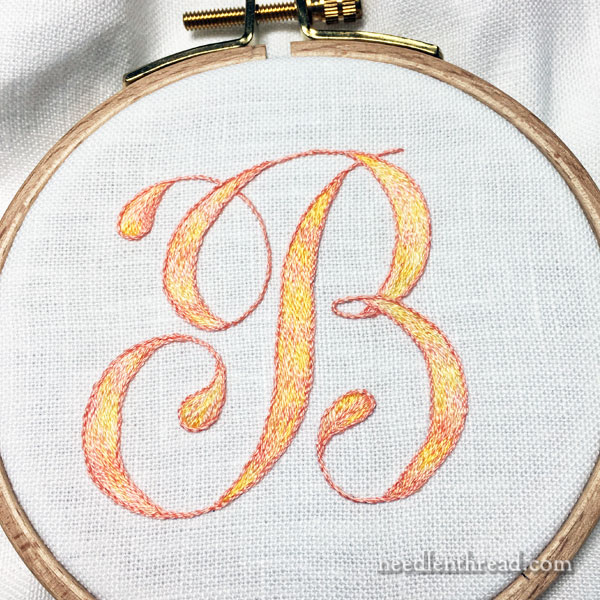 The two stitches involved in this letter are long & short stitch and stem stitch.
Now, before you get all worried about the long & short stitch being too difficult or too complex, I promise you it isn't! It's such a forgiving stitch! You can make "mistakes" with it, and just sneak in a stitch or two here or there to cover them up, and no one will ever know. You can't do that with most stitches!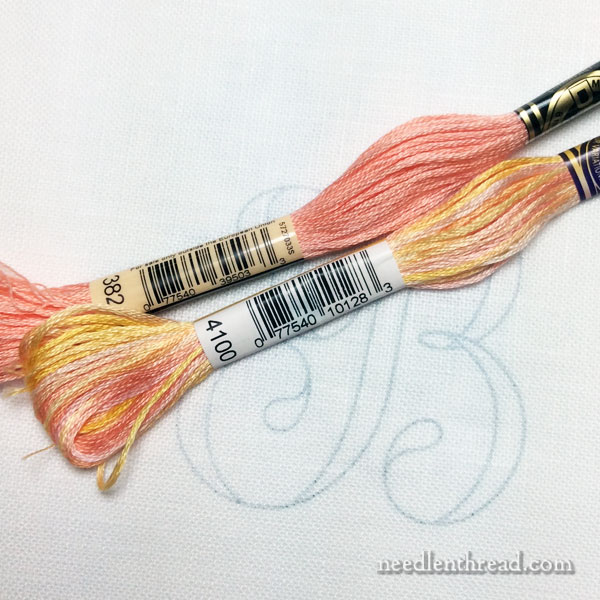 To work this monogram, I used two skeins of floss: DMC Variations in 4100 (it's a yellow and pink combination with an "overdyed" look to it, with very subtle variations in the colors) and DMC 3824, which coordinates with 4100.
I used Alba Maxima embroidery linen, a 4″ hoop (the letter is 2.5″ tall), and a #9 crewel needle for all the stitching.
The long & short stitch is all worked with one strand of floss in the needle, and the stem stitch outline is worked with two strands of floss.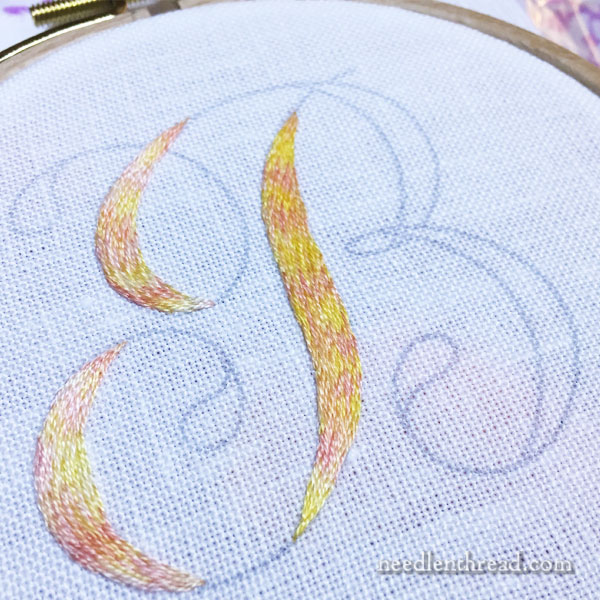 To work the long and short stitch as a filling for this particular monogram style (it's the Shadow Work Script in Favorite Monograms), this tutorial on working long & short stitch on a ribbon shape will show you exactly how to handle filling in the letter.
When working with Variations – again, the color changes are very subtle – you don't have to be too precise in your color placement. Let the long & short stitch and the changes in color just mix as they will, and the filling will look fine!
On other variegated flosses, where the color changes are more abrupt and less subtle, you might have to fiddle with color placement, but with Variations, you don't have to concentrate too hard on where your changes are going to end up. They just sort of all blend in and out of each other, which I think works really well on a filled monogram.
This particular color of Variation (4100) reminds me a pit of summery pink lemonade, but when it's used for long & short stitch like this, it makes the letter almost look like shimmery gold, depending on the light it's caught in.
The stem stitch outline makes a nice finished edge along the long & short stitch filling, and it also serves to connect all the filled areas of the letter.
More Monograms? More Stitching Tips?
You can find a whole list of monogram embroidery tips here, with tutorials for different styles of stitched initials.
You'll find the patterns for most of the stitched monogram tutorials in my e-book, Favorite Monograms.
If you're looking for tutorials for stitching written words and lettering, you might enjoy this series of tutorials on hand embroidered lettering and text.
For adventurous stitchers who like working up fun stitch combinations, Stitch Sampler Alphabet is a thorough instructional guide with over 65 stitch combinations used to create beautiful and fun embroidered letters.
Coming Up!
Don't forget, this week we're going to celebrate the new look of Needle 'n Thread with a free kaleidoscope project! It'll show up here on Needle 'n Thread before the week is completely out.
I'll also be giving away an embroidery book or two over the next couple weeks, so you'll definitely want to keep an eye out for those!
And a little thread talk coming up, along with a little chin wag about needlework terminology. (I love definitions!)
And it's October, which means I'm drumming up the courage to achieve this month's Big Goal – sorting out my work room, organizing, re-arranging, and making it a more productive space. I'll keep you apprised of my progress.
Or of my non-progress, if I chicken out.
Enjoy your Monday!