The floral voided monogram that we looked at last week in its Almost-Finished stage is now finished. The embroidery is done. I refuse to put in One More Stitch!
It's not that I don't want to put in more stitches, but that's the problem with this type of embroidery adventure. It might never end. There's always One More Place you could add One More Stitch!
At some point, you have to draw the line and declare the thing complete.
And so, I declare The Thing Complete.
(I think.)
When we looked at the piece the last time, you could see by the final photo in the previous article that, although the background was pretty well filled with lots of color and lots of embroidery stitches, the edges were still a bit jagged and uneven.
My job this week was to take care of that problem – to complete the edges and give the piece a nice, smooth, balanced edge all around.
This is pretty easy to do!
Three Tips for an Easier, Frustration-Free Stitching Experience
But before we get into the edge, for those of you who want to stitch something similar, I'd like to pass on a few tips to help you embroider more comfortably, more easily and with less frustration:
1. Consider adding an "area outline" to whatever voided thing (be it a monogram or any other silhouette) you're going to embroider. For example, with this monogram, I should have included a circle around the monogram as part of the design transfer. Situating the monogram directly in the center of the circle, it would guarantee that the whole piece came out even and that I had a defined edge to work towards.
In this case, I just used the hoop as my edge. But this can be problematic, which brings me to the next tip:
2. Use a hoop that's at least half an inch larger than your design all around (so, at least an inch larger than the outline) – or even a whole inch all around! This will give you much more room on the back of the piece to manipulate your needle when you're ending threads. It will also make it easier to stitch right up to the edge of your design area.
I didn't do that on this piece – I made the four inch hoop the "outline" of my design. But as you probably know, it's really difficult to manipulate a needle right next to the edge of your embroidery hoop on the back when you're ending threads. (A curved needle can help you out if you get in a tight spot, though!)
3. If you're planning on densely stitching the entire background (as I did here), don't hesitate to go "overboard" with the larger stitched elements – more large flowers, more larger leaves, more heavy vines. You can work larger elements right next to each other, too. And they don't have to be perfectly evenly distributed. More larger elements will save you from stitching lots of tiny elements to fill in! At the same time, though, you don't want to leave some space for the tiny elements, because they add a lot to the whole look.
Evening Up the Edges
My method of smoothing out and evening up the edges on this voided monogram was pretty simple: it's called Straight Stitch, the easiest stitch in the world.
After filling in the larger leftover spaces in the background with floral elements – tiny straight stitch flowers, clusters of French knots, some small to medium-sized daisy stitch flowers – I worked my way around the very edge of the embroidery and right up to the edge of the hoop, stitching tiny random straight stitches in bright green, radiating out in different directions from whatever embroidered elements were close to the edge.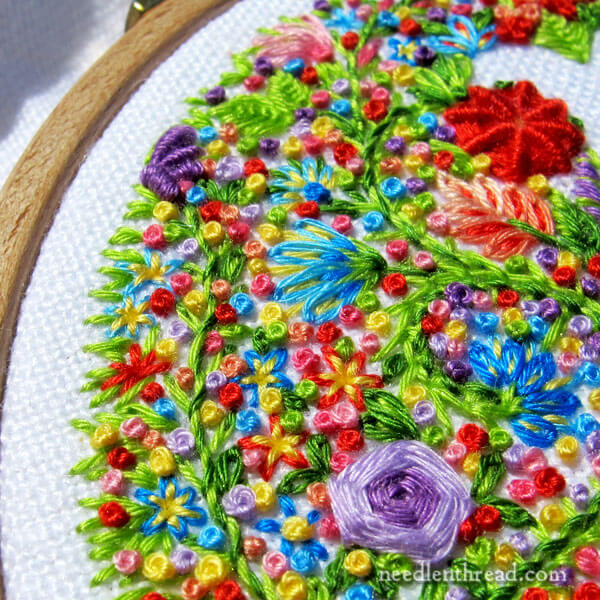 This gave the edge a somewhat hairy look, when viewing it up close.
But from even just a little farther away, it brings the design right out to a clean edge.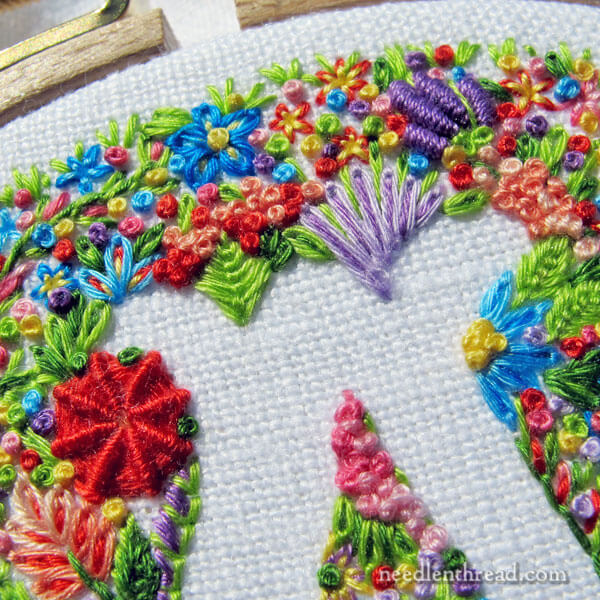 While I was working around the edge, putting in the hairy bits of green, I also worked in tiny green French knots in the design areas, wherever there were blank areas that were very noticeable.
You'll find a lot of green scattered in this piece. I like to think of it as grass!
In addition to the hairy green edge, I added more knobby bits using French knots, working them over the green and among the green, to bring the color out the edge, too.
Finishing the design out to the edge, then, was pretty easy. Just straight stitches and a few extra French knots thrown in for color!
The Back of the Hoop
And now, for those of you who are morbidly curious about the back…
I remember my aunt always insisting on an absolutely perfect back, when she was showing me how to cross stitch when I was little. I really hated cross stitch at the time, and I contend it's because I had to keep checking the back of the work, taking stitches out to make sure all the stitches on the back were perfect, too.
It sounds nice. It sounds like "expert embroidery" when the back looks as good as the front. But really, does it matter?
I say it doesn't. I've seen the backs of gloriously embroidered old pieces of embroidery (like this 16th century piece, or this ecclesiastical piece), and the backs are not that impressive. And yet, these are professionally worked pieces of embroidery.
Granted, you wouldn't want a huge knotty mess on the back, that would make the front bulge in an unseemly way.
But other than that, don't stress over the backside of your embroidery! Over-emphasis on the back of the embroidery, in my mind, is just a recipe for discouragement.
Still, to satisfy the curiosity of the many people who wrote asking to see the back of the embroidery, I certainly don't mind showing it to you.
And then I'm going to share a Shocking and Scandalous secret with you!
There's the back.
It looks like a collective bunch of stitchy garbage. But that's ok! Because no one is ever going to look at this piece – which will be in a small frame – and say, "I need to take that out of the frame and check the back. Only then will I know if it was embroidered well."
A Shocking Secret
But here's my shocking and scandalous secret: I even used knots in my thread.
I know! Shock, horror!
On a piece like this, a small knot on the end of the thread is going to make Absolutely No Difference At All Whatsoever on the front of the work. The front is so encrusted with stitching, that there's no chance that a tiny bump from a tiny knot could ever be discerned on the front.
There are types of embroidery where I don't use knots. But on stuff like this, it's easy and quick to use a knot, and it won't make any difference in the long run.
Pretty scandalous, eh?
And so, there you have it – the finished voided A in a floral theme!
I hope you enjoyed this mini-journey and that you try your hand at embroidering a voided monogram – or any shape you want – with this method of filling the background. It's fun, it's creatively satisfying, it's colorful, it's relaxing. It's everything you could want an embroidery project to be.
Previous Articles on This Project
You can find the previous articles relating to this project here:
Embroidering a Voided Floral Themed Monogram – information on threads, fabric, design transfer, and first stitches.
A is for Almost Finished – information on other stitches used and filling up the piece.
If you're looking for the monogram alphabet I used for this letter, you'll find it in my Favorite Monograms e-book.