Well, yes. I might be nuts.
And I might be nuts for a lot of reasons.
Having a good ten embroidery projects going at once could be one reason.
But this – this project that I'm working on, that I'm going to show you today, involving 56-count silk gauze – it's not nuts!
It's engrossingly satisfying. It's addicting. It's strangely compelling. It's habit forming. It's instructive. It's colorful. It's fun. It's challenging.
But it's not nuts.
And if I say it enough times, I will believe it.
Natalia Frank, from Dollhouse Needlepoint Patterns & Kits, is the designer of this particular piece.
It's a miniature tree of life tapestry, worked on 56-count silk gauze with silk threads. She sells both the pattern and the kit here, though right now they are both sold out.
I first came across the piece on Facebook, when Natalia posted her finish on it. At that time, it wasn't available as a kit, but I signed up for her newsletter, and as soon as she announced that it was available, I jumped on it. There were only five full kits available at the time, and they sold out pretty quickly.
Counted & Me
Now, before we go too far forward with this, I better mention a couple points.
I'm sure you've noticed that I don't feature a lot of counted work on Needle 'n Thread, because my website is devoted to my First Love of Needlework, which is surface embroidery.
I don't do a lot of counted work, because I'm not, in general, drawn towards counted work. But I do like certain types of counted work – including miniature petit point on silk gauze (like this piece). The framed piece I showed you Monday in the framing tutorial is the same type of work.
Other types of counted work that I like and will occasionally indulge in include blackwork, counted bead embroidery, some types of drawn thread, pulled thread, and Hardanger, which can all be counted work, depending on how they're designed.
But, in general, I don't do a lot of counted embroidery stuff.
I have nothing against it, but it's just not my first love.
However, when I do come across a piece of counted work that I love, I'm all in! And that's the case with this particular piece.
Even if you don't do counted thread embroidery, though, there's still a lot you can learn from a project like this, that you can apply to your other embroidery and needlework pursuits. I'll be sharing my progress on this particular project, then, and hopefully, we'll discover some universal stitching tips along the way!
The Tree of Life Kit
I always like to show you a kit and tell you about it, before I start showing any progress on it. That way, as the piece progresses, I can refer newcomers back to the original starting point and the kit information.
So here's the kit!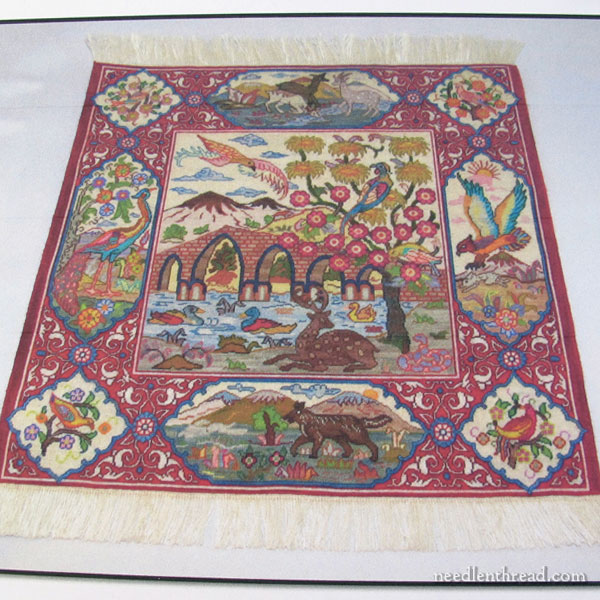 This is a picture of the photo on the front of the kit box. It should give you a relatively good idea of what draws me to this particular piece.
While the piece is finished as a rug here (for a doll house), that's not my intention for my finished piece. I'll most likely frame it.
I love Tree of Life designs. They have so much symbolism in them, and they offer so many possibilities for abundance in color and design.
This kit has it all – symbolism, color, abundance of design elements. And it's all tied together with a background reminiscent of an opulent Persian rug.
The color in the photo above looks more like a rather bright cranberry, but in fact, the overall background color is a deep reddish burgundy. It's rich!
I have to say, this is one of the Most Organized Kits I've ever seen in my life! It's extremely well put-together. It's assembled in a way that makes it really easy to tackle the project.
Instead of a huge stack of chart pages, the charts are broken down into specific elements in the whole piece. So, for example, everything for the bird medallions in the corners are packed separately within the box.
In the package for the bird medallion #1, for example, you'll find the charts for that medallion, plus a color key, and a color card with all the silk threads needed for that particular little part of the whole project.
Each bird medallion, then, has it's own little "kit" within the kit.
There's a package for the background of the whole piece, with two types of charts in it. Six charts break the whole background up into six pieces. The grid for those six charts is relatively small.
And then there are close-up charts, with a much larger grid that's easy to see.
The threads for the background are all contained within the "background" kit.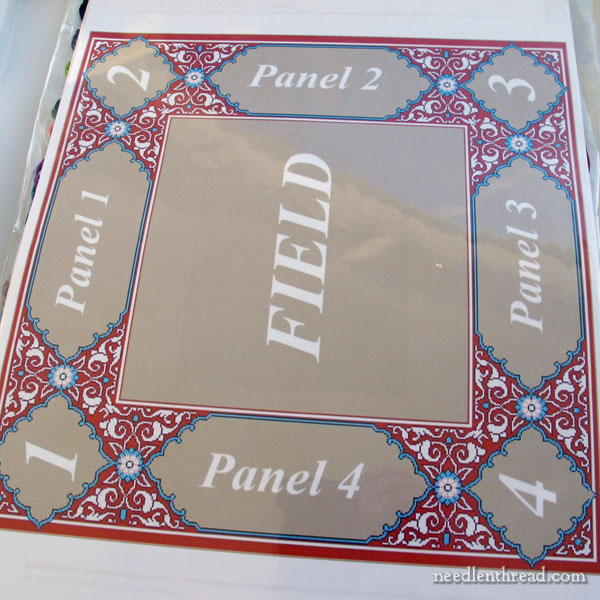 Then there's the "field" kit, which pretty much comprises everything else – the center part of the design and the four side panels.
The field kit is broken down further into sections, so that you can easily find all the charts for each panel, and all the charts for the central field.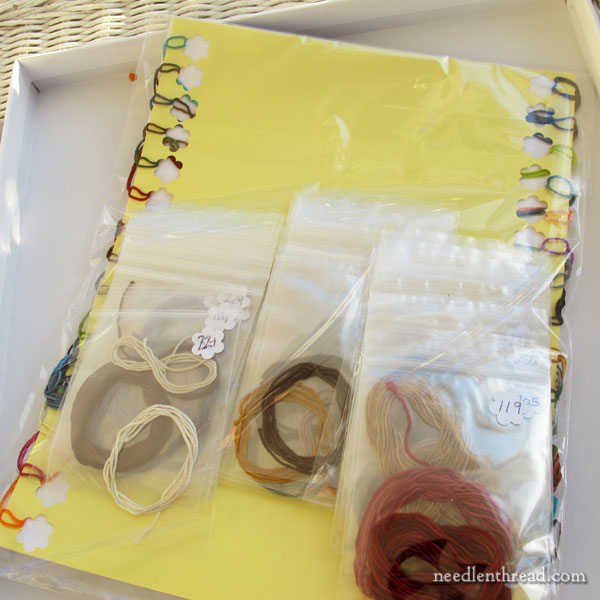 All the threads for the "field" section are packaged either on a large card marked with the thread colors, with the threads looped into cut holes (the yellow paper in the photo above), or, for larger quantities of thread, in plastic bags marked with the color numbers.
The Threads
The thread used in this particular kit is Gloriana's Tudor silk. It is a tiny spun silk floss that's hand-dyed, and has slight variations in it.
The variations in the thread really add a lot of depth to the piece. It works super well on the background especially, lending that look of "plush carpet-ness" to it.
This is the first time I've used this particular silk thread, and my mind is whirling with possibilities for it. It's quite fine (finer than a single strand of DMC, for example), it has just a slight twist to it, and I could see it working really well in certain surface embroidery applications. I may have to explore this thread further…!
What Else is In the Kit?
Besides a boat-load of charts and instructions and 89 colors of silk, all organized either in bags or on cards, the kit comes with 56 count silk gauze and needles.
Next Steps
Next up, I'll talk about mounting the silk gauze and getting the first stitches in.
I'll also cover some mistakes I made. Oh yes. It didn't take me long to make them, either!
And I'm thinking about re-organizing the floss, after running into some little quirks with the way it's arranged, so I'll chat with you about that down the road, too.
15 Minute Project
This is the type of project that makes a great 15 Minutes project. That's not to say it only takes 15 minutes. No No! The piece is 423 x 415 stitches (or 175,545 stitches), so it's not going to be a quick one.
But I'm setting it up so that I can put in 15 minutes of stitching here, 15 minutes there (or half an hour here and there), and I'll be using it as a carrot.
I find it engrossing, and I love to see even the tiniest bit of development on it. It'll make a good motivational project, encouraging me to get things done efficiently so I can spend more time with it!
Stay tuned for future developments!