This book review has been a Long Time Coming!
Last year, Elisabetta Sforza self-published an embroidery book called Un Alfabeta a Fiori, A Flower Alphabet. If you're familiar with Elisabetta's work which is featured on her needlework blog, Elisabetta Ricami a Mano, then you can already guess that the book and the projects in it are beautiful.
A Flower Alphabet, though, is a different kind of embroidery book. There are a few things that make it different from most needlework instructional and project books on the market today.
So, today, I'm going to show you this exquisite book, tell you how it differs from other embroidery books, and let you know where you can find it.
At first, you might be temped to think that A Flower Alphabet is simply a project and instructional book that will take you through how to embroidery the featured floral alphabet.
And that would be a good thing! And it is a good thing, because Elisabetta does take you through how to embroider the featured alphabet.
But she does Oh So Much More along the way! If you read Elisabetta's book from cover to cover, you'll realize that it's not just an instructional project book, but it's what I call a concept book as well.
A concept book does more than just teach you how to embroider This Specific Thing in exactly This Specific Way. It takes you beyond the specific, to teach you the concepts behind planning your own versions of the projects and behind designing and stitching your own variations.
In this way, the book gives you much more scope for personalization and for developing your own designs and your own style of stitching those designs.
The book itself is a 67-page exploration of a floral embroidered alphabet, with matching frames, borders, and motifs. It is written in Italian with an excellent English translation.
Divided into four sections, you'll find an introduction, a section on embroidering, designing, and drawing, a section on colors and ideas, and a section of clear line patterns to start off with.
The meat of the matter in this book is in sections two and three – embroidering, designing and drawing; and colors and ideas.
Throughout the book, you will be regaled with gorgeous photography!
When it comes to the embroidery instruction in the book, the stitches are presented in simple diagrams. The book itself is not heavy on step-by-step embroidering instructions, but there is enough instruction in the book to complete the projects.
Then, Elisabetta shows you all the different major floral motifs that make up the designs in the book, from little buttonhole flowers, to bullion flowers, to different types of leaves, stalks, and accents.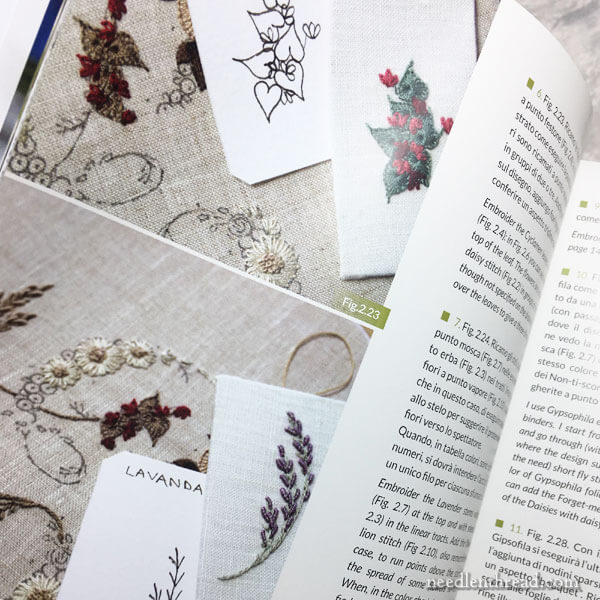 You'll find a good variety of floral motifs, all of which can be separated out and stitched as little individual embroidery accents on practically anything!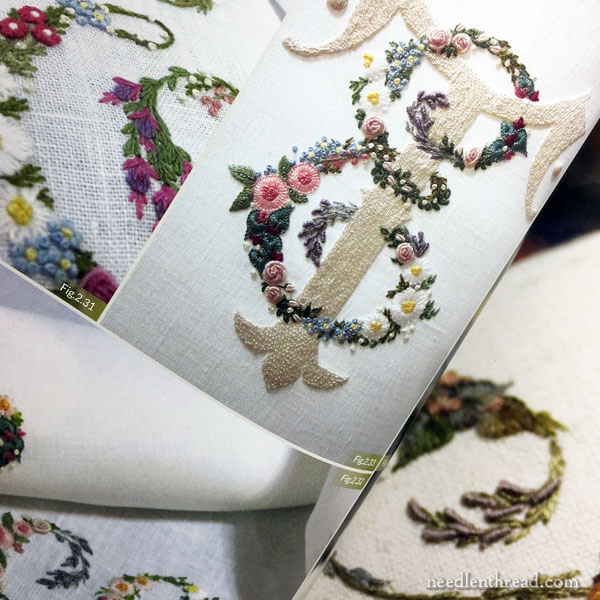 Did I mention the beautiful pictures?!
Their primary purpose is not just to give you a whole lot of eye candy. It's really to inspire you with ideas on how you can manipulate and arrange the letters and the motifs for your own specific uses.
Here's the design area of the book. Using a design that's already available as pattern in the back of the book, Elisabetta shows you how she designed the world "Home" for floral embroidery.
She gives you little tips on how you can design your own words – think: names! – so that you have huge scope for applying the floral stitching techniques on many personalized projects.
And then there's the whole color question.
The letters of the alphabet are presented in different colors schemes, from vibrant, to muted, to all-white, to grayscale, to neutrals, and more. And underneath each sample shown, you'll find a chart that lists all the DMC colors used for the floral motifs in that letter.
And this approach is yet another way of opening up multiple design possibilities for the reader!
Say, for example, you want to design your own floral word to stitch, like a single word or name – "Love" or "Hope" or "Adele."
You have the tools to do that, under the designing and drawing section.
To stitch it, you'll need to choose the colors of thread you want to use. Not confident with color? No problem! You can peruse all the sample letters, find a color scheme you like, and the DMC colors are listed for you.
Voila! Your own personalized, unique embroidery project!
Finally, in the back of the book, you'll find the line drawings for all the letters…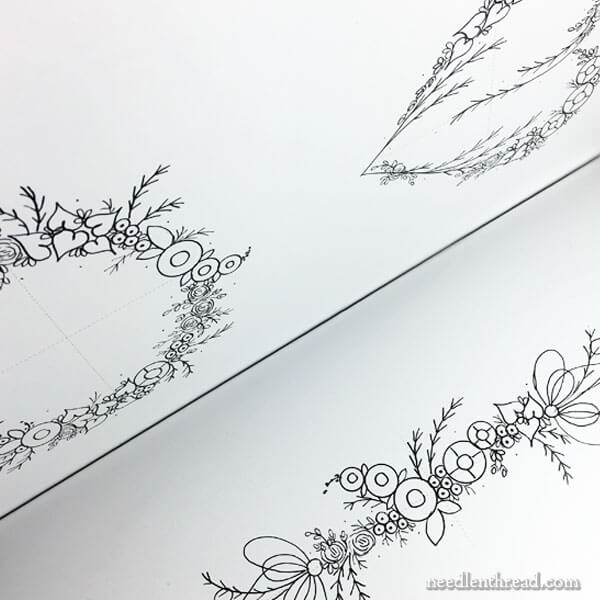 …plus floral sprays and frames and other arrangements, so that you can deck out your embroidered monograms or use them for specific projects, like wedding pillows for ring-bearers, embellishment on blankets, quilts, or pillows, or stand-alone embroidery projects. The possibilities are endless!
In a Nutshell
Elisabetta's book is clearly written and translated, it is beautifully illustrated, and it is a wonderful resource for opening up all kinds of design and personalization possibilities for the stitcher.
Some might find the book to be a little light on actual embroidery instruction. The stitching instruction is limited to basic stitch diagrams, which are sufficient for beyond-beginners, but might not be sufficient for absolute-beginners. But hey! This easily solved with a good stitch dictionary or even my how-to videos!
The real gem of this book, besides the gorgeous alphabet and motifs ready for you to stitch, is what it gives you in the way of scope for stitching. It's the way the author shows you how she developed her designs and clearly demonstrates how you can develop your own designs using the same approach.
Where to Find It
If you're in the US, you can find this book right here in my shop, where I also carry all of Elisabetta's other books.
If you don't live in the US, you can order the book directly from Elisabetta, or drop me a line and I'll let you know who carries it in your country.