I've been sneaking in some stitches on my goldwork circular frame project, here and there, when I can.
And my "some" stitches, I mean very few stitches. I'd hoped to be finished with the couched gold passing thread by now, but in fact, I'm barely started!
If you're just joining us and you're wondering about the backstory on this particular embroidery project, I've included some links at the end of today's article so that you can explore the project further.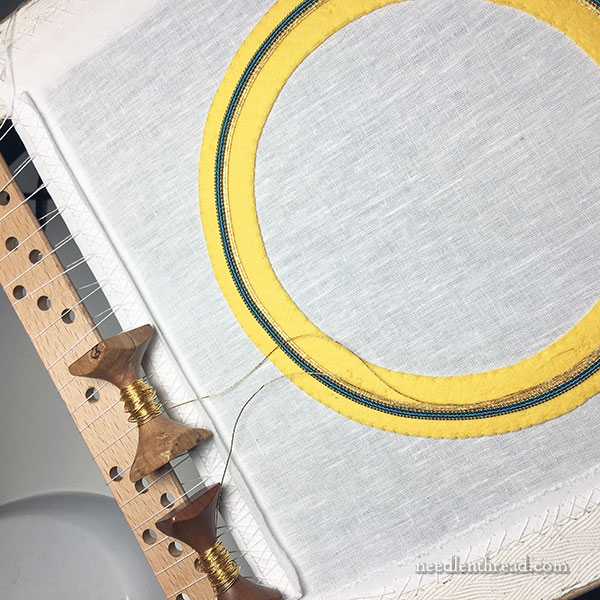 See what I mean by very few stitches?
In concept, laid threads in goldwork are really easy – they're simply couched onto the fabric. If you're not sure what couching is, this video tutorial will help you.
Essentially, couching is embroidery involving two threads. One is the laid thread (the one that lies on top of the fabric and doesn't pass through the fabric except at the beginning and end of the thread) and the other is the couching thread, which sews the laid thread onto the fabric.
Gold passing thread (which is explained in this article) is normally couched in pairs.
Probably the most difficult aspect of couching a lot of gold passing thread on a project like this? It gets a little boring!
There are two points to keep in mind when couching pairs of passing thread for this type of embroidery:
1. Your couching stitches should be evenly spaced. The couching stitches are often (though not always) worked in a bricking pattern, so that each new layer of couching stitches is off-set between the previous layer.
2. The couching stitches should be perpendicular to the laid threads. They shouldn't be slanting all over the place at different angles.
Working Pairs of Passing Thread
When couching a lot of passing thread on a large area and working in pairs, it helps to have either two spools of the same thread, so that you're pulling one thread from one spool and one from the other, or it helps to have a pair of special goldwork tools called koma.
Koma come from Japanese goldwork. They are wooden spools with squared ends, so that the spools sit on the surface of the framed embroidery fabric. The laid gold threads are wound onto the koma, and then the embroiderer pulls each thread off the koma while couching them.
The difference is that the squared ends on the koma keep them from rolling about. Very handy, indeed!
The arrow in the photo above points to the little outward curve in the gold passing thread, where the new round going around the frame begins.
In my mind, this little outward curve seems Massive. I keep worrying that it will create a noticeable wave on the frame. In fact, it's not that large of a curve, and with round, it becomes even less noticeable, so I will probably stop thinking about it altogether once I make it around the frame another time or two!
So that's as far as I've gotten on this project. Today, I plan to spend a good hour or so on it, and hopefully that will get the passing thread finished!
Previous Articles on This Project
Here's a list of previous articles about this project, in chronological order starting with the first articles and progressing to the most recent:
Salvaging Figure Embroidery – a look at the antique ecclesiastical embroidery that I salvaged, that I'm reframing in this new goldwork frame.
Goldwork Materials on the Frame
Goldwork Frame – Linen, Felt, Goldwork & Silk
More Information on Goldwork & Ecclesiastical Embroidery
If you're looking for more information on goldwork and ecclesiastical embroidery, you'll find plenty of articles in my goldwork archive here and plenty of articles to explore in my ecclesiastical embroidery archives here.
If you're looking for church patterns for hand embroidery, you might be interested in my e-book of Church Patterns, which you can find available here.