Alas, this week I fell down the Proverbial Rabbit Hole again, exploring several of my old Therese de Dillmont embroidery books.
I really felt totally justified – I was, after all, organizing and trying to situate a few things in my studio.
But when you start to leaf through a favorite needlework book – and then another favorite needlework book – and then, well, why not? Another one…and another…and another – it isn't hard to find a good portion of the day gone before you even realize what you've been about! That was me, yesterday. By evening, I was kicking myself. My To-Do list had one half of a tick on it.
There's a saying that misery loves company, but in cases like this, I prefer to think of it as spreading the joy! Not only did the hours I spent sorting through some books provide me a heck of a lot of enjoyment, but they served as a pretty nice inspirational springboard. So many ideas! So many notes taken! So many pages marked! So many projects planned or questions answered!
The thing about the old (and prolific!) Therese de Dillmont books is that, though they are certainly dated, the content in them has withstood the test of time fantastically.
One of my favorite collections is the DMC Library "motifs" series, that explores all kinds of motifs for hand stitchery.
The first in this series, for example, is full of classic stitchery. Are you looking for counted cross stitch filling patterns?
How about some patterns for needlepoint?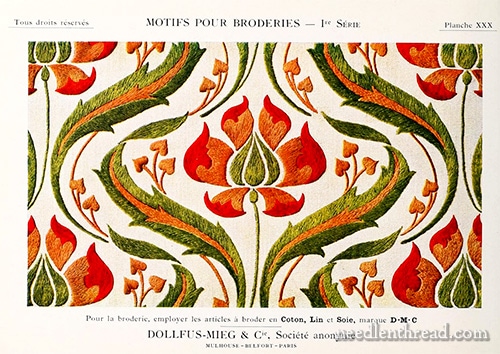 Or is surface embroidery your thing?
The color plates in the book explore all kinds of needlework – and in the back of the book, you get more! Needle lace examples and a smattering of other stitchery stuff.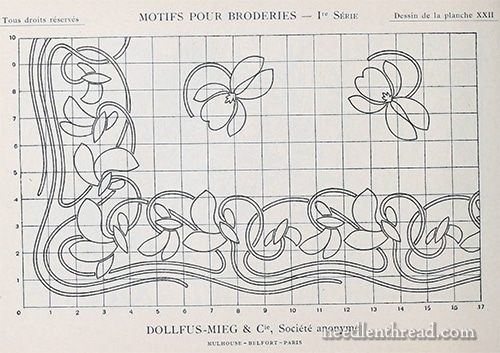 And – if you're the surface embroidery type – you'll be happy to know that the line drawings for the patterns are all there, too!
What more could you ask for?
And while the style of design may be particular to a certain era or a certain region of the world (as in the Dillmont books on different regional embroidery, like stitching from Yugoslavia and so forth), they are all very classic designs that speak to any age, really.
I'm a sucker for Dillmont's books, and I could spend ages exploring them.
And So Can You!
Fortunately, you don't have to be collector of old books to explore Dillmont's extensive instructional and inspirational volumes. Many of them, you can find online for free, to download right to your computer!
The book above – the first in the series of "Motifs" books – for example is available right here on Internet Archive. If you want to download the PDF, you'll find it right here.
While on the book page at Internet Archive, just click on the author's name below the title of the book (Therese de Dillmont) and the link will take you to other works by that author, available on Internet Archive.
A better resource, though, is Antique Pattern Library, where you can go to the "D" section and browse through a really nice collection of downloadable PDFs of Dillmont's books.
Talk about a Rabbit Hole – Antique Pattern Library is a fantastic resource for old needlework books! I've written about them for years, so many of you are probably already familiar with them, but if you're not, you should be!
Antique Pattern Library is a non-profit that runs on donations, so if you make extensive use of their vast collection of public domain needlework books, consider donating even just a small sum for the maintenance and expansion of their collection.
More Dillmont – Free Patterns
If you're interested in Dillmont patterns for surface embroidery, I have a few free ones here available on Needle 'n Thread. I cleaned them up and turned them into download PDF printables, so that they're squared up and ready to transfer.
Here's a list:
Coming Up!
I was actually supposed to be searching for 40 count and 56 count silk gauze when I started in on the books, so I'll be returning to that hunt later today. I know I have silk gauze! And I know I put it somewhere "safe." Please tell me you can relate!
If I find the silk gauze, I will be showing you something about it relatively soon! If I don't find it, I'll be showing you something else – and both have to do with a beautiful new collection coming on the market soon for embroiderers who like to stitch (and finish) little things. More on that coming up!
I'm also plugging away on Floral Corners and will have that for you soon!
Busy weekend ahead here in Kansas – I hope yours is a quiet, safe weekend, with time to spend with your needle and thread!
Definitely keeping all of those battling the hurricane in my thoughts! (Nancy, I hope you're in the mountains!)
Take care!