Sometimes, I have a tendency to go overboard when planning out embroidery projects for other people.
To keep myself in check when planning kids' classes for this summer, I've got my niece working with me, too.
Anna's 24, and she has embroidered since she was a wee thing. When she was ten, she took my summer classes. Over the years, she kept stitching, occasionally teaching other kids along the way, and dabbling with needle and thread when time allowed.
The fact that she now works with kindergarten children helps keep me in check, too. Sometimes, when you're out of the "kid game" for a while, you forget what different developmental levels are (or are not likely to be) capable of.
For example, Anna raised her eyebrows at my idea of perfectly executed fishbone stitch for our youngest class groups this summer.
What a killjoy!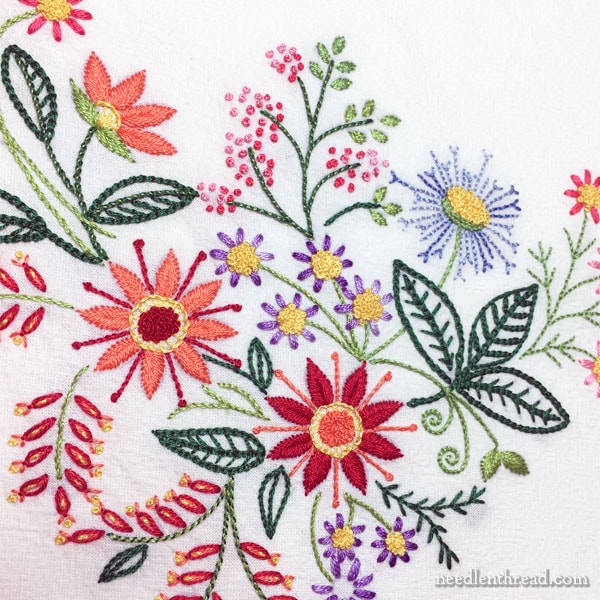 Now that we have our summer classes for children and youth situated, we have to stitch up samples.
For the class projects, we want them to be easily transportable so the kids can tote them about and work on them between classes.
We want them to end in something finished and usable or displayable right away.
And, of course, we want them to incorporate the stitches they'll be learning in the class, so that they can learn the mechanics of the stitches and the application of the stitches onto a project.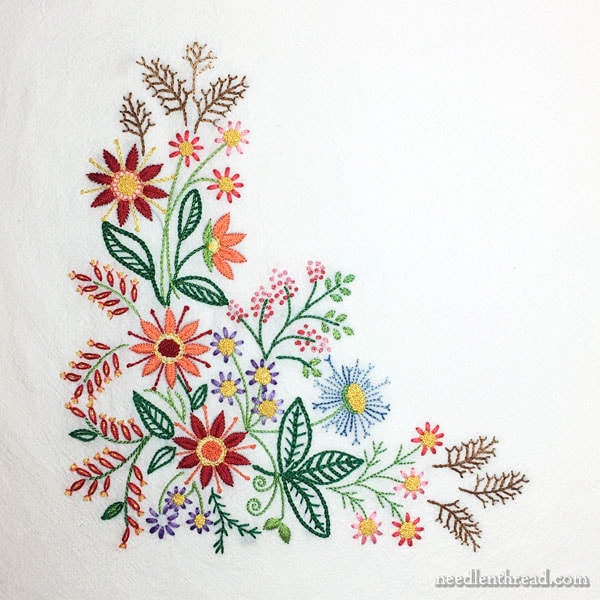 We're splitting the classes into levels A, B and C, based on age groupings. The younger children (the A groups) will need a little more direction, a little more one-on-one help, and projects that are not as challenging as groups B and C.
The middle groups B will most likely be a little more capable of self-direction and will be up to a little more of a challenge.
And groups C – teenagers – will be more advanced. We'll be teaching them the basics, but leading them quickly in the direction of making their own choices on stitches and colors, as well as giving them resources for learning outside the scope of the class. One goal for all levels, but especially this level, is to enable them to make their own decisions on stitches with confidence, overcoming the "fear" of trying or experimentation.
Each level is doing two finished projects: a decorative flour sack towel and a little piece of finished hoop art.
The images above represent the C group flour sack towel. With the class based on instruction followed by application, they'll learn a few stitches and then be able to apply those stitches on their floral corner towel using the threads provided. The sample is merely a suggestion for stitch type and placement.
At first, they'll follow the sample pretty closely, but as they become more comfortable with the whole notion of stitching and they learn more stitches, I suspect they'll start making choices on what they want to stitch, where.
The middle level B groups are stitching the same towel, but it's not their first project in the class.
The stitches for their sample have been simplified a bit. Anna also stuck with three strands of floss for her sample, and, although she used French knots, she didn't use them as abundantly as I did in the C group sample – which is probably a good thing.
I went a bit overboard on the French knots.
When working out this design, I wanted something that would produce splashy color, that was exuberant, but not too symmetrical, and that would allow the application of all the basic stitches that the kids would learn.
For the A groups classes, the youngest children, the project has been pared down even further. The design is weeded out a bit so it's not as busy and not quite as big. Some of the stitches may be further simplified.
We still need to stitch that sample – it's on my list for today!
For groups A and B, the towel is their second project. They'll begin with a much simpler little project that we will finish over the first two classes. Because we're a little constrained, time-wise, the towel is something they can work on beyond the class. They'll have all the stitch instructions and all the materials, plus about four more weeks of summer vacation.
For the C groups, the towel is their first project. I'm hoping (fingers crossed) they will be enthusiastic enough outside class time that the thing will be finished over the first three class sessions.
If I'm being too optimistic on the time frame, I figure it's better to plan too much than too little, and we'll certainly make adjustments as necessary along the way.
Keep your eye out! Several of you have asked for a design and stitch guide for this project, and I'll be putting that together for you soon.
This weekend, I'll be stitching on a few samples, concentrating on some goldwork, organizing a couple bookshelves, and avoiding the 100+ degree heat as much as possible…! Oh, Kansas!
I hope you have a marvelous weekend, with plenty of time to devote to your needle and thread!
Looking for a Summer Embroidery Project?
If you're looking for something fun to stitch right now, why not take a look at a my e-books available on Needle 'n Thread?
Maybe you want to stitch something quick up for Dad for Father's Day? My Favorite Monograms collection has some good choices that would look great on a hankie!
Stitch Sampler Alphabet is a fun collection of projects for folks just getting into embroidery, especially if you want to learn a lot of stitches!
If you're looking for small projects with finishing instructions, you might enjoy Lavender Honey & Other Little Things.
And you know what? It's never too early to start stitching for Christmas! Twelve Trees for Christmas is a fun collection of little trees that can work up into ornaments, quilt squares, decorations for table linens, and more!