When it comes to historical pieces of embroidery – large historical pieces of embroidery, especially – it would be difficult to conceive of one that is more widely known than the Bayeux Tapestry.
I like the Bayeux Tapestry. I like the history of the era. It's a subject that always holds me fascinated.
So when this particular article popped up in the newsfeeds a week or so ago, I knew I had to share it with you – it makes good weekend reading!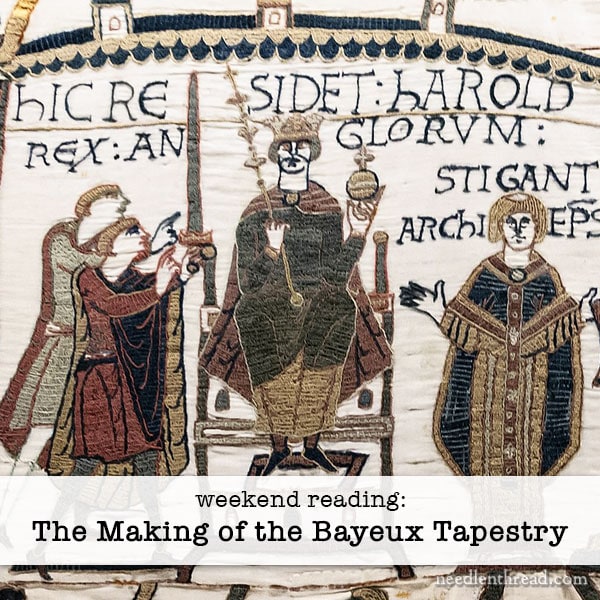 "The Making of the Bayeux Tapestry" is an extensive article on History Extra, the website for BBC History Magazine and BBC World Histories Magazine.
The article, which is written in a question & answer format interviewing Alexandra Lester-Makin, PhD Medieval Embroidery and professional embroiderer, answers all kinds of questions about the tapestry, from how it was made and who made it to what the future holds for the tapestry.
It's a thoroughly insightful article, more so than the brief glimpses that have surfaced in the news over the proposed visit of the tapestry to the UK.
One of my biggest beefs when it comes to articles written today on specific historical topics is the lack of research into primary sources, replaced instead by broad generalizations stated as accepted facts. I like the fact that Dr. Lester-Makin avoids this approach in the article. She presents various theories that could provide answers to some of the questions, but she makes it clear that they are theories open to more research, and not proven facts.
It's a good article! If you like the history of needlework, I think you'll enjoy reading it!
Hope you have a marvelous weekend, with a little bit of time (or a lot!) for your needle and thread!