I'm still stitching this tree.
I recklessly assumed that I would have the thing finished about a week ago. Let's just call it optimism, shall we?
In any case, last time we looked at it, there were a couple leaves bugging me, and I changed those a little bit. It's still a work in progress, but it's getting closer to finished!
This week, maybe? But I won't make any promises!
Here's progress thus far, along with a few explanations of things.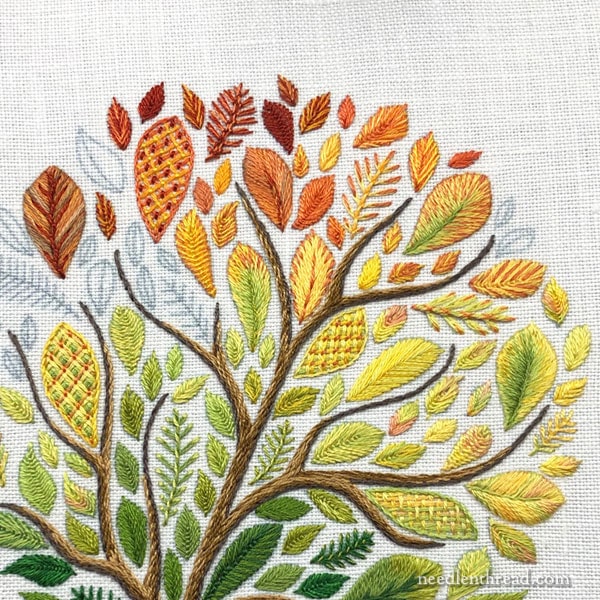 First of all, a huge thanks for all the input on the last article about this embroidery project! I think most of us had the same problem with the two leaves in question.
Many suggested doing away with all the lattice leaves – that they are too far removed from realistic looking. I understand that, and I can see why they might be a little jarring, especially if you're expecting a realistic looking tree.
Perhaps once the whole tree is revealed, it will become clearer that it's really just a stylized, rather modern interpretation of a tree. There's nothing very "real" about it, aside from the fact that there's some semblance of a trunk and branches with a very round representation of a leafy top.
My initial purpose when conceiving the project was to play, on two different levels, with the design: 1. To play with various ways to stitch leaves (I fell a little short on this one, because #2 quickly took over and became the focus…) and 2. To play with gradually changing colors or shades, moving through a series of disconnected design elements (in this case, the leaves).
Color began to mesmerize me with this project. Instead of concocting a vast number of ways to fill the leaves, I found myself sticking to a few favorites that allowed me to manipulate the colors the way I wanted to.
The lattice couching plays into the whole approach. Lattice stitches are very linear, grid-like stitches. They're not often put to work as a shading tool in embroidery. But that doesn't mean they can't fit into a gradually shaded exercise. I like the variety they add, and I like the fact that there's a certain amount of "pattern" with them.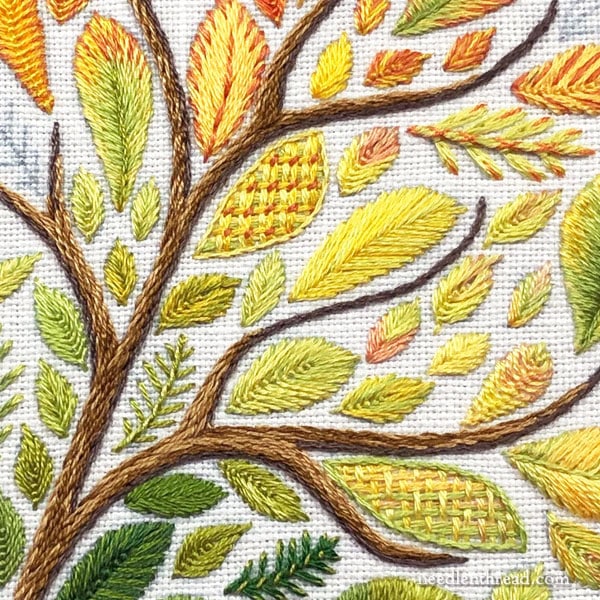 You can see the two leaves that gave me trouble here. I've adjusted them. I removed the coral outline, which was too stark, and replaced it with a yellow outline using one strand of thread.
I completely restitched the leaf to the lower right, and I'm not exactly sure if I'm going to leave it as is, or if I'll be sketching in some other colors using straight stitches to break up the fishbone stitch.
There are a couple other leaves here and there I'm still stewing over. For example, I'm thinking about slating the largest brownish striped leaf on the upper left for the chopping block. That was an exercise with a variegated thread – but it needs a little more consistency to it, I think.
I'll plug keep plugging away on the tree this week. Who knows? I might surprise myself by actually finishing it! I am eager to see the whole shape embroidered, so that I can examine the way the all the elements and colors blend (or not).
Enjoy your Monday!