How about a little Tool Talk?
Accessorizing is a fun part of many arts & crafts. Sure, you can accomplish your needlework with the very basics. You want to hand embroider? All you really need is a needle, some thread, something to embroider on (usually fabric), and a way to cut your threads. You don't need anything else.
But there are tools that make our needlework easier. There are tools that improve the outcome of our needlework. And there are tools that make our needlework more fun. So we accessorize! And that's all part of the enjoyment of embroidery.
When I was cleaning up a mess of threads the other day – yes, I have thread messes! – I came across some thread keeps that I bought a while ago but hadn't used yet for a number of reasons. And that led me to making my own set of thread keeps. And that led me to thinking I should share them with you. And that led me to this article! So here we are!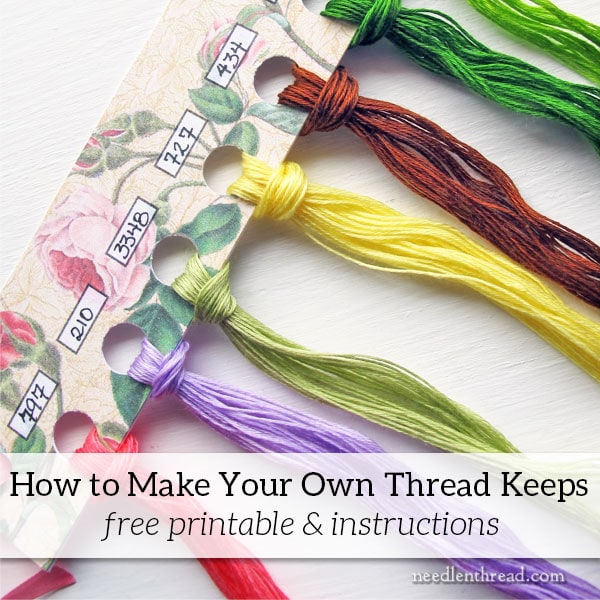 Let's start with some basics and go on from there.
What is a Thread Keep?
A thread keep is tool that "keeps" thread – it's an organizing (or decorative, or both) tool used to hold threads – usually cut threads. Normally, we think of them as the kind we talk about below, but a thread keep doesn't have to involve holes, really. It could be a tool that you wind threads on. And the tool can be made out of any kind of material that will work – from mother of pearl to wood to plastic to metal to paper.
You've probably seen the thread winders that are made by Sajou, for example. They're made out of a very thick paper board. You can see a whole bunch of them available here at Tres Chic Stitchery, if you're not sure what I'm talking about.
Way back forever ago, I wrote about organizing threads and making your own thread keeps here. In that article, the very first picture is a mother of pearl thread keep from Kelmscott Designs. I also talked about how I used a mother of pearl ring inside my little felt tool kit, to hold threads. Mother of pearl rings like those are very nice as thread keeps. They're also available through Kelmscott Designs.
So, "thread keep" is a pretty general term. I think most stitchers associate it with something with holes in it, but I pretty much categorize any device that you can keep cut threads on as a thread keep.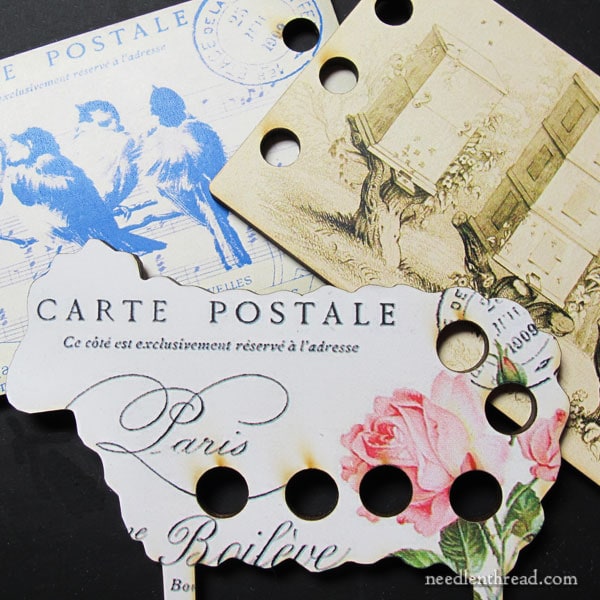 These three thread keeps above are the ones that instigated this article. They are manufactured by Whimsical Edge Designs and distributed by Kelmscott Designs.
I love the look of these thread keeps. I really want to love them, but they have a few drawbacks.
Had I actually been able to feel them before I bought them, I might not have bought them. My initial impression of them once I had them in my hands wasn't all that great. After playing with them a little bit, I think I would use them only for some (limited) threads, but not for all threads.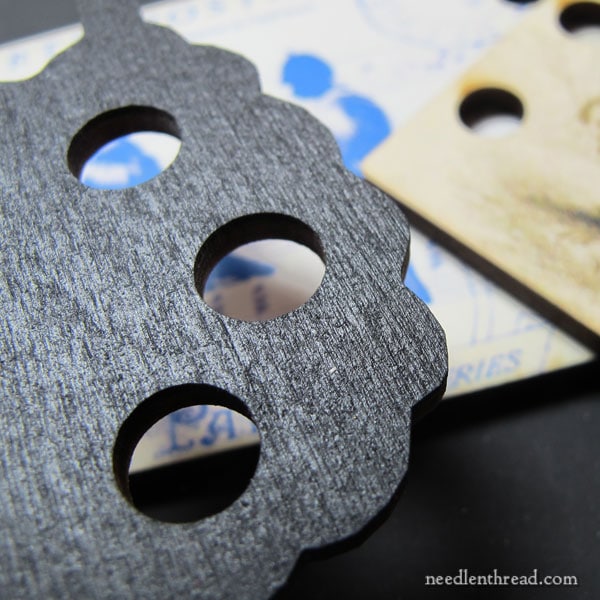 The thread keeps are made out of wood, and I think it is specifically a wood called luan. It's a somewhat porous, lightweight plywood board. It has a kind of innate shreddiness to the way it looks and feels – almost as if it is prone to be splintery. It reminds me of the inside of a Butterfinger bar.
Because of the type of wood, it has a rough feel to it, and I really don't think there's any way a woodworker could achieve a glass-smooth finish with this stuff. It's plywood, so by the time it's sanded down in hopes of a smooth surface, you'd be into the next layer of board, anyway. And the splintery grooves and hollows that run through it make me think that such an endeavor would be impossible.
I love the glass-smooth finish that comes with a well worked piece of hard wood. I'm not sure why I expected that with these particular thread keeps, but I think it has to do with the fact that the thread keeps are meant to hold thread. And thread snags. So when I read "wood" in the description, I assumed it would be smooth wood.
When I first felt the thread keeps, my heart sank. I knew right away that they aren't the type of tool I'd put most threads on. I was hesitant even to use them for regular cotton floss, but as it works out, that's about the only thread (that, and perle cotton) that I'd use them with.
I tried them with floche, which is a much softer cotton thread, and pulling an individual thread off the keep adds a little fuzz to the thread. So, unfortunately, I won't use these for anything softer than cotton floss or perle cotton. I wouldn't use them with floche or coton a broder, for example, and silks would be out of the question.
Despite this limitation, though, these thread keeps still make me inordinately happy when I see them. I like them! I like that cute sheep with it's flowery back end! And I like the beehives. And I like the birds.
These are all things that make me happy, and that's exactly why I bought these in the first place.
But, when it comes down to it, I really prefer to make my own thread keeps for my projects, if I'm working with cut threads.
Making Your Own Thread Keeps
At the beginning of this article, I linked to an old post where I talk about making your own thread keeps. It's an economical way to arrange cut threads for any project. But your thread keep doesn't have to be boring. It doesn't have to be plain white card stock. You can dress it up!
So, to that end, here's a free DIY Thread Keep printable for you. This is what you can make with it: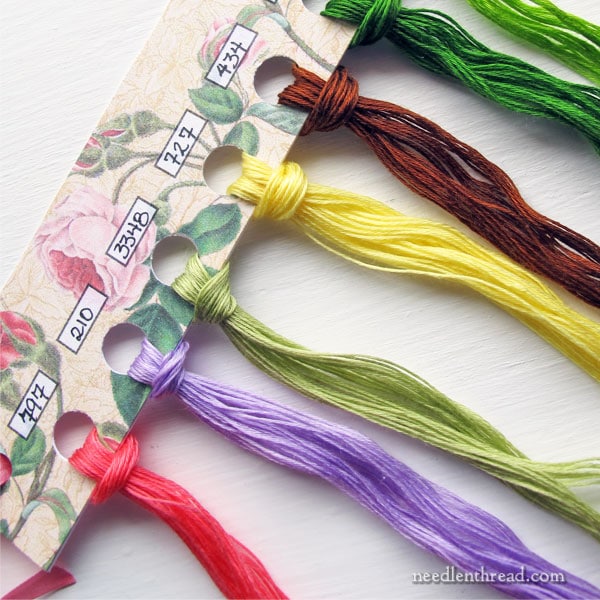 To make mine, I printed the sheet (which has three decorative strips on it) on heavy card stock. I cut out the decorate strips and glued them with strip glue to another sheet of card stock, to give a double thickness and sturdiness to the thread keeps. When I used the strip glue, I avoided the area behind the punch circles. Those are the darkish 3/8″ circles that you punch out so that you can loop your threads in the holes.
After glueing the strips to new card stock, I trimmed the new card stock down to the same size as the strips, and then I used a 3/8″ hole punch (available on the scrapbooking aisle at any craft store) and punched out the circles. To punch the circles in just the right spot, if you turn the punch over and put the design in face up (but the punch is upside down), you can line up the hole in the punch tool with the colored spot on the thread keep.
I used the spaces above each hole to pen in the color number of the threads I wanted to use.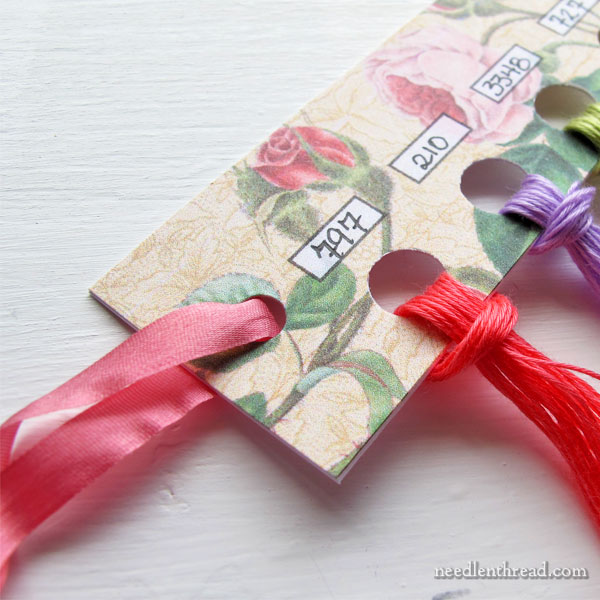 Finally, I used a regular single hole punch (the kind you use for office work) to punch a small hole on the left side of the thread keep, so I could string a ribbon through and hang the thread keep if I wanted to. I could also use the ribbon to group two or three thread keeps together. You can also use a jump ring to group several of the DIY thread keeps together, too.
These are an easy and economical way to organize cut threads for embroidery projects. In fact, it's my favorite way to organize pre-cut threads when I'm stitching!
I hope you enjoy the printable!
If you have any questions, comments, or suggestions about thread keeps and organizing cut threads for embroidery projects, please feel free to chime in below!