Good morning, my friends!
Today, let's keep things short and sweet! This morning, I'm sending along a free hand embroidery design for a kaleidoscope that I call Seventh Heaven.
The reason for the name? Well, it's a kaleidoscope of seven parts: seven arms and seven layers that can be broken down or grouped different ways.
So I'll share the design with you below, in a handy PDF printable, and chat a bit about embroidery ideas for the design.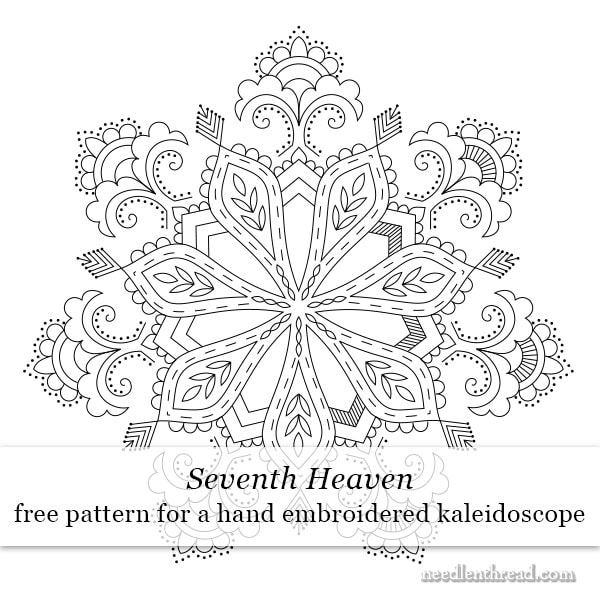 If you're new to Needle 'n Thread, you'll find an index of embroidered kaleidoscopes here, where I take you step-by-step through embroidering a few different designs from my Favorite Kaleidoscopes pattern e-book.
Kaleidoscopes are fun to embroider! They can be used to adorn different items, from quilt squares to book covers to tote bag pockets to the back of a denim jacket to… you name it! I've seen my designs from Favorite Kaleidoscopes in all kinds of fun applications.
This particular design lends itself to lots of simple line stitching. I've drawn in some areas filled with lines, so that you can see the potential for filling those areas with simple straight stitches. When you trace or transfer the design, I wouldn't bother with those fiddly small line fillings – those are elements you can "eyeball" as you stitch.
I can see this particular kaleidoscope worked out in shades from dark to light (center outwards) or visa-versa, using simple line stitches to vary the weight of the lines, and using simple straight stitch fillings here and there.
I could also see certain elements, like some of the scallops on the outermost layers, filled with shading – but that complicates things, doesn't it?!
Free Hand Embroidery Design Printable
If you'd like to give Seventh Heaven a try, here's the handy PDF printable for you. The design prints at about 7″ in both directions, on 8.5×11, if you choose "100%" or "no scaling" or a similar setting in your printer dialogue box.
Seventh Heaven: A Kaleidoscope Design for Hand Embroidery (PDF)
I hope you enjoy it!
Looking for More?
If you're looking for more free hand embroidery designs, you'll find a collection of them here on Needle 'n Thread.
If you're looking specifically for some fun kaleidoscope designs to stitch, you'll find my Favorite Kaleidoscope collection of over 30 designs, ranging from simple to complex, available here.