I've lately received not just a few little emails asking about the progress on my hexagon quilt that I first showed you here, which is my "grab and go" stitching project at the moment.
I don't have as much time to work on it now, and I'm not really making time to work on it now – not like I did when I first got the project going. Now, it truly is a grab-and-go project, something I grab and take with me when I know I'll be waiting around, biding time, and needing something to do with my hands.
Surprisingly, though, there is progress on the thing, and a lot more than I actually realized!
So, for the curious, here's my progress, some insights to my current thoughts on it, and a couple notes on how and why I had to expand the organizational aspect of my grab-and-go, hand-pieced hexie quilt project.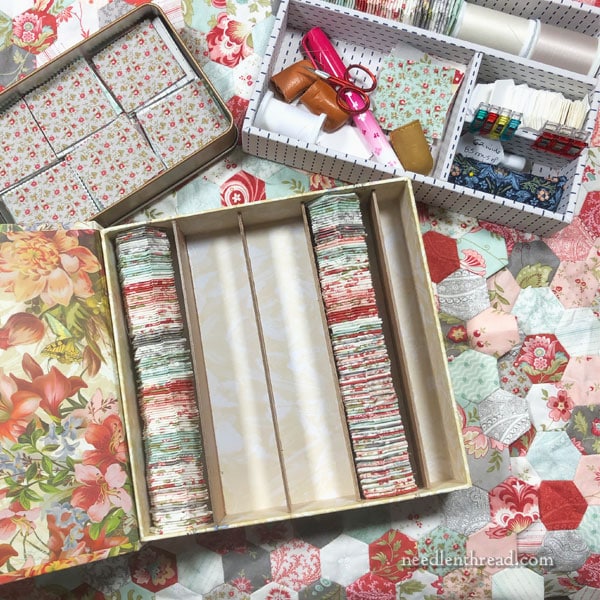 I still enjoy the heck out of working on this quilt! It makes me happy. I love the colors. I love the small pieces. And, when I'm in a situation where I want to have some handwork but it can't be an embroidery project that requires more attention, I love the "mindless" nature of basting and piecing. It's very relaxing.
It's a good project to have on hand, and no, to answer a few of you who asked, I don't see myself shelving it and leaving it undone! I really enjoy it!
Very shortly after getting the hexie project underway, I learned many things.
One of the first things I learned is that, when working with a specific selection of fabric and sewing something that is random, it's important to make sure that you have the whole range of fabric worked into your randomness.
As I explained in the first article about this project, I'm using Moda layer cakes for my fabric, so that I was sure I had the whole range of the fabric line I selected.
When I first started cutting the layer cakes into 2″ squares, I didn't keep the order of the layer cakes, and I ended up working with an unbalanced selection of colors. When I tried to be "random" in my construction of the quilt, I ended up amassing too many hexagons of one color together. To break them up, I'd search for basted hexies in other colors and shades, but I didn't have any basted and ready.
To eliminate this problem, I started cutting the fabric and keeping the stacks in the order that they come in the original layer cakes. This is more likely to guarantee that I have the right proportion of colors to work with within any area of piecing. And I won't end up with big globs of all the same colors anywhere on the quilt.
Now, when I baste my hexies, I keep them in order by color, just as the fabric originally was arranged in the layer cakes.
I baste all the hexies from each stack and put them in lines, separating each whole collection that covers the complete fabric range with paper hexies, so that, when I'm piecing, I know when I've used all the hexies from the whole fabric range.
And to keep the hexies in order and ready to piece into the larger quilt, I line them up in a little clamshell box with a magnetic lid that I used for storing stationery. I took some book board that I had on hand, cut strips of it, and glued them into the box as dividers, so that I can keep the rows of prepared hexies neat and ready to piece when I'm in the mood for piecing.
Speaking of piecing, I have two large-ish pieces of the quilt pieced. They're each about 22″ x 28″. In the photo above, they're overlapping.
Depending on my mood (and on the lighting), sometimes I just baste, and sometimes I just piece. And sometimes, I go back and forth between basting and piecing in the same session.
If the lighting is relatively low where I happen to be, I just baste. I can baste the squares onto their paper foundations in practical-darkness at this point. It doesn't take precision and you can pretty much feel the little folds where the basting stitches go.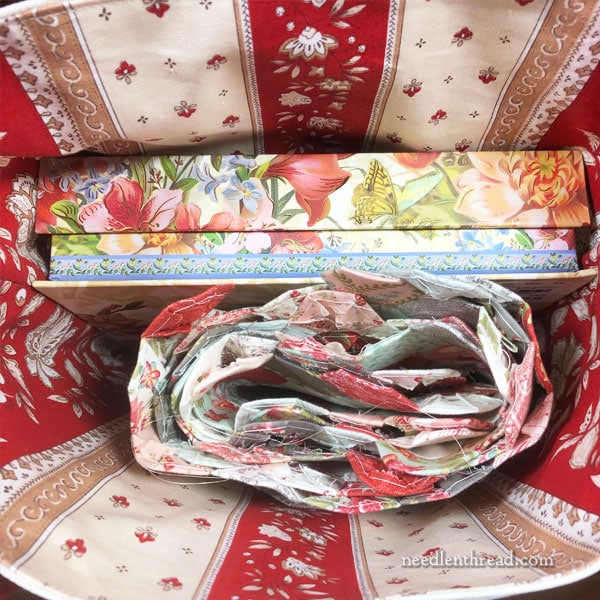 The clamshell box with its lines of basted hexies and the larger, assembled chunks of the quilt needed their own storage, as they don't fit inside the sewing box I'm using to tote this project around.
(I talked about the sewing box here in the original quilt article – and below, I'll add a little more to my original insights.)
Remember my tote bag with the embroidered pocket? Well, it works just great as additional, totable storage. And using it this way makes me cheery all around!
The little sewing box has held up pretty well. It looks much more worn than it did when I originally bought it, but it's still serving its purpose. I admit, it gets battered about quite a bit, tossed into the car, dropped into chairs, and whatnot. I don't treat it with kid gloves.
At one point, I had it stuffed far too full with all kinds of paraphernalia for this project – and way too many little stacks of fabric! The weight caused the top of the box to pull away a bit, but a little glue and some well-placed staples but the whole thing back in order, and in fact, made it even stronger.
When I want to take the whole project with me, the tote bag makes an easy addition for carrying the extra parts of the project around, too.
So that's my hexie project, and even though it's not embroidery, I enjoy working on it immensely when I have the chance!
While it's not a project I intend to write often about, I'll keep you updated whenever there's anything "big" to say about the project. It really isn't worth writing about too often, as the whole process is very repetitive. But now and then, I'll let you know how it's coming along – especially for those who think it's a lost cause and will end up on a shelf!
(I'm not saying that would never happen, but at this point, I don't think it will!)
Have a jolly week! More coming up later in the week on other projects and other news! I'm getting closer and closer to releasing the Leafy Tree, so for those eager to stitch it, keep an eye out!