Well, if you've been awaiting The Leafy Tree embroidery kit, here's the announcement:
The kit & e-book bundle will be released here on Needle 'n Thread in my shop tomorrow, Thursday, August 1st, at 8:00 pm Central Time (KS, USA).
Here are all the details you'll want to know ahead of time. (This guarantees that everyone reads the product description when they're not in a hurry!)
The Leafy Tree embroidery kit & e-book bundle consists of an embroidery kit with complete materials (described below) plus an instructional stitching guide PDF, delivered via email with a download link. There are no printed instructions in the kit.
What's In the Kit?
The kit contains everything you need to complete the project, except hoop or frame and scissors.
Inside the kit, you will find 22 complete skeins (10 meters each) of Madeira 6-stranded embroidery cotton floss. This is more than enough floss to complete your tree and to stitch another one if you want. Maybe you'll want to experiment with a different color arrangement, or stitch a spring tree instead of a fall tree. (You can read about Madeira cotton embroidery floss here.)
You'll find the fine embroidery needles – crewel and tapestry – that you need to stitch the design.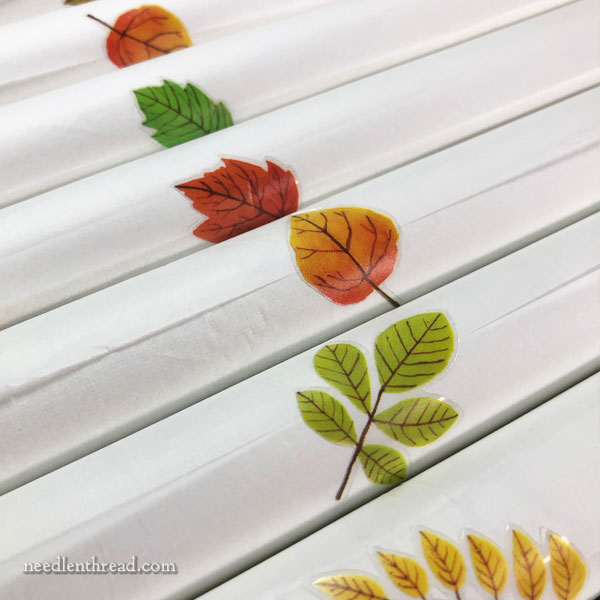 And you will find a fabric stick, which is a piece of linen (approximately 10″ x 10.5″), completely prepared for embroidery – cut on the thread, pre-washed and shrunk, pressed, and with the design transferred on it – rolled onto a tube so that you don't have to iron it or anything before you start stitching. And there are no creases in it!
This is a high quality embroidery linen, with a full weave and a beautiful "hand" or surface feel. There are very few slubs in it, and you won't find skinny threads mixed in with fat threads, with spaces between the threads. It's a beautiful fabric!
What's the E-Book and How Does It Work?
The e-book is a PDF that is delivered to you electronically, through a download link via email.
It includes some basics that will help you stitch this project, a materials list, pattern, diagram of stitch & color layout, and stitch instructions.
The Techy Side of Downloads
The e-book comes to you via a download link sent to your email directly after your purchase.
To make this a smooth process with the fewest hiccups possible, please keep in mind the following:
When you make your purchase, use the email address that you want the download to go to. Please make sure that the email address is entered correctly, with no typos.
Download the file to your computer first. This way, you have it on your computer as your "backup" file. You can then move the PDF to a tablet or mobile device using the normal ways you move any file around between devices.
For security reasons, the download link expires after three attempts to download, or after four days, whichever comes first. If you open the file on your mobile or tablet using the link, each time you open it counts as a download, so the link may expire before you download it to your computer.
If the link does not arrive in your inbox within 30 minutes of your purchase, please check your spam filter or other filters (like "promotions" or "social" in some email accounts) for the link. If it is not there, you can contact me by replying to your order confirmation email and I will send you the download link a different way. Some email service providers filter or block automated emails that include download links.
What Will You Learn?
This project will teach you many things about embroidery!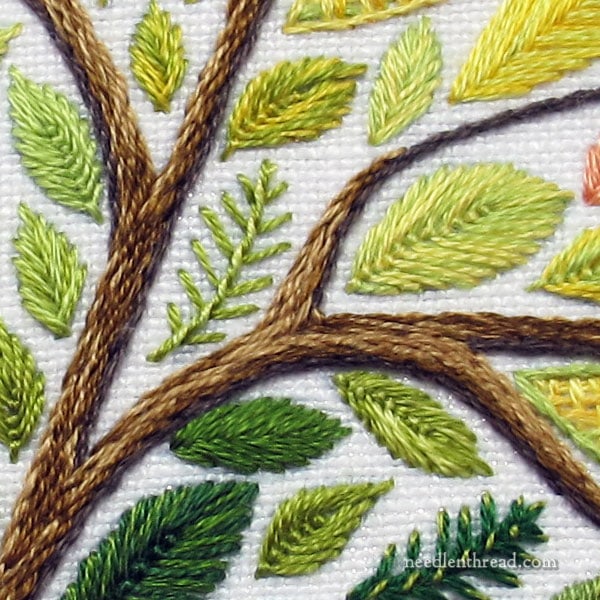 You'll learn several different ways of stitching leaves… and you'll have plenty of leaves to practice on!
You'll learn how to shade with stem stitch on the trunk of the tree.
You'll learn how to gradually change colors on a project made up of disconnected pieces, without harsh lines of color change.
You'll have the freedom to mix things up and experiment, and from that, you'll learn to be more confident with your embroidery projects.
Keep in mind that the project is not large. The tree is just over 5″ tall, as you can see in context in this photo: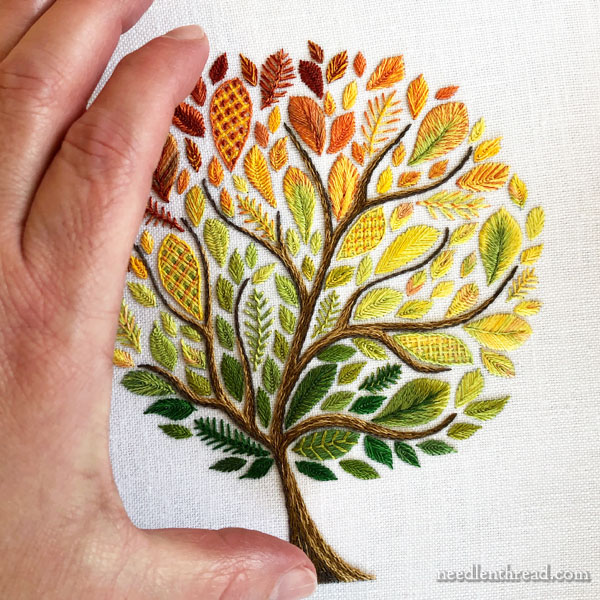 So you will also learn, if you haven't worked on a finer scale, how to use only one or two strands of floss to produce beautiful embroidery.
What Should You Already Know?
This project is for advanced beginners and beyond, so it does not include all the basics of beginner embroidery.
To comfortably undertake this project, you should know how to:
hoop up an embroidery project or how to mount your fabric on stretcher bar frames
start and end embroidery threads
stitch on a "fine embroidery" scale, since most of this project is stitched with two strands of floss, and occasionally with only one strand of floss
choose the right needle for the type of stitch and weight of thread
read and follow step-by-step stitch instructions
I'm not trying to dissuade anyone who really wants to stitch it from purchasing the kit. I'm a firm believer that determination is 80% of any successful outcome. I just don't want anyone to be disappointed or discouraged or flummoxed when they receive the kit and e-book, because they expected something more basic.
What You Need
You'll need the following to work the project:
A good pair of scissors with small blades
A hoop (6″ or 7″) or stretcher bar (or other type) of embroidery frame (8″ or 9″)
Good lighting
If necessary, magnification
When, Where, and How Can You Get It?
The Leafy Tree embroidery kit & ebook bundle is available right here in my shop on Needle 'n Thread.
The cost for the kit and the ebook is $69 (US) plus shipping. ($56 is the retail cost of the kit; $13 is the discounted cost for the e-book.)
For international customers, only certain countries provide tracking and insurance in conjunction with the US postal service. These countries include the UK, Canada, Australia, New Zealand, and a couple EU countries. Needle 'n Thread will not be responsible for replacing orders that get lost or damaged en route to any other countries where guaranteed and insured delivery are not available via the USPS. Any customs or import fees are the responsibility of the purchaser.
Please double check your shipping address and make sure that it is correct when you place your order. Thanks!
I really hope you enjoy stitch this project as much as I did! I've stitched it three times now, and I love it every time. There are so many ways you can make it your own, like changing the color scheme to match different times of the year, or switching up the filling techniques on the leaves. There's lots of room for experimentation! It's a fun project and the results are really striking, no matter how you stitch it!