I'm always on the lookout for good lighting solutions for hand embroidery and other needlework. Short of your needle, I think the most important "tool" when you're stitching is your lighting.
And while excellent lighting can be had naturally in a sunny window or sitting outside, the fact is, many people don't stitch during the day, and even if they do, they don't always have the right situation to take advantage of the sunlight.
So, yep. I'm always on the prowl for lighting solutions to share with you so that you can find your ideal light.
As the summer winds down here in the northern hemisphere, with the days getting shorter, good lighting is even more important. And with seminar and workshop season going into full swing, with holiday travel coming up, with football season kicking in, and all the other myriad reasons we might take our needlework away from home, easy, good portable lighting solutions are ripe for consideration!
Today, I want to show you my latest lighting acquisition. I bought this on the recommendation of a friend who hikes and knits.
If you've not experienced headlamps outside of the realm of miners, spelunkers, construction workers, and plumbers, then you might be surprised that they're used for a boatload of other endeavors, too. A good headlamp is the ultimate hands-free flashlight for any situation where you might need one. They're popular with runners, hikers, bikers, and campers for outdoor use at dusk and beyond.
Now, using headlamps for needlework is certainly not a new concept. I've had friendly stitching folk recommend headlamps to me for several years. I've tried different headlamps, but never with much luck – either because they're uncomfortable, or they didn't stay put, or they went through batteries like a kid through a bag of Skittles.
But recently, a knitting pal who happens to be an avid hiker and camper told me about this particular headlamp and said, "You've got to get one. You will like it."
So I got one.
And I like it.
Let's look at this headlamp (it's a rechargeable headlamp by Coast), and discuss pros and cons for the needleworker.
There are, I think, more pros than cons when it comes to this little beauty.
A headlamp is a small light situated on a band that fits on your head (or on a hard hat). There are different types. This particular type uses a rechargeable battery, but it can also take standard AAA batteries for those times when you don't have access to a charger.
So you'll find in the packaging both the rechargeable battery and a set of AAA batteries. (I love it when batteries are included!)
You'll also find a charging cable and a wall charger and car charger – along with a collection of clips, if you want to clip the headlamp band onto your favorite hard hat while you're stitching at the local construction zone.
The main body of the headlamp opens by tilting it away from the back panel, to reveal the battery access.
The headlamp locks into several (three) tipped-forward positions like this, so that you can angle the lamp downwards to direct the light where you want it while you're wearing it.
The back of the lamp is very easy to open, and here is where you can insert either the rechargeable battery or the AAA's. The rechargeable battery is lighter and more economical in the long run, so that's what I use.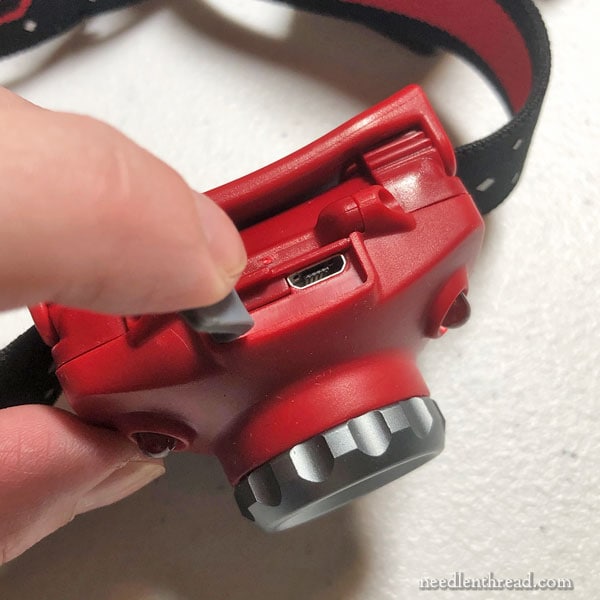 This feature, I think, is very handy.
You see, you can recharge the battery two ways: either by removing it entirely from the lamp and plugging in the cord directly to the side of the battery, or by simply using this small recharging port hidden at the base of the lamp.
The on and off buttons are located at the top front corners of the lamp, so that you have easy access to them while you're wearing the thing.
There are two power buttons – one (on the right) operates the main lamp. The other (on the left) operates the two red lights on the lamp if you want to preserve your night vision.
When you click the main lamp power button on, the lamp comes on at full brightness. You can click the power button to dim the lamp to three different degrees of brightness.
The light from this little thing is Tremendous and Mighty. It works so well for stitching in a dimly lit room!
You can focus the light in a direct beam by turning the dial on the front of the lamp (this gives you an extremely bright, direct beam of light shooting onto your needlework – and frankly, I find it a bit extreme!), or you can "flood" the area with a softer but wider coverage of light, which is how I use the lamp.
A Comparison with Neck Lights
Not too long ago when writing about my grab-and-go hexie quilt project, I wrote about a neck light as a portable lighting option. It works… but I like the headlamp oh-so-much better. These are the reasons:
1. The headlamp moves with my head, directing the light where my eyes are going. The neck light doesn't. I have to frequently readjust the neck light, to encourage it to shine where I want it to.
2. The neck lamp catches the hair at the back of my neck. I know this seems minor, but it happens frequently enough that it can be really annoying. (You know what it's like to have something suddenly tug on one single hair right at the nape of your neck, right? Ouch!) The headlamp's strap that goes around your head (I wear it like a headband, beneath my hair, behind my ears, and out onto the forehead) is soft, comfortable and it doesn't snag. It's adjustable even while you're wearing it, but I've never actually had to readjust it. It hugs and stays in place, without feeling tight or uncomfortable.
3. The neck lamp is not as bright, and it doesn't cover as much area. It's only directed light. This headlamp has an adjustable flooding option, which covers so much more area with good light.
The Cons of the Headlamp
There are only a couple cons that I've discovered with this particular headlamp.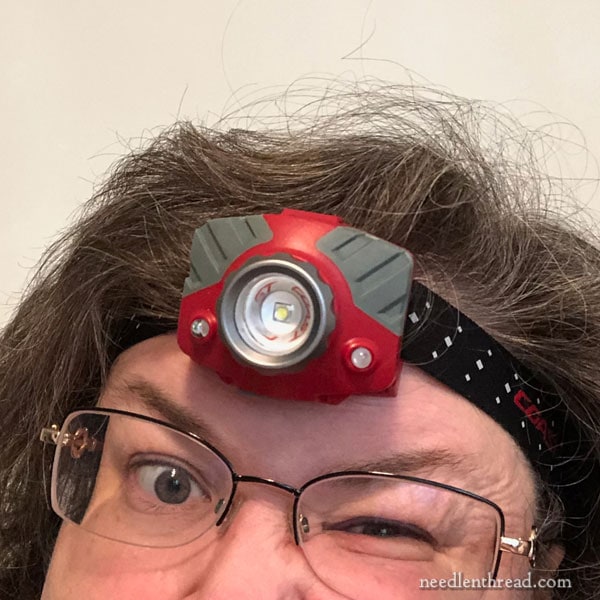 This is what the headlamp looks like on… and this brings up one con. It looks kind of weird to be sitting around with a headlamp stuck to the front of your forehead.
I don't take selfies well.
And unfortunately, this is the other con – and it's the Bigger Con.
While there's something kind of fun in feeling like you're some kind of super hero – Ultra Man or Wonder Woman or the like, with a Massive Shining Star on your forehead – the fact is, that little light is darned bright.
If you're stitching in a social situation, you really want to make sure that your lamp is pointing downwards and on the dimmest setting (or turned completely off), before you turn your glorious, sunshiney face to the rest of the world. Otherwise, you will blind everyone around you.
Other than that, though, I haven't found any other negative aspects. It is a little pricey, but so far it has worked so well for me – it's comfortable, it's got a nice range of features for adjusting the light, it's easy to wear and direct the light exactly where I want it while stitching… and it's rechargeable, which saves on batteries and on weight. But it also has the battery option, for those situations when I can't charge it. These are features that I think are worth paying for.
So, if you're looking for an excellent quality, easy, small, portable lighting solution, here's one to consider. It doesn't even have to be for portability – I've been using it as my stitching light in my studio, just to give it the heave-ho and see what it's all about. It's a champ!
Where to Find It
I did not have any luck finding this particular rechargeable version locally at hardware stores (Lowe's, Menards, Home Depot, True Value and the like). They had several other Coast headlamps, but not this particular rechargeable one. I ordered it online through Amazon. There are several color choices, some less expensive than others. It worked out well for me, because I wanted the red one, and it was the least expensive.
You can find the lamp available here on my Amazon Recommendations Page, under Tools & Accessories. If you travel a lot or attend seminars and have a rechargeable light (or a light with a USB connection), you might consider investing in a power bank, too. You'll find the one I use right next to this light on the same page. It is a game changer for charging devices and lights when you're on the go!
This article includes an affiliate link to my Amazon Recommendations page, which means that Needle 'n Thread receives a small commission on items purchased through that link, with no extra cost to you. Thanks!