I really wouldn't wish a blizzard on anyone this early in the year… unless, of course, it's a blizzard of embroidered snowflakes!
When I was a kid growing up in New England, I loved blizzards. As a child, after all, I didn't really understand all the contingent factors that come with major weather events.
My family lived about an hour from Boston in the winter of 1978, during one of the most devastating blizzards that area has known. I was just a little kid at the time, but that weather event made a huge impression on me.
My dad was unfortunately caught out on the road. He was lucky to be able to find a small hotel to put up in. He didn't make it home for four days.
We didn't have school for at least a week! (No complaints there!)
I remember coming downstairs the morning after the greater part of the system went through. The house was uncannily dim. Snow had drifted over our windows and we couldn't see out.
Outside, when the system had passed, the drifted snow was well over my head.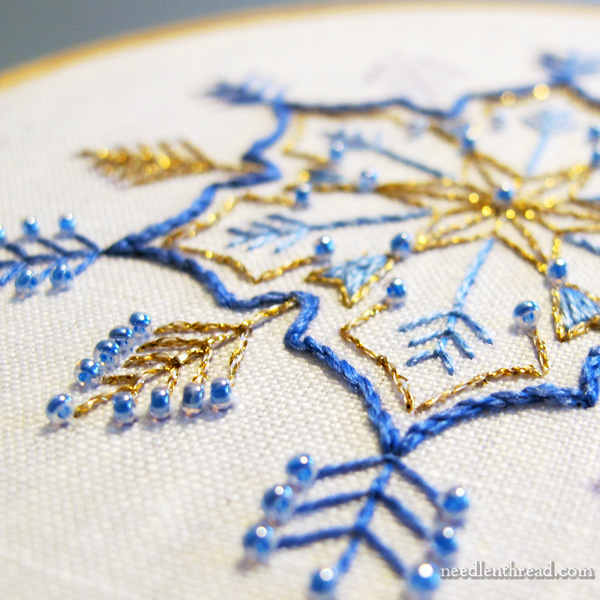 Unbeknownst to my mother, my sisters and I rode a sled down the snowdrift out of our bedroom window to the yard two stories below. Well, we were children, after all – and blissfully oblivious!
As a kid, I loved snow! I loved seeing it fall, going out and playing in it, catching snowflakes on my mittens and counting the seconds until they melted away.
I loved coming inside to warm up from it.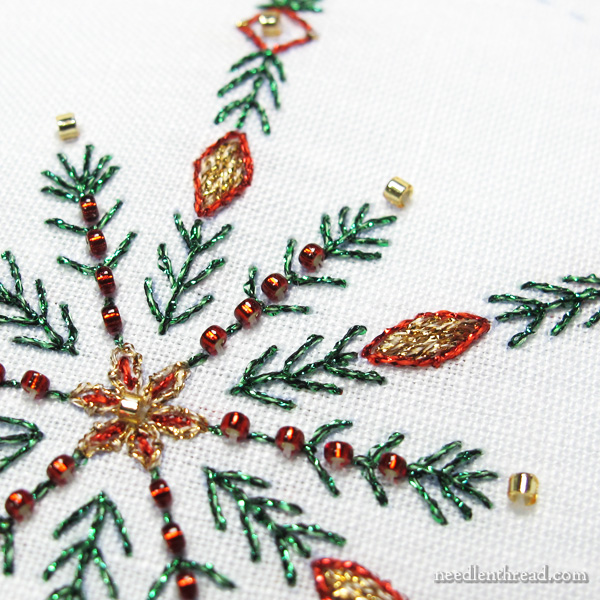 I loved all the cozy notions surrounding a snowy day – hunkering down inside to play, drinking cocoa, a fire in the fireplace while the wind whipped about outside.
I loved snow days, when we'd wake up very early in the morning and desperately listen for the horn that sounded in the distance to announce that there was no school.
And even as an adult, when the adventuresome call to play is not quite the same (!), when snow pretty much equates with inconvenience if you have to go anywhere, when I'm no longer part of the school scene (so a snow day really doesn't matter) … I still love snow!
The exquisite, sculptured beauty of a snow-covered landscape; the glitter and sparkle and sometimes blinding whiteness of covered fields; the sugar-coated black tree limbs; the serene silence after a good snowfall – I hope for and anticipate these delights every winter.
So I thought I'd pay tribute this year to that ephemeral, icy little wonder – small in size but mighty in artistic and structural appeal – that we call the snowflake!
Remembering that folks appreciated the structure and scope of Twelve Trees for Christmas, I decided to create a series of snowflakes along the same lines.
I developed twelve designs and gathered supplies for many color schemes, which I subsequently cut down to about three general color groupings.
Then, reducing the flakes to 3″ from their farthest tips in order to make them ornament-sized, I prepared samples in the different color schemes, using a variety of threads – metallics, silks, and cottons, with options for substitutions so that people would have a place to start when choosing their own colors.
Focusing on a finishing technique that is accessible and easy, I put together some of the snowflakes as ornaments and photographed the process in easy-to-follow steps.
The ornament backs are embroidered, too, some with dates and some without, depending on preference.
Then, I decided that, while ornaments are fun, the designs can be used for oh-so-much more when it comes to decorating for the holidays and for winter when the holidays are over.
So I enlarged the designs and transferred several randomly placed, mixed-up sizes onto a table runner. I've been stitching whitework snowflakes on the runner for about a week now, in order to demonstrate the scope and usefulness of the designs. They're not just for ornaments!
And you know what I like best about the snowflakes? Individually, they don't take that long to stitch, and they aren't highly taxing.
Oh, and there's bling!
I have had so much fun with this project!
So for those who have asked, keep an eye out for my snowflake collection in just a few weeks! I can't wait to share them with you! I hope you'll like them as much as I do – and I hope you enjoyed today's little sneak peek.
Happy Monday!