Whether you're a newcomer to embroidery or you've been stitching for ages, one needlework tool that you could never deny the importance of is the 'umble needle.
If you're new to embroidery, you might find yourself flummoxed by the whole question of needles because there are a lot of types of needles out there, and they come in all different sizes.
Whenever someone new to embroidery asks me What needles should I get?, I always recommend starting out with a multi-pack of embroidery needles in a variety of sizes.
Multi-packs of needles, though, can sometimes cause confusion. Let's take a look at them and chat about how to read them.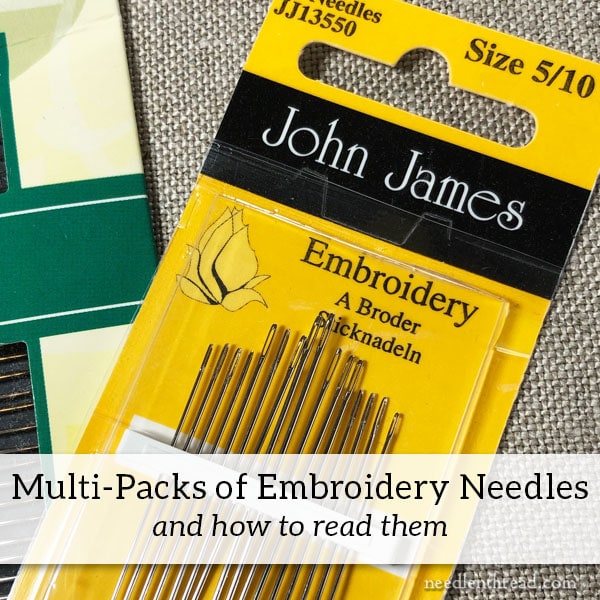 First things first, though! Here are some basics about needles used for surface embroidery.
Needle Basics
Embroidery needles – which are also called crewel needles – are sharp tipped, with medium-long eyes. They are ideal for surface embroidery because the sharp tip of the needle is expected to pierce through the fabric and open a hole for the thread to pass through. The medium-long eye (not short and round, not very long and oval) accommodates embroidery threads well.
Embroidery needles are not the same as tapestry needles, which are blunt tipped, have long eyes, and are normally used in counted work, where the fabric features a in a grid layout with pre-determined openings that the needle and thread pass through when stitching.
Sizing of Needles
The size of a needle is indicated by a number. In the case of embroidery (crewel) needles, the numbers are 1 – 12, although size 11 and 12 needles are harder to come by. They aren't as commonly available as sizes 1 – 10.
Because needles are made from wire, they are sized the same way wire is sized, in most cases. When it comes to embroidery needles, this is always the case, and the higher the number, the smaller the needle.
So a #10 crewel needle is significantly smaller than a #1 crewel needle. If you're used to stitching with a #10 crewel needle and you switch to a #1 in order to accommodate a very heavy thread, it will feel like you're stitching with a railroad spike.
Embroidery Needles in Multi-Packs
When you look at a multi-pack of embroidery needles, you'll notice that they are generally always arranged with the largest needles in the center of the multi-pack, and then, in steps out from the center, the needles become smaller on each side.
For the sake of demonstration, I'm using a multi-pack of John James embroidery needles in sizes 5-10.
Based on the information you already have, you know that the larger needles in the center are going to be the size 5 needles, and that, on each side of those, the needle numbers are going to increase to ten.
Now, as you explore embroidery needles, you will probably realize the following points:
There is very little difference between a #6 embroidery needle and a #7 embroidery needle. The difference is in the gauge of the needle, and until you're really used to stitching, you're not going to notice or probably even feel a difference. You can use them for the same tasks.
There is very little difference between a #8 embroidery needle and a #9 embroidery needle.
There is a noticeable difference between a #7 embroidery needle and a #9 embroidery needle. You can definitely see and feel the difference.
There is a noticeable difference between a #9 embroidery needle and a #10 embroidery needle. You can see and feel the difference, and you will definitely notice the difference when it comes to threading the finer #10.
In the photo above, if the needles were lined up at the base, you'd end up with about this structure in the multi-pack: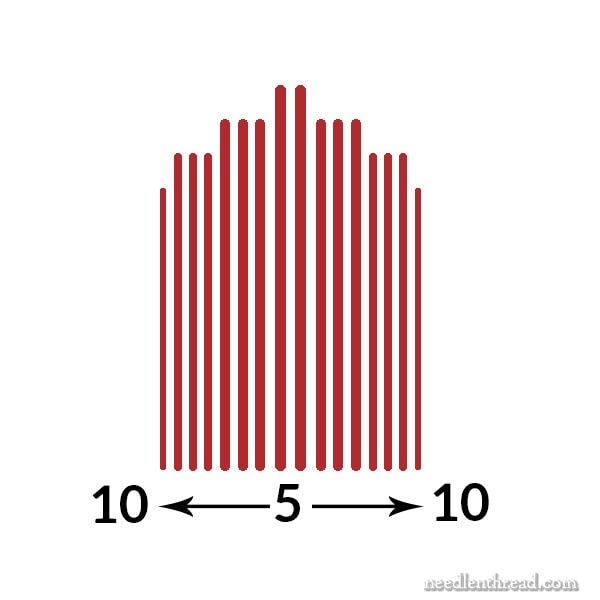 If you remove the needles in the multi-pack and line them up right next to each other, you're not going to see a lot of difference between the first group of three needles to the right and to the left of the center needles.
You won't see much difference between the needles in the next groups of three, either.
But you will see a difference between the two outermost needles on both sides, and the needles in the step just above.
To number the needles down from 5 – 10 in size, this is how they're arranged in the package – if the package has every size between 5 and 10, which I assume they do. There is so little difference between 6 and 7, for example, that it's hard to tell with the naked eye if there really is a size 6. If there's a difference, it's in the gauge of the wire (so, the thickness of the needle), but it's by a hair and it's difficult to discern.
So, in a nutshell, the steps go downwards in size (though up in number), reading from left to right: 5 at the top center, 6-7 on the left and right in the next step down, 8-9 on the left and then the right on the next step down, and then size 10 on each outer side in the last step down.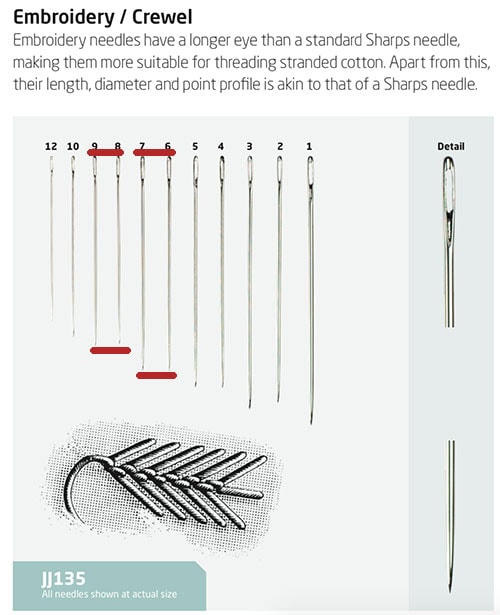 Notice that even in the Needle Guide published by John James (you can find a link to it at the end of the article), you cannot see a whole lot of difference between the #6 and #7 needles, and #8 and #9 needles. As far as length and visible difference goes, all the needles practically step down in size in pairs of two numbers after #1 and up to #9. With #10 and #12, the difference is in both length and in gauge – the #12 is a very fine gauge needle and it is slightly shorter than a #10.
So, if you want to assign numbers to the needle sizes, you can assign them that way. But truthfully, it's not going to make any difference in your stitching if you assign a 6 or 7 to the same needle, or an 8 or 9 to the same needle. The only difference it will make is with the needles that are noticeably different, either by noticeable length or noticeable gauge.
Does Needle Size Matter?
Of course, the size of your needle matters (you don't want to use a needle that's too small or too big for the type of stitching you're doing), but does the number assigned to the size matter? Not really. What you will discover as you gain experience in stitching is that you will have various needle sizes that become your general favorites. And you'll instinctively reach for the right size needle for the type of stitching you're doing, no matter what the number assigned to that needle happens to be.
Essentially, you get a feel for the size of needle you need for the technique, threads, and fabric you're working with.
When I'm stitching regular surface embroidery, my "universal" go-to needle is a #7 embroidery needle. It accommodates most of the threads I use quite comfortably. If I am working on something a finer, I might opt for an 8 or 9.
I use a #10 for fine stitching with silk, and occasionally a #12, if I'm using very fine silk.
But for everyday stitching, I've usually got a #7 in my fingers.
As far as brands go, when it comes to affordable needles, I split my needle world between John James needles and Bohin needles. There are other needles I like, too, but John James and Bohin are both widely available, decent needles. John James has a better variety of needle sizes and types.
Identifying Needle Sizes
If, however, you do like to know what size needle you're using when you're stitching, you may find these aids helpful.
These Needle ID Cards are really nice to have on hand, if you must know your needle size.
The images on them are true to size and shape of the given needles, so you place the needle on the image and find the one it fits on. Voilá! You know what kind and size you're using!
The other side of the card has interesting information about needles, their history, and their uses.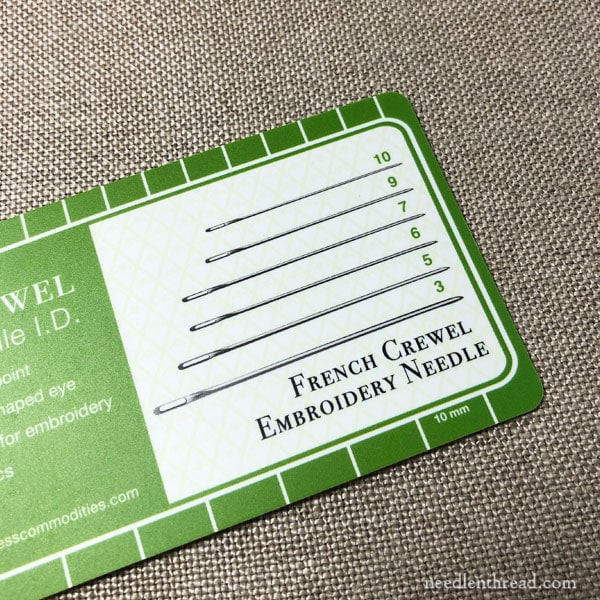 As luck would have it, by the way – and just to confuse the whole needle sizing question – French needles tend to be sized slightly differently from English. On the embroidery needle ID Card, you can find measurements for French embroidery needles on one side and English needles on the other. This is helpful if you use Bohin needles from France.
I find the cards handy when I'm kitting projects for other people. Once I've stitched a project, I might want to confirm what size needles I was using. I can double check the size on the ID Cards to make sure that I order the right size for my kits.
Online, you can find Needle ID Cards available at Needle in a Haystack on their needles page. Just scroll all the way to the end of the page, where you'll find several needle accessories. They're also available at any fine needlework shop that carries goods from Access Commodities.
John James Needle Guide
Another handy tool is this John James Needles Guide. It's a free PDF and full of good information on John James needles.
Explore More about Needlework Needles
If you want to read more about needles used in hand needlework – different types and how they're used – you may find the following articles on Needle 'n Thread useful:
Keeping it Simple with Hand Embroidery Needles
Hand Embroidery Needles: How to Choose Them & Use Them
If you have any needle tips to share, feel free to chime in below!
Tags