Sometimes, I find fun needlework tools & accessories at locally owned quilt and fabric shops.
We don't have as many of them in Kansas as you'd think – or at least, in this part of Kansas – but we do have a few notable shops that I love to go visit, either to browse their fabrics or to gawk at their notions wall.
I often find new-to-me notions in quilting shops – tools that I never knew existed, let alone that I needed.
Sometimes, I don't need them, but I might pick one or two out just to try, to see if it's something you need. I always have you on my mind, you see! And I like to look for things that might solve stitching problems for you.
Since needle threading is often a challenge for those of us whose eyes are not as they once were, I'm going to show you a really cute little needle threader that I came across serendipitously a while ago, that solves a couple problems: threading relatively fine needles and cutting threads when you don't have scissors on hand.
This little tool – which is much smaller than it may look – is a hummingbird needle threader by Dritz.
Isn't it cute?
You can see in the photo above that it's not much more than 1 – 1.5″ in total size.
The white arrows point out its multi-purpose-ness. It is a needle threader with a cover (the long, flat, tiny hook where the hummingbird's beak belongs) and also a thread cutter. The cover of the needle threader is on a hinge of sorts so that it moves down over the hook when not in use, and it can fold back over the top of the head when the hook is in use.
It has a small hole in the tip of the wing, so you can attach it to a lanyard or maybe even a decorative fob.
The piece is plastic. I couldn't help thinking how fantastic it would be, to see something similar made from decorative polymer clay, or wood, or something like that.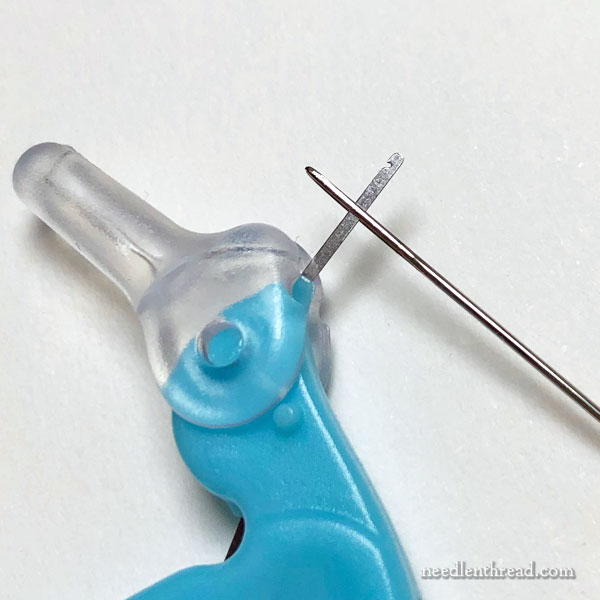 The hook is quite teeny-tiny – suitable for one strand of floss or for regular sewing thread.
It fits easily into a #28 tapestry needle.
The way it works is simple: you insert the hook into the eye of the needle, loop the thread onto the hook, and pull the hook through the eye of the needle.
For the thread cutter, you slip the thread around the bird's neck and slide the thread along the sharp little blade in the crook of the neck.
Since the tool is very small, it fits comfortably into my grab-and-go project bag. It's very unobtrusive, but it's easy to find when I need it.
This is the packaging it came in, in case you're browsing a notions wall yourself and want to find one.
I've used the threader off and on for a few weeks, and it's holding up ok so far. I like it!
If this seems like a threader you'd be interested in, check the notions wall at your local fabric stores, quilt stores, needlework shops, or at chain hobby and craft stores, too. Since it's Dritz, it'll probably be easy enough to find.
If you don't have a place nearby where you can acquire one, they're also available on Amazon. I've added it to my Amazon Recommendations page here, under Tools & Accessories.
The link to my Amazon Recommendations page is an affiliate link, which means that any purchases made through that link may result in a small commission for Needle 'n Thread.