To all my Needle 'n Thread friends, Happy Easter!
In my family's traditions, Easter has always been a very joyful holiday. After Lent and the solemn days of Holy Week, on Easter Sunday, we normally have a big gathering of family and friends, Easter egg hunts, a good meal, and fun all around.
Easter is the celebration of the Resurrection of Christ, which for Christians has always been the ultimate sign of hope. Regardless of the present crisis, this doesn't change. So even if my family can't all be together, we are still reveling in the joy of the day and celebrating as circumstances allow.
For me, today is a glorious day, despite the separation and the modifications to our normal Easter festivities. And I hope that you are seeing some of that glory and joy in your life, too!
For your Easter Entertainment, here's another seasonal Eye-Spy game for you, as well as a link to a coordinating jigsaw puzzle. I hope they bring you a smile!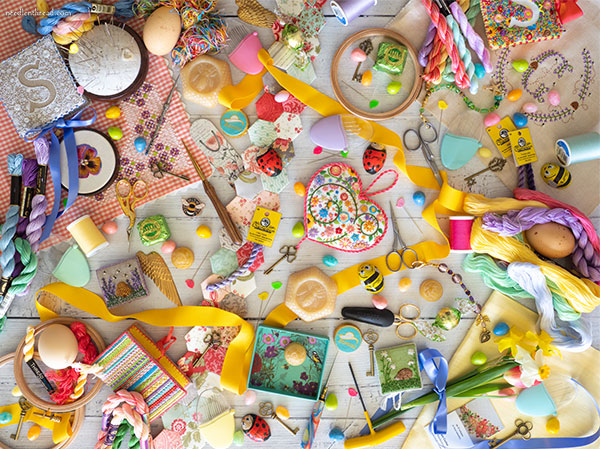 You know how this works, right? I give you a list of a number of things, and you see if you can find them all.
But first, just in case you're afraid that the photo is too small, here's a link to the Really Large Version:
Eye-Spy Needle 'n Thread Puzzle for Spring, 2020
If you click on the link above, you'll get a jolly big photo.
Here's a list of things to look for. See if you can find them all! (Some are tricky.)
Eggs that are large, eggs that are small –
If you found forty-five, you found them all.
There might be a key – or two, maybe three.
In fact, there are nine – look closely; you'll see.
Sprinkled about, you'll find twelve little chicks
And four angels wings thrown into the mix.
Five ladybugs and a starfish that's charming –
Some so well-hidden, it's almost alarming!
Flying here, flying there on wings that are tiny
Are twenty-eight bees, some dull and some shiny.
Fifteen fabulous hearts are scattered around –
They're waiting and hoping at last to be found.
The Jigsaw
You can find my Eye-Spy Spring 2020 jigsaw puzzle available here, if you're an online jigsaw fan. If you go to the menu on that page, you can adjust the number of pieces in the puzzle. Maybe you're a Super Duper jigsaw fan, and you want to work a puzzle of hundreds of pieces! Or maybe you'd like something short and sweet, with fewer and larger pieces? Adjust the number to suit yourself.
See you Tuesday, when we'll talk about Leaves and Trees and lovely things like that!
From my house to yours, Happy Easter!