Today is Good Friday, a solemn day in the Christian calendar commemorating the crucifixion of Christ, so I thought I'd put together a collection of ecclesiastical embroidery designs for crosses – the predominant symbol of Christianity – for those looking for something sacred to stitch.
All of them can be used for hand embroidery projects, but they can also be used for other crafts, including paper crafts for card-making.
You'll find below a list of links to the free designs.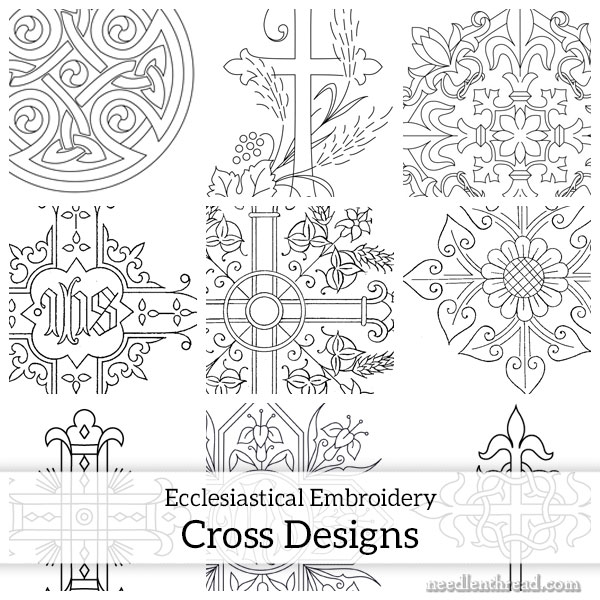 Crosses for Hand Embroidery
Cross with Crown of Thorns – small cross, fleur de lys tips, with crown of thorn across transept
Contemporary Cross – small cross, equal sides, circular setting
Celtic Cross – large cross in a Celtic knot pattern
Floral Cross Medallion – large and more complex cross with floral buds and fleur de lys tips
Cross, Crown, and Floral – cross with a crown above and a floral element wrapped around – perfect for book & bible covers
Stained Glass Contemporary Cross – small square cross, has a stained glass feel to it, with straight lines and geometrics
Cross & Lilies – more complex cross with IHS center and lilies
Cross, Wheat, and Lilies – more complex cross, adorned with wheat and lilies
Cross, Grapes, & Wheat – smaller cross with grapes and wheat, ideal for a book or bible cover
A Collection of Simple Crosses – a collection of simple crosses that can easily be traced and stitched
Sunflower Cross – a larger cross with a central sunflower and leaves
Coming Up!
On Sunday, I'll be posting my Spring 2020 Eye-Spy game, if you're looking for something fun to do. I put together a collection of needlework related items all jumbled up with seasonal somethings, along with a list of things to find in the picture, so it's a fun little game. Plus, I uploaded the image to make a digital jigsaw puzzle for you. So look for that on Sunday!
Next week, I'll be launching the Leafy Tree project e-book for those of you who have been waiting. Yay!
I've got a new project in the pipeline. If I make good progress this weekend, you'll see the beginning of it next week.
Thinking of you, and hoping you're surviving and thriving!