I've had some inquiries lately about variegated floss that can be used for embroidered items that will be regularly laundered.
DMC has a line of variegated threads that I like, called Variations. They meld with the DMC standard floss colors, and they are fairly easy to come by.
But other thread companies also have their variegated lines, and today, we'll chat a bit about Cosmo's Seasons.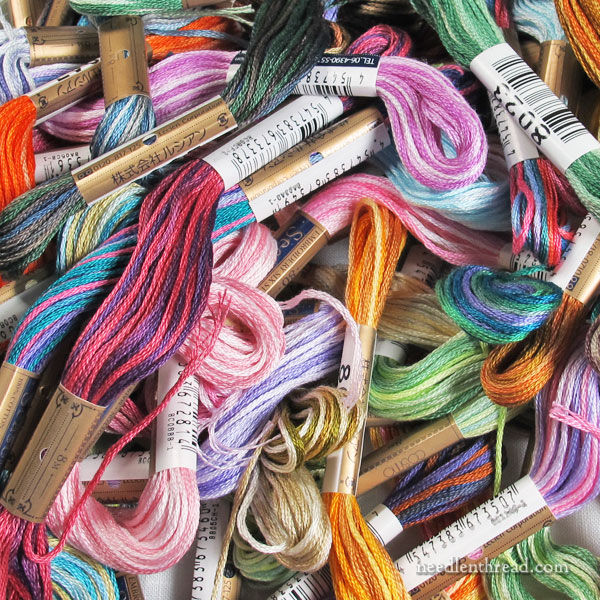 A long time ago, I wrote about Cosmo embroidery floss.
I like it! It's a good cotton embroidery floss. It's reliable, it handles well, it doesn't go natty and knotty. It's a good, solid choice for 6-stranded cotton embroidery floss.
A Note on Laundering & Running
When you're talking about variegated floss that can go through the laundry, keep in mind that most branded cotton flosses (DMC, Anchor, Madeira, Cosmo are the good quality, better known lines) will hold up to laundering up to certain temperatures without any problem.
However, there are instances – unfortunate instances – where people recount a color running occasionally, so no matter what kind of floss you use, it doesn't hurt to pre-test the thread if you're worried.
Embroider something small with it and put it through the same laundering paces that you plan to use on your finished whatnot. Or soak a small portion of the thread in hot water (perhaps with a bit of the soap you plan to use?) and see what happens to it. Hot water (or even water that's too warm, but not hot-hot) or steam or both are usually the running culprits.
That said, I've never had a cotton floss run in the laundry. Perhaps I've just been lucky.
Some stitchers recommend soaking floss in vinegar or in other fixatives that will keep loose dye from running, but when I'm getting ready to embroider something, I don't like to go through extra steps to prepare the thread. If I'm embroidering something I know is going to go in the laundry, then I use threads that I know will hold up to laundering. It's not the place to use hand-dyed threads, to use delicate silks, and so forth. A decent quality stranded cotton should hold up to laundering without having to go through extra preparation.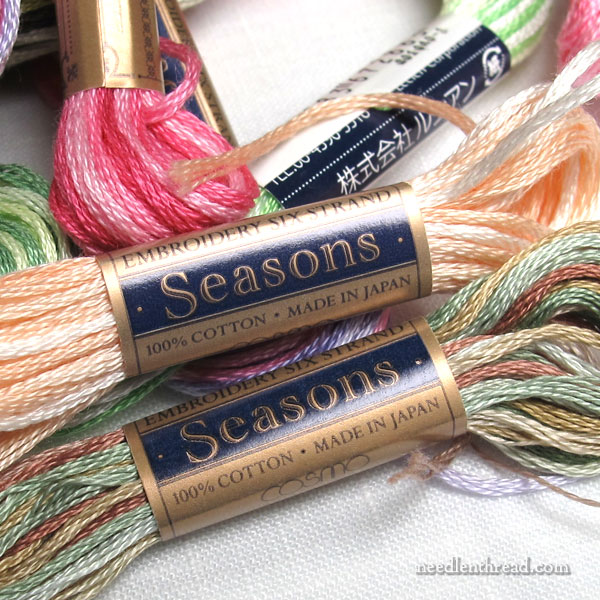 Cosmo's variegated floss is called Seasons, and they have quite a nice line of them.
Some of the variegated threads feature more subtle color changes between close shades of the same color, while others feature much bolder color switches within the thread.
The reason I recently contemplated Cosmo's Seasons was the Jacobean project in cotton. They have some good sea-ish blues and greens that caught my eye, so I took a look at them.
I didn't include any of them in the cotton version of the project, though, for two reasons:
1. They are not as widely available as DMC. They are certainly more widely available than they used to be – they've found a home in the quilting market, along with a few needlework shops in the US – but they are not nearly as ubiquitous as DMC; and
2. They are not as affordable as DMC. In the US, they average around $1.10 for their solid floss and $1.70 to $2.00+ for their variegated, depending on where you find it. (More information on that, below.)
They have all kinds of shades of Seasons – from subtle and soft to bright and brilliant and bold!
Many include a variety of colors in one skein. For some reason, this reminds me of birthday cake. (I like cake.)
Every line of variegated or overdyed floss needs this combination. It reminds me of high, hot summer. I love it!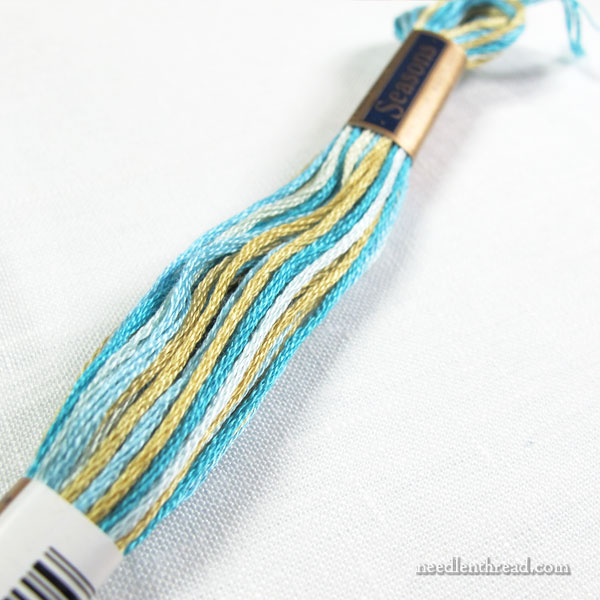 This, you can guess, is the original skein that caught my eye for the Jacobean project in cottons – it's very sandy-beachy.
Some Thoughts
Cosmo is a good stranded cotton floss. It's good quality cotton, it is mercerized and has a very nice sheen. It is smooth to stitch with. It's consistently good.
One of the drawbacks of stepping over to a completely different floss line entirely, of course, is the fact that so much design work in the needlework field is done with DMC. And while there are conversion charts, DMC is simply more available and more affordable – and it is a quality floss, too. So keep that in mind, when you're considering different stranded cottons. There is a level of inconvenience involved, when you move from DMC to another brand.
DMC is also a great line for "comparisons" in the needlework world – for thread, fabric, and beads. If you know the DMC color, it's very easy to find fabrics, other threads, and embellishments in that color without actually having to see it. You can consult a supplier and say "I need it to match DMC 703," and they can help you out. That's a good thing.
All that said, if you're not constrained by other designers' color recommendations, if you just stitch your own stuff with whatever you want to from your thread drawers, then there's no reason why Cosmo couldn't figure into your stitching stash, if you have access to it and you can afford it. (The solid colors are almost twice the price of DMC.)
Where to Get Seasons
Right now, Cosmo Seasons is on sale at Anita's Little Stitches, for $1.39 / skein, which is a good price. It runs $1.70+ everywhere else. I don't know if it is something they regularly stock, or if they stocked it for a time and they're clearing it out, or what. But they're a great little shop! They have a $25 order minimum, but they also have a fabulous selection of scissors (they've got some of the best-priced DOVO scissors here in the States, that I've seen), so you wouldn't have much problem hitting that minimum if you're anything like me. Anita's also ships Really Fast.
You can also find Cosmo through many online quilt shops. Just search "Cosmo embroidery floss" and you'll come up with a slew of them. In the US, I think Crabapple Hill Studio is a good choice for the whole line.
And there are also vendors on Etsy selling Cosmo floss. If you're outside the US, check Etsy for shop owners in your country – you may find someone selling Cosmo more locally. I know there's an Australian vendor who sells the whole line, and a UK vendor who sells a selection of Cosmo threads on spools, for Sashiko.
So there you have it! Some variegated floss for the laundry! Hope you find the info helpful!
Have a wonderful weekend!