Back to Floss Talk! The embroidery floss that I mentioned last week is Cosmo Embroidery Floss. Several readers commented in the original Floss Talk post about Cosmo Embroidery Floss, so you probably already know that it isn't a new floss, though it is new to me. It's very popular among quilters and is found more often in quilting stores, I think, than in regular needlework shops.
I've wanted to try out Cosmo floss for a while, after hearing about it from readers and getting several questions via e-mail about it. So far, I've only done a little bit of stitching with it, so I thought I'd share my first impressions.
Like DMC and Anchor embroidery floss, Cosmo is a 6-stranded, long-staple, colorfast Egyptian cotton embroidery floss. It comes in 8 meter skeins, in 443 colors. (Anchor has a color range of 460, and DMC, a color range of 454.)
My first use of the floss is on a simple line drawing, on a flour sack towel. I've stitched this design before, and I had another towel already set up with the design on it, so I figured it would do for a test run of simple line stitching using stem stitch.
I like the floss! A couple things I've noticed:
1. I can use a long length of floss and even towards the end of the length (about 22 inches), the floss still looks new – nary a fuzzy spot in sight.
2. There was no pilling that forms little tiny bumps or knots. The floss was very smooth, and I didn't come across any sections with imperfections, soft threads, or areas prone to split.
Overall, the floss does not seem as "soft" as DMC or Anchor. This is a good thing when working line stitches (stem stitch, backstitch, running stitch, chain stitch, outline stitch, and so forth). The thread stays twisted without wearing out with stitching.
I don't know how the Cosmo floss will fare, though, with techniques like long and short stitch shading. My next stitching test will be with long and short stitch, to see how well it "fills" the area and how smooth it looks in shading.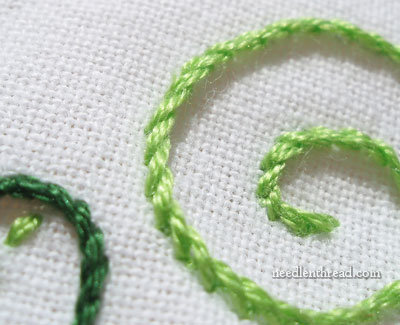 I haven't tested the floss yet for colorfastness. It is colorfast, apparently, so when I finish this corner, I'll set the towel to soak for a long while and see what comes of it.
So there are still two things I want to try out with Cosmo embroidery floss: filling in areas with shading techniques, and washing the floss. I'm pretty sure the later won't pose a problem. I don't know what to expect yet with the former. But I'll let you know as soon as I get some more stitching done with it!
Overall, my first impressions of the floss are Really Good. There are a couple points, though, that tally up on the negative side:
1. It isn't as widely available as DMC or Anchor. You have to hunt online for retail shops that carry it, unless you live near one of the few (relatively speaking) shops that carry it. There are, however, color conversion charts available for Cosmo to DMC
2. It is somewhat cost prohibitive, if you're used to purchasing either DMC or Anchor. Anchor has always been the more expensive of the popular 6-stranded flosses on the market, at anywhere from $0.49 to $0.60 / skein. DMC is slightly less expensive (and easier to come by), at anywhere from $0.33 – $0.49 / skein, depending on where you buy it. Cosmo checks in at $1.06 / skein, which is quite a bit of a difference, especially if you're purchasing lots of floss for a project. 10 skeins of floss can see you paying almost $7.00 more than DMC, if you're buying Cosmo. Plus, if you have to order it online, then you're stuck paying shipping as well.
So the question arises: is it worth paying the difference for the thread? I'm a little torn on the point. Truly, it is a pleasure to stitch with. If you've ever been irritated by thread that develops fuzzy sections, or that splits or pills as you stitch, then you can imagine how nice it would be to stitch with a good length of thread and not encounter any of those problems. It's Really Nice.
What do you think? Have you tried Cosmo embroidery floss? Do you like it? Would you be game to try it, despite the cost difference? Would the price difference deter you from using it? I'd be interested to hear your opinion on the point! Feel free to leave a comment below and let us know your thoughts!