A few weeks ago, I was surprised, astonished, gobsmacked even, a little humbled, very touched, and downright delighted to receive an unexpected gift in the mail. Today, I want to show it to you.
It's the tale of eleven stitchers who put together their skills to create a quilt. They are all part of my Needle 'n Thread Community page on Facebook. They corresponded by email, and the coordinator of the project included all their correspondence and their stories as they worked through the quilt in a notebook so that I could know each of the participants just a little bit.
The quilt is meant as a Thank You – I see it as a testament to the whole idea of Community and Kindness which naturally developes through needlework.
Much like this embroidered banner from the Valley Quail EGA chapter, the quilt will hang on my studio wall with pride of place. It will be a lovely source of inspiration and a conversation and instructional piece that I can use with my local students. It'll be a source of cheer for me – a daily reminder of the kindness and generosity of the needlework community and of these eleven ladies!
The quilt is a perfect size for a wall hanging. Enclosed with it were several leftover pieces of the background fabrics, so I'm making some fabric tabs to attach to the top and bottom. I'll hang the quilt on a rod, with a rod inserted at the base as well, so that it hangs straight and true. I'll situate my EGA banner above it.
It'll be a wonderful display!
I always figured these kaleidoscope designs would make great quilt squares! I am so happy to see I'm not the only one! This is one of the designs that I've been itching to stitch, but I've just never had the chance. Great colors and stitch choices!
Here we have a sheep on a sunny hill, under a blooming tree, surrounded by floral vines with birds, and lots of bees! (I think there's a touch of Lavender Honey & Other Little Things here!)
Such a sweet representation of an idyllic spring day, all wound up in a lovely crazy quilt-styled square!
What embroiderer doesn't love a beautiful pair of scissors?
This particular pair, surrounded by vines and blooms reminiscent of Stitch Sampler Alphabet, is remarkably stitched in great detail using metallics. This particular block has my mind swirling with ideas about stitching needlework tools. Wouldn't it be fun to put together a series of vintage tool-related embroidery designs?
LOL! I think this says everything. A very precise summary of what embroidery is! And I love the art nouveau frame!
Adorable! I love this little appliqué bird! So cute!
"Bloom where you are planted" has always been a favorite saying, too. I think it summarizes a good recipe for happiness.
The abundance of this block, the house shape – there's a message here that resonates with me and my family. Without knowing it, the embroiderer has created a block that represents a kind of motto for my entire family. In all of our houses, we've pretty much all lived by this statement. You see, we're a social bunch, and there's always room for one more!
How could she have known how appropriate her embroidery would be? Definitely serendipitous!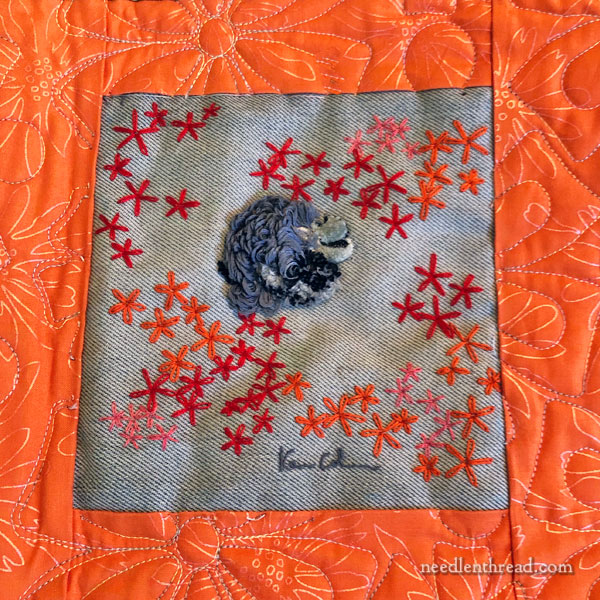 This little bear, stitched in Turkey work, reminds me so much of my childhood. I love the style of this fellow! And it's the most tactile piece of embroidery – every person who has seen this (and I've shown it off to many family and friends!) has reached out and touched this little bear. He's so cozy, and I love his smile.
Floral abundance on a heart – one of my favorite motifs for stitching! And lilacs! They are my favorite flower.
I have a lilac bush under my window at my studio, and there's nothing more pleasant in spring than to have the window wide open so I can smell the lilacs while I'm stitching! Beautiful!
Mmm, mm, mm. Speaking of serendipity, these are my kitchen colors – very Provinçial and cheery! I love the chicken! The stitching on this block is so precise and delicate!
I love the simplicity and accuracy of this design. It doesn't come out as clearly as it should – that's my fault, because I took the photos before I could hang the quilt properly – but the circular layout on this is beautifully stitched and perfectly round. The design style of the floral elements and the whole piece is lovely!
And finally, Chicken Scratch! I'm such a huge fan of gingham embroidery. This pattern is especially pretty and so perfectly executed. I'm going to have to… you know… adopt it and try it myself. I haven't gotten to play with gingham embroidery in a long, long time, but now I'm itching to try this pattern out!
Thank YOU!
You can imagine how this happy gift strikes me a bit speechless. It is hard to say thank you adequately for such a kind and caring gift of time and skill and generosity!
The English teacher in me keeps falling back on Shakespeare:
I can no other answer make but thanks, and thanks, and ever thanks!
Thank you, my friends!