Every hobby, craft, and artistic pursuit requires tools.
True, not all tools are essential to the craft.
If you take embroidery, for example, as things go, it requires very few tools. At the minimum, embroidery simply requires a needle. I suppose even scissors could be considered unnecessary – if you have good teeth!
But the fact is, good tools can make embroidery less frustrating and more efficient. And beautiful good tools can also add a certain aesthetic value to the embroiderer's experience, enhancing the embroiderer's pleasure while using them just by virtue of the fact that they are beautiful.
As you progress in your embroidery journey, it makes sense to add tools to your embroidery workbox that are not only useful, but also beautiful.
Today, I want to show you some beautiful and useful embroidery tools.
Several years ago, I wrote about the aficot.
This is a tool that is used perhaps more regularly in lace-making, but that is also used in embroidery for burnishing – or smoothing and polishing – certain stitches, especially satin stitches.
Modeled on the lobster claw, which was originally used for burnishing fabric channels in certain types of lace-making, the aficot is made from wood, of a particular shape to make it easy to hold in the hand, and polished to such a high degree that there is no chance of snagging or uprooting the fibers that it is used to burnish.
Aficots have become a little more prevalent on the market today. They were hard to come by when I originally wrote about them – I had to hunt my first one down – but now you can find different qualities of aficots available around the globe.
Personally, I like an aficot that has these qualities:
1. It should have a little weight to it. That is, it's not made from a light and porous wood, but from a denser hardwood.
2. The ball of the aficot should fit nicely in the hand and be comfortable to hold.
3. The aficot should be smooth as glass, with no begad nonsense about it. You should be able to run your hands over it and never feel a mar, a fisher, a bubble or bristle, a splinter or rough patch. It must be, in short, a perfect surface for the job requirements.
4. And though it isn't crucial to the work of the aficot, I like an aficot that is lovely to behold. I like good wood. I don't know a lot about wood, but I love to see the nuances in a beautiful piece of wood. So, yes, I like aficots that are made from pretty wood!
The aficots I'm showing here fit all those requirements in a most thorough way. They are gorgeous.
Inset in each aficot is an abalone accent that adds a unique touch.
I've been using the aficots to burnish satin stitching on my Jacobean project.
It helps the satin stitches lie smoothly, and it does actually shine them up a bit! Normally, I use an aficot when I'm doing monograms or something similar, that involve a lot more satin stitch, but lately, I've taken to using them for smoothing and blending other stitches, too.
For example, after finishing an area filled with long and short stitch, burnishing the tops of the filled area with the aficot polishes the stitches and forces them to blend in a smooth, lovely way.
Another filling that I've used the aficot on successfully is split stitch filling with floche and with silk. It brings out a certain gleam in the filling.
I really love this tool! While it is far from being fundamentally necessary in embroidery, it definitely enhances certain stitches and techniques, and I think it's worth having in the tool box, if you are a fully committed embroiderer.
Matching Laying Tools
These particular aficots have matching wooden laying tools, too, and the laying tools are no less beautiful. They are delicately turned, wondrously smooth, and conscientiously made to be functional and pretty.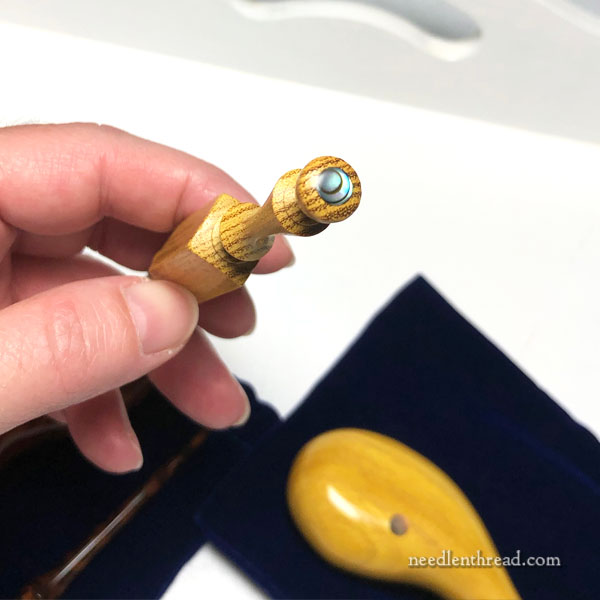 The squared handle keeps them from rolling and gives the needleworker a nice place to hold the tool. The end of the laying tool has an abalone inset to match the inset on the aficot.
The two sets of tools I'm showing you here are made from snakewood (the darker set with a lovely, dark pattern in the grain) and from osage orange (the lighter set, with its linear, bright grain that glints with deep golden honey colors).
I never, ever would have known that the osage orange tree – which lines every road, lane, and walking path close by and hurls its massive brain fruit to the ground every autumn – sported such a stunning wood behind its bark!
Where to Find Them
These lovely tool sets are the result of the superior craftsmanship of Jeff Roberts, a wood turner in Georgia. He has an Etsy shop under Boxwoodruler – Jeff Roberts Wood Crafts.
The sets he offers are exquisite. They come packaged quite nicely, too, in a velveteen drawstring bag for the aficot and a protective tube for the laying tool.
Some of the woods he uses are really stunning – check out the Asian ironwood, for example. The burled wood is … wow! Sumptuous!
So, if you're in the market for a laying tool, an aficot, or a matching set of both, check out Jeff's shop! Add him to your list!
Have a fabulous Friday!