This time of year, there's always loads of stuff going on in my studio. Besides autumn embroidery (I can't resist stitching something in anticipation of autumn each year), I'm already looking ahead to Christmas while trying to tie up loose ends from earlier in the year.
I have a lot of loose ends this year – those projects that I should have written instructions for by now, those kits that I should have ordered supplies for by now, those tutorials I should have videoed by now. This year, I'm a bit more behind than usual.
But that's ok! Everything happens for the best, and everything that's supposed to happen, will happen in good time.
To avoid stress in my Needle 'n Thread world, I try to stick to the principle of not letting what I can't do keep me from doing what I can. Or, in another sense: I do what I can do, and I don't worry about what I can't do.
But there are some "little" projects that come up unexpectedly, that I don't mind doing – in fact, that I want to do, that I'm excited to do, and that I'll put aside other things in order to do. And this is one of them!
I'm beading a wedding dress.
My niece made her own wedding gown. It's a simple gown, which she more or less designed herself.
It's made of a lovely, light, and very fine silk cotton – such a beautiful fabric for a gown! It's very wearable, with a lovely natural-fiber sheen. The lining is a very fine cotton batiste.
The gown is a light ivory – what I'd call an eggshell white – as opposed to stark white. It has a simple bodice with princess seams, short sleeves, and a smooth waist above a skirt with godets (inset reversed pleats) to add flare to the a-line structure. The skirt is supported by a tulle crinoline underneath, and the hem of the gown floats just above the floor.
Initially, there wasn't going to be any lace or extra detailing on the gown. She wanted plain and simple.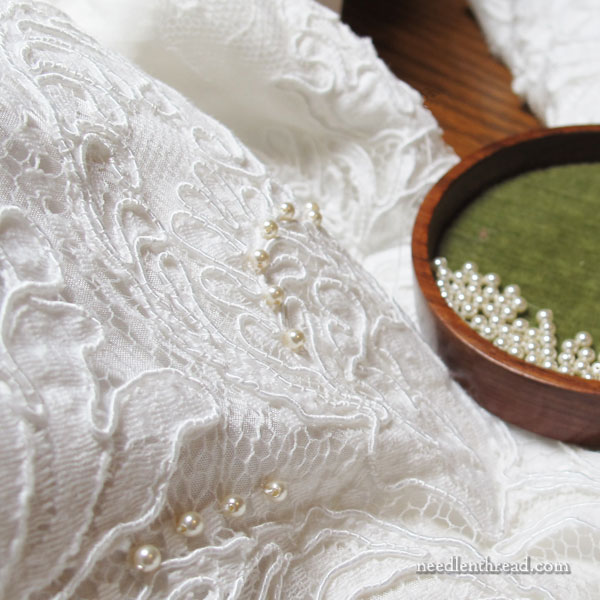 But then we all got to talking about lace on the bodice. Wouldn't a touch of lace that would cover the bodice and tendril over onto the flaring skirt just past the waist look pretty?
And it sounded like a good idea.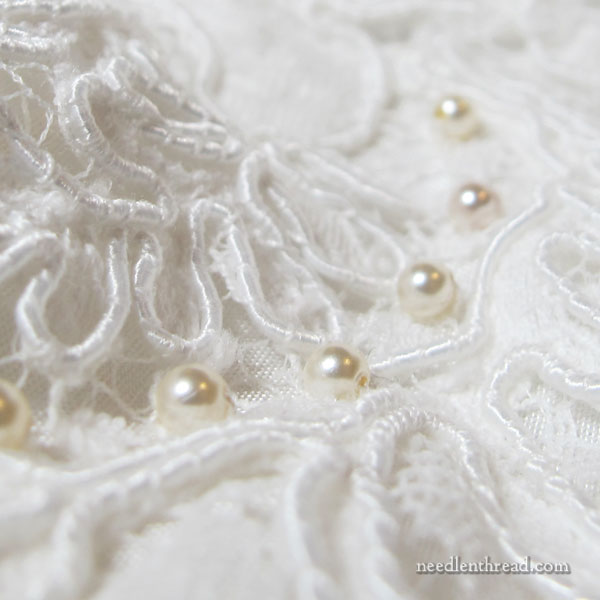 So, the hunt for lace began.
Out here in Kansas, we don't really have fine fabric shops close by, and the time and expense involved in tripping out to the larger cities to try to hunt down something suitable didn't make sense, especially given the current tenuous state of small businesses that aren't open regular hours, and other city affairs.
Online shopping wasn't the best option, either. Without being able to see and feel the lace, it's financially risky to order suitable cuts. And there were time constraints to consider – ordering swatches adds another layer of waiting on shipping.
One day – just last week – after discussing the lace question and deciding it wouldn't happen after all, Julie was going through her mom's fabric cabinet to get out the batiste for the lining.
She moved aside the batiste, and lo! underneath it was a package marked (of all things) "bridal lace." It really was a cut of bridal lace!
My mother (may she rest in peace, that woman of foresight!) had purchased the lace for a different project altogether years ago. It didn't work for the project, so my sister never used it and forgot she had it.
And so, thanks to Grandma, Julie now has lace for her wedding gown. It was the perfect type and cut of lace for what we had in mind.
With focus and determination, last Friday, my sister set to! Julie donned the gown, and the pinning, basting, and trimming of the lace on the bodice began.
And then we said, "Wouldn't tiny pearls be a nice touch?"
Foraging through the Swarovski pearls in my bead stash, we selected small 3mm pearls in a light creamrose. They have a kind of vintage glow to them, which is right up Julie's alley. I didn't have enough, so I contacted Fire Mountain Gems to order more, and they sent them to us post-haste. In fact, they arrived 24 hours after I ordered them.
Yesterday, I started beading, and today, I'll continue. I'm keeping the bead layout somewhat random – I don't want too much of a pattern, but I do want an evenly distributed coverage – while just picking up parts of the design in the lace. I'm using ivory silk sewing thread to sew them on, and securing the basted lace as I go.
It's a very satisfying project.
While I work on the bodice, Julie is hand hemming on the other end of the dress.
The wedding is day after tomorrow.
Heh heh.
Have a wonderful weekend!