One more week until Christmas – and things are winding down for the year here in my wee studio. What a year, eh?
Before we get entirely into today's edition of A Stitcher's Christmas, some brief news: I've restocked some holiday towel sets in my shop, as well as Alison Cole's Goldwork and Stumpwork Masterclass books – and one stray Mini Stocking Kit. You'll find them all here. If you've been waiting for any of the above, they're available now, and I will ship priority this afternoon (for any purchases made before noon today) and again on Monday for any purchases made through noon Monday, and then … I'm done! I'll be taking a short hiatus for Christmas, so Monday will be the last shipping day for a short bit.
Ok, now, onto the fun stuff! Today's give-away focuses on blackwork embroidery – specifically, the beautiful blackwork of Jen Goodwin, who has recently written an extensive and thoroughly instructive book on the subject.
I'll give you the details about the give-away – and a little information about the book, since I haven't yet had a chance to review it thoroughly – and I'll also announce the winner of Wednesday's give-away below. So … read on!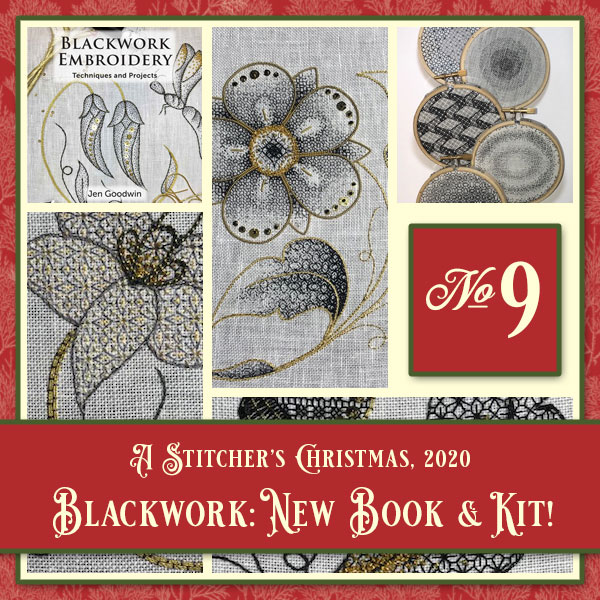 Jen's new book, Blackwork Embroidery, Techniques and Projects, just came out. It's not released in the US yet, but it's just been released in the UK.
Book Details
It's a fairly vast tome – over 200 pages – dedicated to blackwork embroidery in many forms, with various twists. She combines surface embroidery, goldwork, intricate shading, a vast number of patterns, pattern darning, and other approaches to achieve a unique and complex presentation of blackwork.
So, don't think simple, gridded blackwork here! Jen goes well beyond the basic forms of blackwork and makes this type of embroidery an art form of its own.
The book opens with an intro and history of blackwork, moves into materials, basics to get started, a marvelous chapter on designing for blackwork – great information on stylized design, realism in shading and really, on designing in general – and then launches into an extensive library of blackwork patterns, followed by darning patterns, a step-by-step stitch dictionary of other useful stitches, and then exercises and projects, shaded blackwork, and finishing.
I don't think the book could be more thorough if it tried!
The instructions are presented in step-by-step photos, making it a very accessible learning tool.
The projects are lovely!
If you're keen to try this type of blackwork, add Jen's book to your 2021 wish list! It's an excellent volume for beginners and beyond!
And if you want your own copy delivered to your doorstep soon-ish (the post, especially from overseas, is somewhat slow right now, but it will get to you eventually!), and you'd like a materials kit to go with the book… well, you're in the right place!
Today's Give-Away Details
This give-away has ended. Check the article on December 21st for the winner!
The winner of today's installment of A Stitcher's Christmas will receive a copy of Blackwork Embroidery, Techniques and Projects by Jen Goodwin, along with a materials kit so that you'll have everything you need on hand to stitch one of the projects in the book.
You can find the materials kits listed on her website here, and you'll be able to choose one of them for your very own.
Give-Away Guidelines
If you'd like to participate in today's give-away, please follow these guidelines!
1. Please leave your comment below, on this article on Needle 'n Thread. If you are reading this in the newsletter, you can reach the comment form directly by following this link.
Comments left on any other post on Needle 'n Thread or sent by email are not eligible. Please do not leave your comment as a reply to someone else's. Replies cannot be included in the count. If you are unsure how to post a comment without replying to someone else, please just click the link provided above to go to the comment form. Thanks!
2. Make sure you leave a recognizable name or nickname on the Name line on the comment form. Anonymous comments don't count. Please do not leave personal information like email addresses, mailing addresses, or phone numbers in the Comment part of the form. When you do, I have to go in and edit that information out – unless you want spam, or strangers picking up your phone number, email address, mailing address (which you don't, I'm sure!).
…but please do make sure that your email address is entered correctly on the Email line of the form. This is not visible to anyone but me, and it is not used for anything except the purposes of this give-away (if you win, I need to be able to contact you).
3. You may only enter once.
4. In your comment, please answer the following:
Describe your favorite stitching spot!
5. Leave your comment by 5:00 am Central Standard Time, Monday, December 21st. The winner will be randomly drawn and announced on Monday morning, when the next give-away in the series takes place. I will also contact the winners by email.
Please note that your comment may not appear right away on the website. I review all the comments that go on the website, to keep unseemly content off the website. If your comment does not show up immediately, please don't fret. It will show up as soon as I have a chance to moderate comments.
Wednesday's Winner!
And now it's time to announce the winner of Wednesday's give-away of the beautiful tools and accessories from Needle in a Haystack!
Those will be sent to Teresa Heuster. I will drop you an email!
Coming up on Monday, a BIG give-away of a lot of beautiful books – as we wind down this year's series of A Stitcher's Christmas!
I'll have a new Eye-Spy game and puzzle for your Christmas entertainment next week, too.
See you Monday!