Happy Monday! And welcome to the fourth installment of A Stitcher's Christmas, 2020!
It's hard to believe we're already into the second week of Advent, which means that Christmas is not too far away!
I think one of the best gifts we can ever receive at any time is the gift of inspiration – that stimulation to do something particularly creative, thoughtful, or even brilliant; that flash of an idea that's perfectly timed, that's profound or eye-opening. It's somewhat difficult to nail down exactly what inspiration is, the way we use the term today, but I think I'd say it's an awakening of the soul that moves us to do or think above our normal level of doing or thinking.
Keeping that in mind, I think that Inspirations Magazine is aptly named, because for embroiderers, it does just that. Don't you reckon?
Anyway… enough profundity. Let's get on with it!
Today, I'm going to introduce a fantastic give-away, courtesy of Inspirations Studio, that makes me a wee bit jealous that I can't participate in this one! I'll admit that there's a little bit of twitterpation on my part going on here. And I think you're going to love it, too!
At the end of today's article, I'll announce the winners of Friday's give-away, too. So read on through!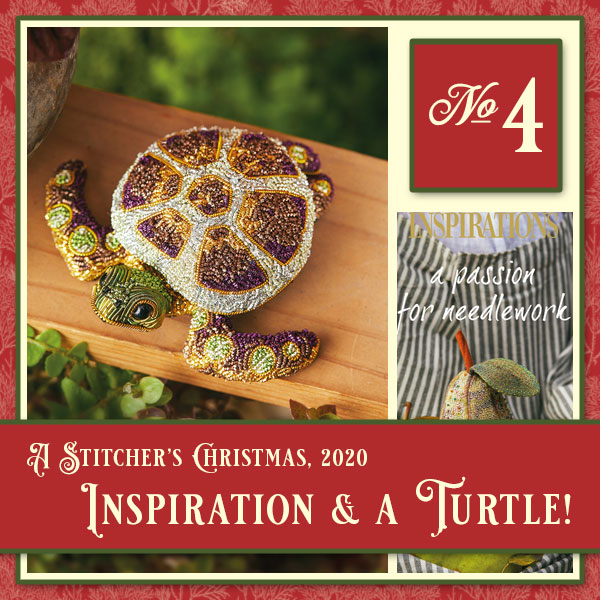 Ok – the give-away! Three winners will each receive a copy of Inspirations Studios most recent volume of A Passion for Needlework.
This edition was photographed at Blakiston Creamery and if you don't have it yet, you need it on your Christmas list. This is the third volume of A Passion for Needlework, and they just keep getting better and better.
I reviewed this gorgeous book in detail here.
There are so many exquisite projects in this book! There really is something for everyone.
And even if you're not really surrounded by embroiderers, anyone who picks up this book and browses through it is bound to be enchanted and drawn in. It is so beautifully photographed! It's a pleasure just to look at the book.
It's inspiring!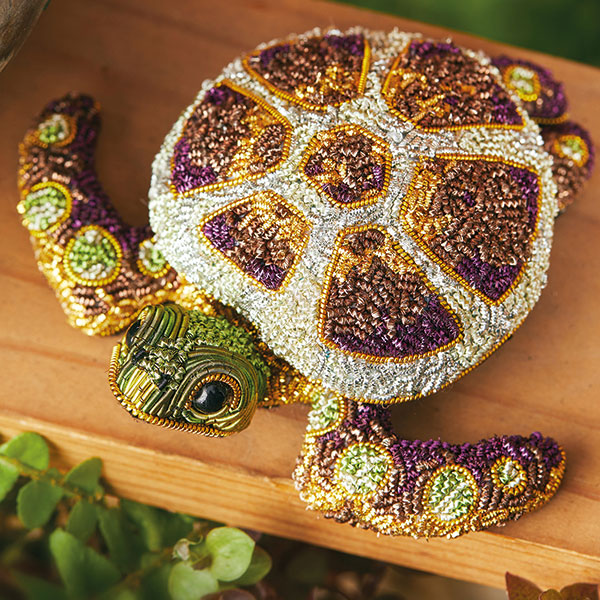 But wait! That's not all!
Oh my word. Be still, my heart.
I meant it when I said a turtle.
This project is called Jewel of the Sea, by Georgina Bellamy, and you can find it in A Passion for Needlework – Blakiston Creamery. Georgina does fabulous things with goldwork threads – leaping outside the box in such creative ways to fashion the most endearing creatures and other beautiful things in goldwork.
To top off this give-away, the three winners will also receive a full kit for Jewel of the Sea!
I'm already so excited for the winners, and I don't even know who you are!
Ever since the book was published and the kits came out, I've been oscillating about whether or not I should get this kit. On the one hand, I want that turtle very badly – which means I'd have to make it. On the other, there's the whole you-really-need-to-be-prudent-right-now thing going on in my head. And it's probably better, anyway. I have a feeling I'd end up taking that turtle with me everywhere. Talking to it. Making it my pet. My new best friend! I'm strangely fascinated by it!
Just think, if you win today's give-away, you don't have to go through the throes of indecision! The kit and the book will just land on your doorstep! What a deal!
Give-Away Guidelines
If you'd like to participate in today's give-away, please follow these guidelines!
This give-away has ended. You can find the winners listed on December 9th's article.
1. Please leave your comment below, on this article on Needle 'n Thread. If you are reading this in the newsletter, you can reach the comment form directly by following this link. Comments left on any other post on Needle 'n Thread or sent by email are not eligible. Please do not leave your comment as a reply to someone else's. Replies cannot be included in the count. If you are unsure how to post a comment without replying to someone else, please just click the link provided above to go to the comment form. Thanks!
2. Make sure you leave a recognizable name or nickname on the Name line on the comment form. Anonymous comments don't count. Please do not leave personal information like email addresses, mailing addresses, or phone numbers in the Comment part of the form. When you do, I have to go in and edit that information out – unless you want spam, or strangers picking up your phone number, email address, mailing address (which you don't, I'm sure!).
…but please do make sure that your email address is entered correctly on the Email line of the form. This is not visible to anyone but me, and it is not used for anything except the purposes of this give-away (if you win, I need to be able to contact you).
3. You may only enter once.
4. In your comment, please answer the following:
Describe the project that, up to this point in your embroidery journey, has made you the happiest while you were stitching it or when you finished it. It might not be your Magnum Opus (greatest work). It could be. But it might not be. Tell us about it!
5. Leave your comment by 5:00 am Central Standard Time, Wednesday, December 9th. The winner will be randomly drawn and announced on Wednesday morning, when the next give-away in the series takes place. I will also contact the winners by email.
Please note that your comment may not appear right away on the website. I review all the comments that go on the website, to keep unseemly content off the website. If your comment does not show up immediately, please don't fret. It will show up as soon as I have a chance to moderate comments.
Winners for Friday!
Finally, if you entered last Friday's give-away for a year's subscription to Giuliana Ricama and the lovely Mountmellick-styled kit, then read on!
The winner of the year's subscription to the Giuliana Ricama magazine is Jennifer Wollesen.
And the winner of the kit is Roanoke Tess.
I will contact you both by email! Keep an eye out!
Thank you to the folks at Giuliana Ricama! If you're looking for a new magazine subscription for 2021, check them out!