Buongiorno (and howdy, too!) from frozen Kansas. Whoooooeeeee – it's cold here! Time to take advantage of inside activities like embroidery and … embroidery … with a little hot-tea-drinking thrown in for good measure.
Yesterday morning things went a bit awry on my end. And then in the afternoon, we went into conservation mode, utilities-wise. I'm sorry I didn't get this post out to you as intended first thing in the morning! I was probably daydreaming about sunny Italy. I think it's time to read Enchanted April again!
Italy has a gloriously rich tradition in the needle arts, from far back into the ages of the early Roman emperors, right on up into our modern era. I've written before about a relatively new embroidery magazine on the market called Giuliana Ricama, and today, I want to remind you about it, and also offer a little give-away of some recent editions.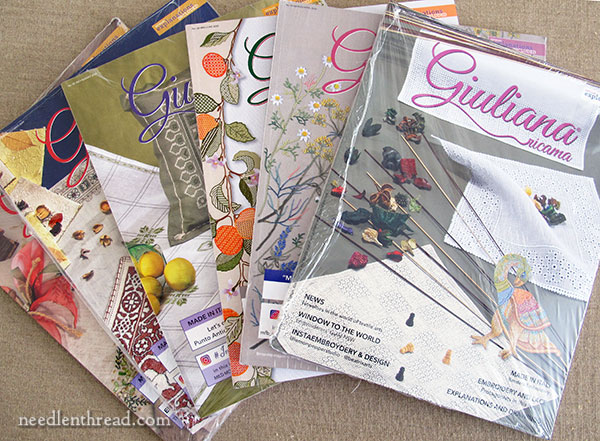 Today's giveaway includes the most recent six issues of the magazine, in English. Nicoletta has always been very gracious to send me at least two copies of each issue as they are published, and today, I want to pass the extras on to someone I know will treasure them and enjoy them!
So, that's what the give-away is about, and you can read below for the particulars.
Right now, I just want to highlight the most recent edition.
On the cover of the most recent edition of the magazine – I think it is issue 38? – sits a wonderfully colorful griffin. And it's this mythical bird-beast that grabbed my attention and pulled me in.
There's a griffin table runner in this edition, and there are four designs for griffins available in the back of the magazine. I love them! Griffins were a very popular decorative motif in Mediterranean lands since ancient times, and they show up in many types of Italian and Greek art. In Italian needlework, they are often depicted in Assisi work and in needle lace.
But oh, I love to see these little embroidered griffins! They are magnifico!
I don't necessarily want to do a whole table runner with griffins on it, but I sure would like just one little griffin hanging about my studio. I have duly put "Griffin" on my To-Do List.
There are many other beautiful projects in the magazine, along with several tutorials. The projects range from quite simple, beginner projects to more complex projects for advanced stitchers, so there's definitely something for everyone.
Ah – romantic, exuberant crewel!
There's quite a range of techniques covered in each magazine, too. You'll find needle lace, counted work, crewel work, whitework, goldwork, blackwork, and general surface embroidery all addressed in the various issues.
You'll also find lots of human interest stories about stitchers around the globe, about needlework groups and guilds, and so forth.
So, if you're looking for another good needlework magazine, this is definitely one to put on your list! You can find information about subscribing to Giuliana Ricama here, as well as information on how to purchase single issues.
The Give-Away
This give-away has ended. Please see the article on February 22 for the winner.
If you'd like to see the six latest issues of Giuliana Ricama land in your mailbox all at one time (just perfect for a little self-indulgent browsing through a whole stack of them!), then feel free to join in today's give-away, following the guidelines below:
1. Leave your comment on the comment form on this article on Needle 'n Thread. If you're not sure how to get to the comment form, just follow this link. If you're reading this on the website, scroll down to the end of the article and you'll find the comment form!
2. In the comment form, please leave a name and your email (which won't be visible and is only used for notifying you, should you win) on the appropriate lines on the comment form, along with your comment answering this question: What needlework project are you working on right now, or has you excited to start working on?
3. Leave your comment by 5:00 AM (that's morning) Central Standard Time on Monday, February 22, and I'll announce the winner that day. I'll also contact the winner by email, so please make certain you fill out the comment form correctly. Thanks!
Stay Warm!
We're in a fairly deep freeze here in the Midwest, which keeps me focused on work, because let's face it: who wants to go out of the house in sub-zero temperatures? Not to mention the wind chill. And the snow. Brrrrrr.
On Thursday, we'll do the last installment on Five Ways to Embroider Wheat. I'll try to keep you updated on my Stitch Fun 2021 sampler over on Instagram this week, too.
And I'm just about finished with the Sea Monogram from Elisabetta Sforza's Sea to Stitch book, reviewed here. I'll be sharing that with you soon! I had the Most Fun Ever this weekend with one of the seashells, and I can't wait to share the results!
Have a great week! Stay Warm! … Unless you're in the Southern Hemisphere… in which case, stay cool!