Every now and then, I liken certain pieces of embroidery to candy.
Lately, I've been working on the step-by-step instructions for a few of the little elements on Key to My Heart, this small, colorful embroidery project from last year.
Little pieces of embroidery always make me happy!
These are little isolated floral elements that populate the heart design. They also show up in my voided monograms – a design collection that will come out as soon as I can finish all the variables!
The fun thing about little elements like this is that they aren't relegated to any particular embroidery design or type of design. If you need a little accent on a piece of embroidery, these work!
And they're fun to do!
Size, color, thread type – they're open for any variation you can concoct.
The only thing you shouldn't do with them is snip them off the fabric and pop them in your mouth.
Even if you want to!
I'm not saying you can't do it… but it would be a little weird.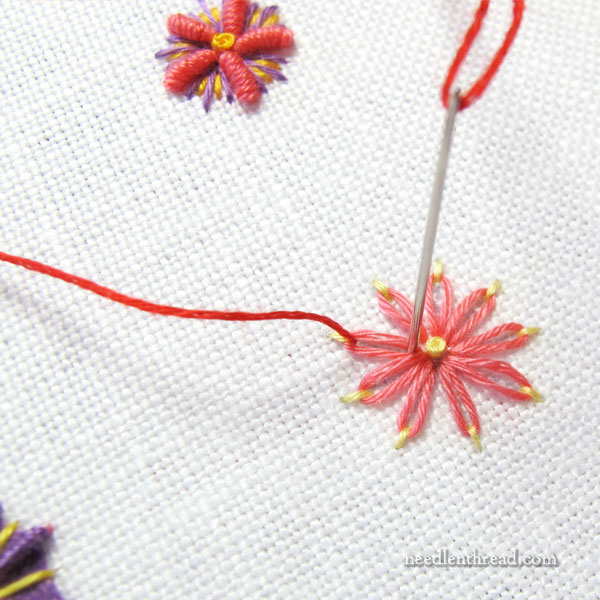 I love how the simplest element of embroidery can be so dang cheery.
And I love how something so little can be so dang satisfying!
Often, little bits in one project move me to add them to another.
After working on these photos, I found myself adding similar elements to my Stitch Fun 2021 yearly sampler. I'll share the results of that with you soon. It involved a bit of lettering, so we'll talk about that, too.
So, yes. Little bits of embroidery! Don't underestimate them. They may be small, but they're mighty!
If I could ask you to pull one idea away from today's article, even though it seems like I'm blabbering about nothing, it would be this:
If big things seem too overwhelming to you right now, do little things.
Sometimes, you might not be ready or inclined to invest mentally, emotionally, time-wise, financially, or any other number of ways, into a Big embroidery project, but you might still have the itch to be doing something stitchy. Do little things. They can be a great source of satisfaction!
Every single thing that you do does not have to be a Magnum Opus. In fact, it shouldn't be. You'd wear yourself out! It's ok to do little things!
On that note, here's another little thing going on in the studio. End of the day, darkness falling – perfect time to snatch a teaser photo of an obscure something. Hint: We'll get to it when we finish the
wheat tutorials
!
Happy Monday!