To prepare a collection of hand embroidery projects around a theme, it takes a while to get all the samples stitched.
Lately, I've been sharing progress on the same basic embroidery design stitched a variety of ways, from these voided monograms with tons of color and filling all around them, to this whitework voided monogram on natural linen, and today, to a simple shape employing the same design with a little less fill.
Best of all, it's in Spring Brights as far as color goes! And I say bring on the color – there's nothing like a good dose of color to lift one's spirits!
What I particularly enjoy about this design group is that you can achieve a wide variety of texture and interest across the design, using relatively simple and familiar stitches.
And you can combine colors in innumerable ways, in whatever direction your little heart takes you!
When I worked the voided monogram here, I had an extra layer of color, thanks to the overdyed floche from Colour Complements. The lime green especially brought an extra level of brightness to the piece. It's a deliciously springy color!
By the time today's piece was underway, I was out of lime green. So the plan was to stick with solid colors and mix them up all over the elements.
As you can see, this is not complex embroidery! It's a combination of a small group of stitches that we're probably all pretty familiar with: chain stitch, stem stitch, straight stitch, French knots, daisy stitch, fly stitch, bullions, buttonholes and various woven wheels. Each of those links will take you to a tutorial for the stitch, if you're not familiar with it.
I'm rather fond of the woven wheels. They look like a cross section of a Gobstobber, don't they? A Gobstopper, for those unfamiliar with it, is a small candy jawbreaker built in rings of bright color so that, as you suck on it, it changes flavor and color with each layer. The idea comes from Roald Dahl's book, Charlie and the Chocolate Factory. In the book, the point of the candy was that children with very little pocket money could indulge in a candy that never got smaller and that changed in color and flavor. They've been around since I was a kid – and of course, we always eventually bit them to reveal the rings of color.
But I digress…
It's funny what will inspire your embroidery when you're playing with color, though, isn't it?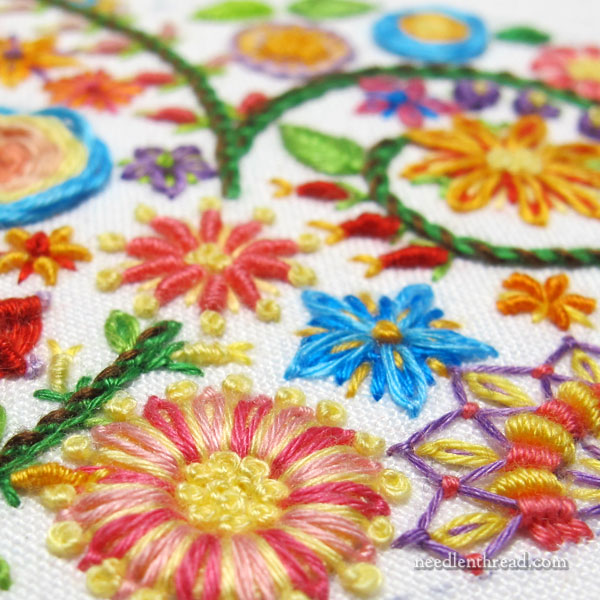 With the models for the design group I'm putting together (it'll be available here on Needle 'n Thread a little later this spring), I wanted to demonstrate different degrees of filling around the design.
With the original voided monograms, I filled the background completely with stitches.
With the whitework monogram, the background around the design layout is somewhat filled, but not solidly filled.
You can see both the whitework monogram and the voided colored monogram in this article.
With this piece today, only the design elements that are transferred on the fabric are embroidered, with no extra filling around them, so that the design is more open and there's a lot more white space.
Have a cheerful heart!
I'm going to finish this little piece into something different. I'm working out the finish process today, and hopefully, I'll have a fully finished something-or-other to show you at some point next week!
In the meantime, enjoy your weekend – I hope you can spend a good portion of it peacefully bonding with your needle and thread!