The bullion knot – sometimes, the name strikes fear in the embroiderer's heart! But it shouldn't be so. With a little practice, bullion knots are actually pretty easy. There are a few tricks to making them even easier for you, so I'll talk about those tricks below, and in the video, I'll show you how I make bullions. It's a little different from the way you'll see them diagrammed in books, but I think it's a lot easier.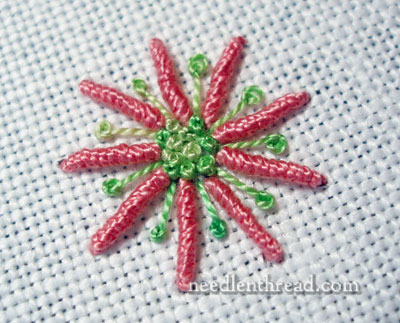 A couple tricks to working the bullion knot:
1. Use a milliner (or straw) needle. The long shaft gives you lots of room for wraps, and the fact that the shaft and the eye are the same diameter make it easier to pull the thread through the wraps.
2. Instead of anchoring your needle in two places on the fabric (as you'll see diagrammed in books), take your needle down into the fabric where you want the knot to end and pull the thread part of the way through, leaving most of the working thread on the fabric. Then stick your needle halfway up into the fabric, in the same hole where you started the stitch, and use the eye of the needle on the back of the fabric to help you twist the thread around the needle. Then hold onto the wraps, pull through and upwards, ending with a gentle tug, then pull the thread down towards the end of the knot. This method is shown in the video. It makes it a little easier, I think, to make a bullion knot, plus it also gives you a gauge to easily see whether or not you have enough wraps on the needle to cover the length of the bullion.
3. You can use any kind of thread to make bullions. You might want to take a look at this comparison in the direction of the wrap on the bullion knot, to see how the direction of the wrap changes the look of the knot.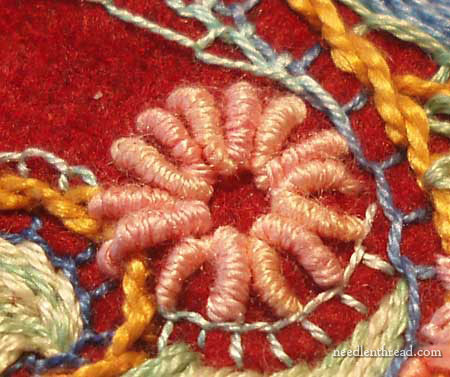 If you wrap your needle with more thread than will cover the stitch length that you've left on the fabric, the knots will be a bit wiggly, or may even stand up on the fabric.
You can make a bullion knot flower petal by keeping the space between where you emerge from the fabric and where you go back down very small, and wrapping the thread many times around the needle. This will cause the long bullion to bend into a loop.
Here's the video for the bullion knot. I hope you enjoy it!
You can find more hand embroidery stitch videos right here on Needle 'n Thread, if you're looking!
Looking for inspiration & information on hand embroidery?
There are all kinds of reasons to sign up for the Needle 'n Thread daily newsletter! Check them out and sign up today!