Palestrina stitch is a magnificent stitch to add to your hand embroidery repertoire! I love this stitch! It's just fun to work. You can work up a great stitching rhythm with it.
Palestrina stitch is also knows as "twilling," a technique used here in the Midwest (and spreading in popularity) to embroider designs on quilt squares.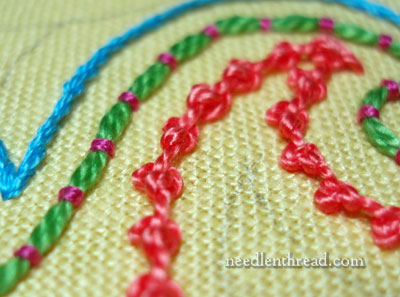 The line produced in Palestrina stitch is bumpy! Evenly spaced along the line are knots that have one little arm that extends slightly, and which, when exaggerated, gives a barbed look to the completed stitch.
To create a filled area with Palestrina stitch, you simply work rows of it next to each other, alternating the placement of the knots, and creating a highly textured filling. You can work the first row from left to right, then come back from right to left (either turning your hoop over or working the stitch backwards), or you can work all rows from the same direction. One thing I have noticed when using Palestrina stitch as a filling, though, is that the knots do look slightly different when worked from different directions. It doesn't ruin the look of the filling at all, to have the alternating rows also reflect the directional change – but you should practice with it to see which look you like better.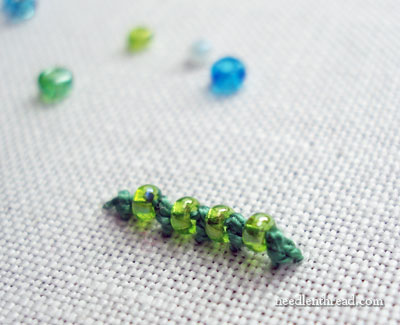 You can also add beads to a line of Palestrina stitch. Beaded Palestrina stitch can add a whole new level of color and sparkle to your embroidery!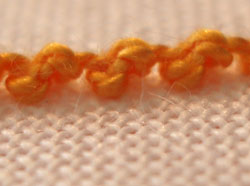 You can also vary the look of the Palestrina stitch by working it on a diagonal (instead of using straight stitches in line, as I do in the video). When you work your knot around a straight stitch worked diagonal to the line you are covering, the effect is much like a buttonhole stitch that has a knot at the anchoring point. You can further alter the look of the stitch by increasing the length of the "arm" of the first wrap stitch. After watching the video, play around with the stitch to see what you can do with it!
In the video, I'm working on linen, using perle cotton #5. You can work this stitch on any fabric, though, and with any thread, really. The finer the thread, the finer the line. It takes curves well, too, by the way!
Enjoy the video!
Do you want more inspiration & information on hand embroidery?
There are all kinds of reasons to sign up for the Needle 'n Thread daily newsletter! Check them out and sign up today!
For more video tutorials for hand embroidery stitches, please visit the the How-To Hand Embroidery Videos here on Needle 'n Thread.
If you like what you see on Needle 'n Thread, if you want to be a part of keeping the website thriving (and free of annoying network advertising), why not become a patron on Patreon? Check out my Patreon page here, where I'll occasionally add special needlework bonuses for patrons.
If you shop on Amazon, you can support Needle 'n Thread without any extra expense to you by visiting my Amazon Recommendations page here, where you'll find books and sundries for the needleworker available on Amazon.